She's lost her home, her inheritance, and her family; now she has nothing left but her faith.
Before we revisit with today's author, I want to announce that the winner of the signed copy of
Rainbow's End
, featuring Valerie Comer, is:
spunky42@ . . .
Congratulations! I'll contact you today for your snail mail address, and we'll get your book to you right away.
I encourage readers to keep commenting and/or subscribe at right (above my list of books) in order to participate in future book give-aways!
Now let's revisit novelist
Louise Gouge
, author of
A Proper Companion
(Harlequin LIH, June 2012).
Louise, please tell us five random things we might not know about you.
--I am an adjunct professor of English and humanities at prestigious Valencia College in Central Florida.
--I have four awesome grown children who are solid citizens and seven grandchildren who are adorable and perfect in every way. And I never exaggerate when talking about them. ☺
--I refuse to dye my hair. I've earned every gray strand!
--I love superhero movies.
--My dear hubby and I met on a blind date. We married 2 ½ months later and have been married for forty-seven years.
Aww. I love those long-time romances with the snappy beginnings!
Please tell us a bit more about the plot of A Proper Companion.
With her father's death, Anna Newfield loses everything—her home, her inheritance, and her future. Her only piece of good fortune is a job offer from wounded major Edmond Grenville, whose mother requires a companion. The Dowager Lady Greystone is controlling and unwelcoming, but Anna can enjoy Edmond's company, even if she knows the aristocratic war hero can never return her love. Even amid the glittering ballrooms of London, nothing glows brighter for Edmond than Anna's gentle courage. Loving her means going against his family's rigid command. Yet how can he walk away when his heart may have found its true companion?
In 1814 Regency England, money and connections are everything. Most of the aristocracy believed themselves to be superior human beings and favored by God. They also believed that the poor deserved their lot. So when Anna Newfield, a lowly vicar's daughter, loses her family and inheritance, she faces utter destitution, with no pity forthcoming from anyone. But one wellborn gentleman, Major Grenville, goes against the attitudes of his aristocratic family and stoops to helps this young lady. Because her brother died to save his life, he knows God would have him help her. He never planned to fall in love with her. . .and risk being cast out of his family.
What is it about Anna that will make your readers care about her?
Anna Newfield is a woman of faith and good humor. Even when threatened with the trials of Job, she trusts God to take care of her, even if that means He might take her to heaven to join her family.
If you were the casting director for the film version of your novel, who would play your lead roles?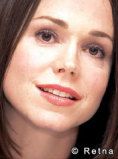 My choice for Anna Newfield is British actress Frances O'Connor.
Canadian actor Yannick Bisson would make a handsome Major Grenville.
And of course Maggie Smith would be the perfect Lady Greystone.
Whom do you consider a fascinating fictional character?
My favorite fascinating fictional character has always been
Jane Eyre
. Her quiet wisdom and courage along her journey of self-discovery and fulfillment continue to inspire me.
What is the last book you read that you would recommend?
I recently finished Laurie Alice Eakes's
Heart's Safe Passage
, which is set in the same era an
A Proper Companion
. But what a difference location makes. Eakes's story takes place on a ship (a brig, actually) in the middle of the Atlantic Ocean, a setting fraught with danger. (My story takes place in the relative physical safety of England.) Eakes never fails to deliver an exciting story, and this book will enthrall readers and keep them guessing from exciting beginning to the very satisfying end.
What are you working on now?
I just finished writing
A Suitable Wife
, Book Two in my Ladies in Waiting series. Now I'm working on the third book, which is yet to be titled. Each of these novels tells the story of a young lady in reduced circumstances who must work as a companion for a wealthy lady. In real life Regency England, these companions lived in the shadows and had few friends. They were above the servants but below their employers, so they were relegated to the edges of society, despite their genteel upbringing.
Where else can readers find you online?
My website/blog is:
www.blog.Louisemgouge.com
The book is available at fine book stores and for online purchase via the following buttons:
CBD.com
Finally, what question would you like to ask my readers?
When you are reading a book, what are some of the things that take you out of the story?
Thank you, Louise, for visiting with us and telling us about your novel.
Readers, Louise has offered to give a signed copy of her book to the winner of our drawing on Thursday, June 21
.
To enter, leave a comment below in answer to Louise's question, above. "Please enter me" won't get you entered.
Leave your email address, in case you win, like so: trish[at]trishperry[dot]com.
Be sure to check out my interview with
Rhonda Gibson
, below. Leave an appropriate comment at the bottom of the post to enter the drawing for a copy of the book.
And I'd love it if you'd connect with me on Facebook. Just click on my name at the right of today's post.
Annoying legal disclaimer: drawings void where prohibited; open only to U.S. residents; the odds of winning depend upon the number of participants. See full disclaimer
HERE
.