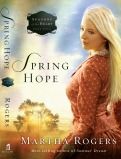 Runaway prostitute meets a deputy sheriff and love blossoms in a lie before sparks fly with the truth.
Before we revisit with today's author, I want to announce that the winner of the signed copy of
Stardust
, by Carla Stewart, is:
jeanereads@ . . .
Congratulations! I'll contact you today for your snail mail address, and we'll get your book to you right away.
I encourage readers to keep commenting and/or subscribe at right (above my list of books) in order to participate in future book give-aways!
Now let's revisit with novelist
Martha Rogers
, author of
Spring Hope
(Realms, May 2012).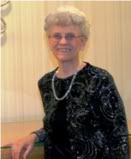 Martha Rogers is a free-lance writer and the author of the Winds Across the Prairie series as well as the novella,
Key to Her Heart
in
River Walk Christmas
.
Summer Dream, Autumn Song, and Winter Promise
, the first three books in her new series, Seasons of the Heart, are now available.
She was named Writer of the Year at the Texas Christian Writers Conference in 2009 and writes a weekly devotional for ACFW. Martha and her husband live in Houston.
In addition to her works of fiction, Martha has stories in a number of compilations as well as devotional contributions to several anthologies and writes the weekly "Verse of the Week" for the ACFW Loop.
She is a retired teacher and lives in Houston with her husband, Rex, where they enjoy spending time with their grandchildren and attending football, baseball, and basketball games when one of the grandchildren is playing.
Please tell us five random things we might not know about you.
--I began college as a nursing student
--My husband and I went on several mission trips as sponsors to Mexico with our church youth
--I was on the tennis team in high school
--I lived in Washington D.C. in the 8th grade and went to Alice Deal Junior High.
--I skipped the second grade in school and graduated high school at age 16 in 1953.
Please tell us a bit more about the plot of Spring Hope
.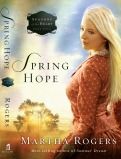 Libby Cantrell's life has gone from bad to worse since her mother's death. With an abusive father, and life in a brothel, she sees no hope for her future until she gains the courage to make her escape one cold winter night.
When she arrives exhausted, hungry, and ill in Portersfield, Texas, Sheriff Cory Muldoon finds her in an alley and takes her to a doctor. Against Cory's better judgment, Seth and Erin Winston take her in and offer her a job as a nanny for their young son. As a minister, Seth sees it as his duty to take care of the young woman. As a deputy, Cory sees it as his duty to find out the truth about her even as he is attracted to the waif of a young woman.
An unexpected late winter storm and an accident at the river bring Libby and Cory even closer. As his love for her grows and winter becomes spring, will he be able to accept her as she is now and truly forget and forgive her sordid past?
What is it about your lead character that will make your readers care about him?
I think many of us face the struggles with forgiving others who have hurt us and go against everything which we have believed and taught. My hero's journey parallels my own journey to forgiving.
If a novel were published today, based on your life, what would be an appropriate title?
Rollercoaster of Life.
What is the last book you read that you would recommend?
Dan Walsh's
The Discovery
. It fascinated me as it was a book within a book. It captured my interest and wouldn't let go with a most unusual story line for the "inside manuscript".
What are you working on now?
Love Comes Home,
Book one of Love's Journey Home series.
Where else can readers find you online?
www.marthawrogers.com
The book is available at fine books stores and for online purchase via the following buttons:
CBD.com
Finally, what question would you like to ask my readers?
Why is forgiving those who hurt us and betray our trust so difficult when forgiving others is one of Jesus' major lessons for us as Christians?
Thank you, Martha, for visiting with us and telling us about your novel.
Readers, Martha has offered to give a signed copy of her book to the winner of our drawing on Monday, June 4
.
To enter, leave a comment below in answer to Martha's question, above. "Please enter me" won't get you entered.
Leave your email address, in case you win, like so: trish[at]trishperry[dot]com.
And I'd love it if you'd connect with me on Facebook. Just click on my name at the right of today's post.
Annoying legal disclaimer: drawings void where prohibited; open only to U.S. residents; the odds of winning depend upon the number of participants. See full disclaimer
HERE
.