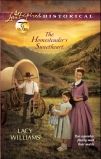 She comes from a world of wealth and privilege; he's had to fight for survival. Can love unite them?
Before we revisit with today's author, I want to announce that the winner of the signed copy of
Promised to Another
, by Laura Hilton, is:
lynne.young@ . . .
Congratulations! I'll contact you today for your snail mail address, and we'll get your book to you right away.
I encourage readers to keep commenting and/or subscribe at right (above my list of books) in order to participate in future book give-aways!
Now let's meet novelist
Lacy Williams
, author of
The Homesteader's Sweetheart
(Love Inspired Historical, May 2012).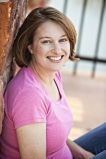 This year Lacy Williams will celebrate both her thirtieth birthday and a decade of marriage to the love of her life. She traded in her childhood dream of being a veterinarian for a job as a bean-counting auditor at a public accounting firm, but her love of animals, especially dogs, continues (she has three).
Growing up on her grandfather's farm, Lacy was bucked off a horse, tried to milk a feral cow, and once attempted to mine for gold in a red dirt field (with no luck). These childhood adventures provide a good amount of material for the western romances she writes.
More recent escapades include getting stuck in an elevator on the way to an awards banquet (where she won), having two children, becoming a multi-published author. Next up on her bucket list: writing a screenplay and taking a research trip to Australia.
Please tell us five random things we might not know about you.
--I'm an oldest child and most of the birth-order stuff is right on the money for me (bossy, driven, type-A personality). I have a younger brother and a younger sister.
--I used to write fanfiction for several TV shows.
--I am a messy person. I have lots of piles around my house, but I know where everything is (most of the time!).
--I have never broken a bone in my body.
--I have a trained Therapy Dog that I do visits with, including to the local library for the Kids Reading to Dogs program.
Kids Reading to Dogs? What a clever idea.
Please tell us a bit more about the plot of The Homesteader's Sweetheart.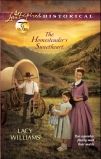 Homesteader Jonas White has managed to overcome a rough start in life and has made a home for himself and his brood of adopted children.
When his daughter needs medical treatment, the only way he can get the money is taking on more work, but he'll need someone to help watch over his daughter. His neighbor's granddaughter offers and even though Jonas is a little concerned (she's used to nice parties, not helping around the homestead), he has no choice but to accept Penny's help.
But he quickly discovers there is more to Penny than meets the eye, and she discovers maybe there's more to life than money.
What is it about Jonas that will make your readers care about him?
Jonas White wants to give the kids he has adopted everything that he never had—security, family, a steady place to live. He is devoted to them as if he was their biological parent, but he still worries they will be taken away from him.
If you were the casting director for the film version of your novel, who would play your lead roles?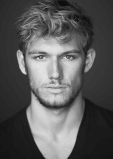 Alex Pettyfer for the hero (yum!).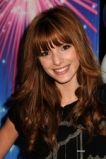 And an older Bella Thorne for the heroine.
Yes, Alex Pettyfer is pretty striking, all right!
If a novel were published today, based on your life, what would be an appropriate title?
Chasing Dreams
. Right now I am so blessed to be living some very big dreams—mainly staying home with my kids and also being published. But those blessings came from some very hard work being put in beforehand and continued hard work. The importance of chasing your dreams is definitely something I want to pass on to my kids!
I do like the idea of impressing upon our kids that dreams aren't always out of our reach, if we're willing to put in the effort.
What is the last book you read that you would recommend?
I recently enjoyed
Protecting the Princess
by Rachelle McCalla (Love Inspired Suspense). The suspense kept me turning pages as the hero tries to keep the heroine safe and the romance was sweet as the heroine tries to open the hero's heart. It's on my keeper shelf.
What are you working on now?
I'm working on a proposal for a book featuring one of the sons from
The Homesteader's Sweetheart
. Oscar White (I might be looking for a nickname for him—Oscar just doesn't seem like a hero's name to me!) is a famous horse trainer who can settle any filly. But he can't seem to tame the schoolmarm's heart.
Where else can readers find you online?
With the release of this book, I'm having a special promotion and giving away birthday gifts to my readers during the month of May at
www.megamaybirthdaybash.com
. I can also be found at
www.lacywilliams.net
The book is available at fine book stores and for purchase online through the following buttons:
CBD.com
Finally, what question would you like to ask my readers?
In
The Homesteader's Sweetheart,
the heroine tries to run away from her problems, but of course she can't outrun them in the end. Have you ever tried to run away from or avoid something (can be big or small), and what was the result?
Thank you, Lacy, for visiting with us and telling us about your novel.
Readers, Lacy has offered to give a signed copy of her book to the winner of our drawing on Monday, May 14
.
To enter, leave a comment below in answer to Lacy's question, above. "Please enter me" won't get you entered.
Leave your email address, in case you win, like so: trish[at]trishperry[dot]com.
Be sure to check out my interview with
Marta Perry
, below. Leave an appropriate comment at the bottom of her post to enter the drawing for a signed copy of the book.
And I'd love it if you'd connect with me on Facebook. Just click on my name at the right of today's post.
Annoying legal disclaimer: drawings void where prohibited; open only to U.S. residents; the odds of winning depend upon the number of participants. See full disclaimer
HERE
.