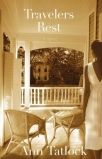 Jane Morrow's fiancé wants to end their engagement, not because he doesn't love her, but because he was wounded and left paralyzed by a sniper's bullet in Iraq.
Today we're chatting with novelist
Ann Tatlock
, author of
Travelers Rest
(Bethany House Publishers, May 2012).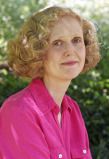 Ann Tatlock is the Christy-award winning author of nine novels. In 2011 her novel,
Promises to Keep
, was named by
Booklist Magazine
as one of the top ten historical novels of the year. She has also authored a non-fiction eBook,
Writing to a Post-Christian World
.
Ann enjoys teaching at various writers conferences throughout the year. She lives in Asheville, NC, with her husband Bob and their daughter, Laura.
Please tell us five random things we might not know about you.
-- My husband and I adopted our 14-year-old daughter, Laura, from China when she was seven months old.
-- I grew up in a state that many people don't realize actually is a state: Delaware. (A common response: "Delaware? What state is that in?")
-- For a little more than five years, beginning in 1987, I worked as an assistant editor of "Decision" magazine, a publication of the Billy Graham Evangelistic Association.
-- Forget diamonds—dogs are a girl's best friend! We have three rescue dogs, one Mexican Chihuahua and two Chihuahua mixes. They give us endless smiles.
-- While I'm no gardener, I do plant morning glories every spring for the sheer joy of watching them bloom.
I love how your list has an overriding theme of making a positive impact, Ann.
Please tell us a bit more about the plot of Traveler's Rest.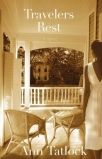 Jane Morrow's fiancé has been wounded in Iraq and left paralyzed from the neck down. When Seth Ballantine comes home to North Carolina, he wants to break their engagement for her sake. But Jane still loves Seth and wants to keep her commitment.
Jane seeks the guidance of an aging vet and former physician, Truman Rockaway, who is nursing a decades-old heartache of his own.
Their individual journeys for answers merge and intertwine, leading them to hope and healing in a place called Travelers Rest.
What is it about Jane that will make your readers care about her?
Jane Morrow simply wants to lay her heart in a place where it won't be broken and from which she'll never have to take it up again. Don't we all?
You said it! If you were the casting director for the film version of your novel, who would play your lead roles?
I would cast complete unknowns so that they could convincingly become Jane Morrow and Seth Ballantine without all the Hollywood baggage attached!
If a novel were published today, based on your life, what would be an appropriate title?
Glimpses of a Distant City
What is the last book you read that you would recommend?
I highly recommend
The Prodigal God
, by Timothy Keller. It offers fresh insight into the well-known parable of the prodigal son. While many of us might not be the prodigal, we may, however, be the older brother, the one who didn't leave, and the one who equally needed a lesson in the meaning of grace.
What are you working on now?
I'm having a fabulous time writing a story that takes place in 1931 during Prohibition. The main character is 17-year-old Eve Marryat and the setting is Marryat Island Ballroom and Lodge in Mercy, Ohio. The Island is based on a real island that used to exist in the Little Miami River called Hoppe's Island. That island was named after my great-grandfather, who owned the place. It's a story about everyday life in a time of gangsters, bootleggers and economic depression. What's really fun is that Al Capone makes an appearance in the book!
What a fun project! And it sounds like the book will be fun, too.
Where else can readers find you online?
www.anntatlock.com
The book is available at fine book stores and for purchase online through the following buttons:
CBD.com
Finally, what question would you like to ask my readers?
If you could jump between the covers of a novel and live out the life of the main character, what book would you choose?
Thank you, Ann, for visiting with us and telling us about your novel.
Readers, Ann has offered to give a signed copy of her book to the winner of our drawing on Thursday, May 17
.
To enter, leave a comment below in answer to Ann's question, above. "Please enter me" won't get you entered.
Leave your email address, in case you win, like so: trish[at]trishperry[dot]com.
Be sure to check out my interviews with
Lacy Williams
and
Marta Perry
, below. Leave an appropriate comment at the bottom of each post to enter the drawing for a signed copy of the book.
And I'd love it if you'd connect with me on Facebook. Just click on my name at the right of today's post.
Annoying legal disclaimer: drawings void where prohibited; open only to U.S. residents; the odds of winning depend upon the number of participants. See full disclaimer
HERE
.