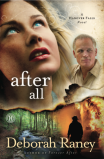 The stunning conclusion to Deborah Raney's Hanover Falls Novels series!
Before we revisit with today's author, I want to announce that the winner of the signed copy of
Lady Anne's Quest
, by Susan Page Davis, is:
cjenreffner@ . . .
Congratulations! I'll contact you today for your snail mail address, and we'll get your book to you right away.
I encourage readers to keep commenting and/or subscribe at right (above my list of books) in order to participate in future book give-aways!
Now let's revisit with
Deb Raney
, author of
After All
(Simon & Schuster/Howard, May 2012).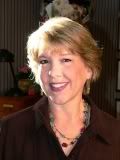 Deborah Raney's first novel,
A Vow to Cherish
, inspired the World Wide Pictures film of the same title and launched her writing career after 20 happy years as a stay-at-home mom. Her books have won numerous awards including the RITA, National Readers Choice Award, HOLT Medallion, the Carol Award, and have twice been Christy Award finalists. Deb's newest novel will release from Howard/Simon & Schuster in May.
She and her husband, Ken Raney, enjoy the wildflowers and native grasses in the Kansas prairie garden in their large backyard. They also love traveling together to teach at conferences, and to visit four children and four small grandchildren who all live much too far away.
Please tell us five random things we might not know about you.
–– I grew up on a wheat farm in Kansas, the oldest of 5 children.––4 girls and a boy. I married the oldest of 5 children––4 boys and a girl.
–– I play the piano by ear. Badly, but well enough for my own entertainment––and cheaper than therapy!
–– I received my first contract the day after I witnessed a murder at our local grocery store.
–– I've given birth to babies in three decades: a boy in the 70s, a boy and a girl in the 80s, and a girl in 1990.
–– I speak Pig Latin fluently, thanks to my dad. (My mom was not a happy camper when Daddy taught us kids the secret language he and Mother spoke when they didn't want us kids to understand.)
Please tell us a bit more about the plot of After All.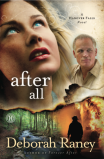 Featuring her trademark warm, friendly style, the final novel in bestselling and award-winning Deborah Raney's Hanover Falls series offers plenty of romance and mystery as three people find hope, forgiveness, and love in unexpected places.
Eighteen months after the tragic Grove Street Fire took the life of her husband and four other heroic firefighters, Susan Marlowe thinks she's finally beginning to heal. But then she discovers that David carried a secret to his grave—a secret that changes everything she thought about their marriage. For the sake of their sons, can Susan forgive the unforgivable?
Andrea Morley lost her closest friend in the fire. But she has no right to mourn him. Instead, she must forever grieve in silence—for someone else's husband.
Peter Brennan carries the weight of the world on his shoulders. As Hanover Falls fire chief, he was responsible for the brave firefighters who lost their lives that awful November night. Can he ever shake the feeling that he could have somehow prevented the tragedy? And now it seems he might find comfort in the arms of the woman he least expected.
What is it about Pete that will make your readers care about him?
As the fire chief on duty when the Grove Street fire took the lives of five of his firefighters, Pete carries the weight of the horrific event on his shoulders. He is haunted by the irrational fear that there was something he could have done to prevent the tragedy.
If you were the casting director for the film version of your novel, who would play your lead roles?
Daniel Craig would be a great Peter Brennan.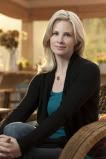 Monica Potter from TV's Parenthood would be perfect to portray Susan Marlowe.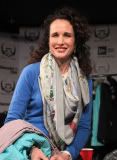 And in my mind, Andi McDowell is Andrea Morley.
What would you say has been the greatest challenge to your writing life that you've faced recently?
My husband was laid off from his advertising manager's job after 25 years, and he decided to start his own business. That means that as we've been adjusting to the empty nest, we're also adjusting to having both of us work from home now.
After having the whole house to myself for much of my writing career, it's been a challenge to share my office building with a co-worker, but Ken and I are growing to actually love it. In fact, just today we talked about what our dream home might look like, and to my surprise, I was on board with Ken's idea of a shared office! Now that's some kind of miracle!
What is the last book you read that you would recommend?
I loved Yvonne Lehman's
Hearts That Survive
, a novel based on the sinking of the Titanic. It was simply excellent, and very timely with this being the one-hundred year anniversary of that tragedy.
What are you working on now?
I'm working on another novel for Simon & Schuster/Howard, this one a stand-alone called
Face of the Earth
. I've done two 3-book series back-to-back over the last 5-6 years, so it's been unusual to be writing a stand-alone. But I'm really enjoying this story––one with a bit more mystery to it than my books usually have.
Where else can readers find you online?
Twitter
Facebook
novelgarden.blogspot.com
CBD.com
Finally, what question would you like to ask my readers?
If calories were no object, what is your favorite snack to eat while reading a great book?
Thank you, Deb, for visiting with us and telling us about your novel.
Readers, Deborah has offered to give a signed copy of her book to the winner of our drawing on Thursday, May 3.
To enter, leave a comment below in answer to Deborah's question, above. "Please enter me" won't get you entered.
Leave your email address, in case you win, like so: trish[at]trishperry[dot]com.
Be sure to check out my interview with
Margaret Daley
, below. Leave an appropriate comment at the bottom of her post to enter the drawing for a signed copy of the book.
And I'd love it if you'd connect with me on Facebook. Just click on my name at the right of today's post.
Annoying legal disclaimer: drawings void where prohibited; open only to U.S. residents; the odds of winning depend upon the number of participants. See full disclaimer
HERE
.