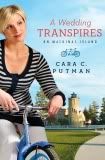 Her worst fears are realized and history repeats itself—landing her in the midst of a murder investigation.
Before we talk with today's author, I want to announce that the winner of the signed copy of
Echoes of Titanic
, by Mindy and John Stark, is:
lgm52@ . . .
Congratulations! I'll contact you today for your snail mail address, and we'll get your book to you right away.
I encourage readers to keep commenting and/or subscribe at right (above my list of books) in order to participate in future book give-aways!
Now let's visit with
Cara Putman
, author of
A Wedding Transpires on Mackinac Island
(Barbour, April 2012).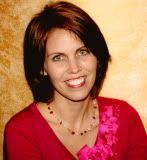 Cara C. Putman lives in Indiana with her husband and four children. She's an attorney and a teacher at her church as well as lecturer at Purdue. She has loved reading and writing from a young age and now realizes it was all training for writing books. She loves bringing history and romance to life.
An honors graduate of the University of Nebraska and George Mason University School of Law, Cara left small town Nebraska and headed to Washington, D.C., to launch her career in public policy.
Cara is an author chasing hard after God as she lives a crazy life. She invites you to join her on that journey.
Please tell us five random things we might not know about you.
-- I'm headed on a grand adventure with my family this summer.
-- I grew up working in my family's restaurants: we've owned six in the Runza chain at various times.
-- I swam the 200 m. butterfly several times in competition because no one else from my team would.
-- I'm the kind of mom who has to discipline my kids by taking the books away from them.
-- I'm a graduate of in the Indiana FBI's Citizens' Academy.
It will be exciting to see if your grand adventure shows up in any future stories!
Please tell us a bit more about the plot of A Wedding Transpires on Mackinac Island.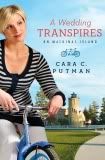 Attorney Alanna Stone vowed long ago to avoid Mackinac Island. Although it may seem the perfect place to heal, for Alanna it holds too many memories of a painful past.
But an exhausting high profile case and an urgent plea from her parents have brought Alanna home. Moving into the house next to Jonathan Covington doesn't help her. Jonathan may have been her first love, but he was also her first lesson in betrayal. Now Alanna must protect her privacy and her heart. Then secrets and a murder intersect, and she's thrust into controversy again as tragedy turns public opinion against her and potentially her family.
For years, Jonathan has stubbornly resisted the urging of his family and friends to date, believing he's already found the perfect woman. With Alanna's return, he begins to wonder if he's waited too long for someone who isn't the right one after all.
What is it about Alanna that will make your readers care about her?
Alanna is forced to confront her past or turn her back on her family. She shows strength by going home and then having to make another decision that will have lasting effects on her family. She's willing to do the right thing even when it hurts.
If you were the casting director for the film version of your novel, who would play your lead roles?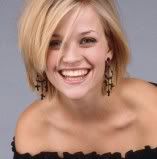 Alanna Stone would be played by Reese Witherspoon.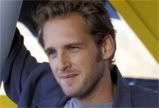 And Jonathan Covington would be played by Josh Lucas.
Oh! I just realized they played opposite each other in Sweet Home, Alabama! They do look nice together.
What would you say has been the greatest challenge to your writing life that you've faced recently?
Digging deeper. I'm in a season where I keep hearing that I need to go deeper. It's work, but I'm committed to the process of becoming an ever better writer.
I hear you. I've been reading more classics lately, and I feel challenged to write a better novel than I have so far. What is the last book you read that you would recommend?
Oh my! It's always so hard to answer this question. I really enjoyed Janice Thompson's
Stars Collide
– the humor was brilliant. I devoured Randy Singer's
The Last Plea Bargain
. He is a MASTER at legal suspense. Absolutely brilliant.
What are you working on now?
Going deeper on a WWII proposal that starts with women pilots. From there the series would spin off to related stories. I love the research and development aspects, but am so eager to write this series!
Where else can readers find you online?
Readers can find me all over the web ☺
Website:
www.caraputman.com
Blog:
blog.caraputman.com
Facebook:
www.facebook.com/caraputman
Twitter:
www.twitter.com/cara_putman
Pinterest:
www.pinterest.com/caraputman
The book is available at fine book stores and for purchase online through the following buttons:
CBD.com
Finally, what question would you like to ask my readers?
You're engrossed in a book and hear a siren sound. Do you keep reading just one more page, or toss the book to the side and dive for cover?
Thanks, Cara, for visiting with us and telling us about your novel.
Readers, Cara has offered to give a signed copy of her book to the winner of our drawing on Monday, April 9.
To enter, leave a comment below in answer to Cara's question, above. "Please enter me" won't get you entered.
Leave your email address, in case you win, like so: trish[at]trishperry[dot]com.
And I'd love it if you'd connect with me on Facebook. Just click on my name at the right of today's post.
Annoying legal disclaimer: drawings void where prohibited; open only to U.S. residents; the odds of winning depend upon the number of participants. See full disclaimer
HERE
.