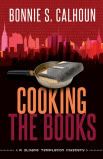 Sloane Templeton has a half-batty store manager, an aunt who annoys the Fire Dept, and a bunch of little old people who have never read a book.
Before we revisit with today's author, I want to announce that the winner of the signed copy of
Downtown Green
, by Judy Christie, is:
richmond.abigail@ . . .
Congratulations! I'll contact you today for your snail mail address, and we'll get your book to you right away.
I encourage readers to keep commenting and/or subscribe at right (above my list of books) in order to participate in future book give-aways!
Now let's visit with
Bonnie S. Calhoun,
author of
Cooking The Books
(Abingdon Press, April 2012).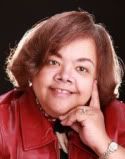 As the Owner/Director of the Christian Fiction Blog Alliance Bonnie has helped use the 220+ blogs of the Alliance to promote many titles on the Christian bestseller list. She also owns and publishes the
Christian Fiction Online
magazine which is devoted to readers and writers of Christian fiction. She is the Northeast Zone Director for American Christian Fiction Writers (ACFW). At ACFW she was named the 'Mentor of the Year,' for 2011, and she is the current President of (CAN) Christian Authors Network. Bonnie is also the Appointment Coordinator for both the Colorado Christian Writers Conference and the Greater Philadelphia Christian Writers Conference.
In her spare time she is an avid social media junkie, and teaches Facebook, Twitter, Blogging and HTML as recreational occupations. She also has a novel coming out in the Abingdon Quilts of Love series. Her novel
Pieces of the Heart
will publish August of 2013.
Please tell us five random things we might not know about you.
-- I'm a clothing designer in real life.
-- For 15 years I was Group Leader of Product Development for GE Engine Controls and Flight Controls.
-- I love TV crime dramas
-- I can shoot a gun rather well
-- I never want to retire
Please tell us a bit more about the plot of Cooking the Books.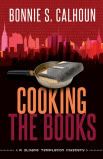 After her mother dies from a heart attack, Sloane Templeton goes from Cyber Crimes Unit to bookstore owner before she can blink. She also "inherits" a half-batty store manager named Felicia Tyler, better know as Fefe, bright red, tightly permed hair, wearer of noisy jewelry and ungodly bright spandex. She's the half-batty manager of mom's bookstore, and the batty part plays with loaded guns.
Then there's a strange bunch of little old people from the neighborhood who meet at the store once a week called the Granny Oakleys Book Club who smell like food, but never read books. And Aunt Verline Buford, mom's younger sister, who fancies herself as the Iron Chef, when in reality you need a cast-iron stomach to partake of her disasters. She had her last husband die of food poisoning, but they swear that she didn't cause it.
And with a group like this you should never ask, "What else can go wrong?"
Mix in a pair of professors, several gun toting thieves, and a couple books worth a fortune and the outcome could be murder!
What is it about Sloane that will make your readers care about her?
She is flawed, battered, and bruised by men and life but she can laugh at herself and persevere though anything that comes at her.
If you were the casting director for the film version of your novel, who would play your lead roles?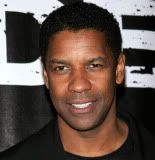 Yikes, I hadn't even thought of that…let's see…Denzel Washington would have to be Det. Justice.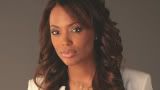 Aisha Tyler would play Sloane.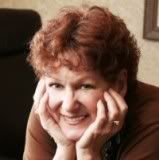 Ane Mulligan would be Fifi.
And Jim Caviezel would be Andreas…that's about all I can think of off hand.
What would you say has been the greatest challenge to your writing life that you've faced recently?
Oh, that's an easy one…finding the time to write. I need to rent a desert island and cut all internet service to keep me off email and Facebook…but then I'd probably wind up on
Survivor
and they'd make me eat bugs or strange animal parts…bleck!
What is the last book you read that you would recommend?
I just finished
The 13th Tribe
by Robert Liparulo. He's one of my favorite writers anyhow, but this new novel takes him in a totally new direction with immortal vigilantes from the time of Moses.
What are you working on now?
I'm presently writing a Quilts of Love series book for Abingdon Press titled
Pieces of the Heart
. It's a WWII story of Sloane Templeton's grandmother.
Where else can readers find you online?
bonniescalhoun.com
Twitter
Youtube
Facebook
www.facebook.com/bonniescalhounsnarkandsuspense
The book is available at fine book stores and for purchase online through the following buttons:
CBD.com
Finally, what question would you like to ask my readers?
Does reading a book with heavy suspense scare you?
Thank you, Bonnie, for visiting with us and telling us about your novel.
Readers, Bonnie has offered to give a signed copy of her book to the winner of our drawing on Monday, April 23.
To enter, leave a comment below in answer to Bonnie's question, above. "Please enter me" won't get you entered.
Leave your email address, in case you win, like so: trish[at]trishperry[dot]com.
Be sure to check out my interview with
Amy Wallace
, below. Leave an appropriate comment at the bottom of her post to enter the drawing for a signed copy of the book.
And I'd love it if you'd connect with me on Facebook. Just click on my name at the right of today's post.
Annoying legal disclaimer: drawings void where prohibited; open only to U.S. residents; the odds of winning depend upon the number of participants. See full disclaimer
HERE
.