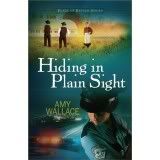 A female police officer's assistance to a Mennonite runaway forces her into the middle of an escalating battle between two communities and the big city violence she left behind.
Before we revisit with today's author, I want to announce that the winner of the signed copy of
The Mother Road
, by Jennifer AlLee, is:
ckbarker@ . . .
Congratulations! I'll contact you today for your snail mail address, and we'll get your book to you right away.
I encourage readers to keep commenting and/or subscribe at right (above my list of books) in order to participate in future book give-aways!
Now let's visit with
Amy Wallace
, author of
Hiding In Plain Sight
(Harvest House, April 2012).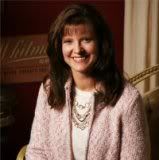 Amy Wallace writes Dark Chocolate Suspense—high-action suspense that delves deep into heart issues. Amy is a homeschool mom, author, speaker, co-leader of a young writer's club, and avid chocoholic.
Her novels include the Defenders of Hope Series:
Ransomed Dreams, Healing Promises,
and
Enduring Justice
. Amy is also a contributing author of
A Novel Idea: Best Advice on Writing Inspirational Fiction, God Answers Moms' Prayers,
and
Chicken Soup for the Soul Healthy Living Series: Diabetes.
Please tell us five random things we might not know about you.
-- I'm eating chocolate right now. (As I type this and probably as you're reading this. ☺)
-- I'm an advanced (blue) belt martial artist
--I dream of visiting Ireland one day.
--I'm a HUGE fan of the University of Louisville Cardinals, and I love basketball.
--I still collect stuffed animals, mostly bears, and have a collection from all over the world.
Please tell us a bit more about the plot of Hiding in Plain Sight.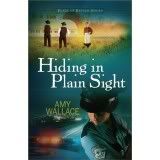 Secrets of the Heart Never Stay Hidden.
World weary and down to a threadbare faith, Police Officer Ashley Walters seeks refuge in Montezuma, Georgia, a quiet town with a thriving Mennonite community. Even in the peaceful surroundings, she can't escape the haunting memories of crime-ridden Atlanta.
Then handsome Marriage and Family Counselor Patrick James partners with a teenaged Mennonite runaway to offer Ashley a second chance at redemption…and romance. But when violence erupts over revitalization plans that pit the Montezuma and Mennonite communities against each other, Ashley is forced to stop the person responsible—even if he is someone she's come to love.
As God unlocks the secrets darkening Ashley's heart, she must answer two crucial questions: Who is in control? And can she trust Him?
What is it about Ashley that will make your readers care about her?
Ashley loves chocolate like her creator and has a tender heart toward those who are hurting. She's both a tough cop—someone you want on your side— and an amazing artist. Through painting she tries to make sense of the evil she sees on a daily basis at work. She's a good friend and a real hero, even though that armor has many kinks.
If you were the casting director for the film version of your novel, who would play your lead roles?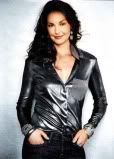 Ashley Judd with long black hair and fiery green eyes would make a fantastic Ashley Walters.
For Patrick James, I'd cast David Boreanaz from Bones but give him thoughtful blue eyes.
We'll have to imagine them with the right eye colors!
What would you say has been the greatest challenge to your writing life that you've faced recently?
Health challenges. The deeper I dove into writing
Hiding in Plain Sight
and
Nowhere to Run
, the worse my health grew. To the point I was in the ICU for blood clots in July of last year, and then in November I had my thyroid removed. Thankfully, I'm on the mend and have managed to stay away from the hospital for a while now.
I know all of my readers will keep you in prayer, Amy!
What is the last book you read that you would recommend?
There You'll Find Me
by Jenny B. Jones and
The Restorer - Expanded Edition
by Sharon Hinck. Both books are by favorite authors because these two make me laugh, cry, care, and love Jesus more.
What are you working on now?
Edits for
Nowhere to Run
.
Where else can readers find you online?
Facebook
or the Dark Chocolate Suspense site:
www.amywallace.com
.
Please stop by and say hi! I'd love to hear from you!
Finally, what question would you like to ask my readers?
If I could be remembered for only one thing, it would be that I glorified God by enjoying Him to the fullest and that I showed by example what it means to dream big and live a life that touches hearts and leads people into a deep relationship with Christ.
What about you? What sentence would sum up who you are and how God is using your life?
The book is available at fine book stores and for purchase online through the following buttons:
CBD.com

Readers, Amy has offered to give a signed copy of her book to the winner of our drawing on Thursday, April 19.

To enter, leave a comment below in answer to Amy's question, above. "Please enter me" won't get you entered.

Leave your email address, in case you win, like so: trish[at]trishperry[dot]com.

Be sure to check out my interview with

Judy Christie

, below. Leave an appropriate comment at the bottom of her post to enter the drawing for a signed copy of the book.

And I'd love it if you'd connect with me on Facebook. Just click on my name at the right of today's post.

Annoying legal disclaimer: drawings void where prohibited; open only to U.S. residents; the odds of winning depend upon the number of participants. See full disclaimer

HERE

.