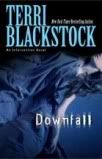 Emily Covington has been sober for two years, but the consequences of her seedy past continue to stalk her.
Before we talk with today's author, I want to announce that the winner of the signed copy of
When Rain Falls
, by Tyora Moody, is:
jennydtipton@ . . .
Congratulations! I'll contact you today for your snail mail address, and we'll get your book to you right away.
I encourage readers to keep commenting and/or subscribe at right (above my list of books) in order to participate in future book give-aways!
Now let's revisit novelist
Terri Blackstock
, author of
Downfall
(Zondervan, February 2012).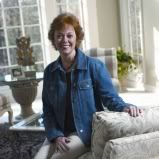 Terri Blackstock has sold well over six million books worldwide during her twenty-seven year career.
Intervention
and
Vicious Cycle
, the first two books in the acclaimed Intervention Series, debuted on the
New York Times
bestseller list.
Intervention
was a 2010 Carol Award Winner, and her book
Predator
won the same award for 2011.
Other Blackstock favorites include the Restoration Series, the Newpointe 911 Series, the Cape Refuge Series, and the Suncoast Chronicles Series.
Terri lives with her husband Ken in Mississippi, where they are enjoying their empty nest after raising three children.
Please tell us five random things we might not know about you.
--I have three children and one grandchild (six months old).
--I live in Mississippi.
--I've been married to my husband Ken for almost twenty years.
--I'm obsessed with HGTV and DIY networks (home decorating channels).
--I eat gluten-free.
Readers, I've had the pleasure of spending a bit of time with Terri and her husband, Ken. They're truly a kind, sweet-natured couple. The endurance of their marriage is no surprise to me.
Terri, please tell us a bit more about the plot of Downfall.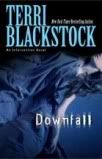 Emily Covington has turned her life around after a drug addiction, but her family still has trouble trusting her. Though Emily has committed herself to a year-long treatment program and has been sober for almost a year beyond that, even her mother walks on egg shells around her, fearing she'll relapse. After her behavior during her drug years, Emily realizes she has a lot to prove.
When police discover a home-made bomb under Emily's car, and she then learns the wife of one of her friends was murdered that same morning, she knows things are deadly serious. But who wants Emily dead? And why?
A conversation she had with two men, an Alfred Hitchcock movie, and a plan for a double-murder all conspire for one explosive ride … and Emily is the only one who can identify the killer and save the life of the next potential victim.
What is it about Emily that will make your readers care about her?
Emily has struggled with her addictions throughout the Intervention Series, but she sincerely wants to have a new life of sobriety and righteousness. Anyone who's ever known someone like Emily, or has been someone like Emily, will root for her to overcome.
If you were the casting director for the film version of your novel, who would play your lead roles?
I don't really have actors in mind. I do find pictures of my characters and keep them on a bulletin board while I'm writing, but the pictures aren't of actors. They're just pictures I find in catalogs or magazines. I also try not to be too specific with my readers about what the characters look like, because it might not match the image they have in their minds.
Please share with us one quote that either inspires you or simply amuses you as you go about your efforts as a writer.
"That which does not kill us makes us stronger." (A great philosopher named Conan the Barbarian said this, but it originally came from Friedrich Nietsche. I don't buy into anything else Nietsche said, but this turns out to be true, especially in the area of writing.)
That's hilarious--I had no idea Conan the Barbarian used that quote. And with an Austrian accent, no less. But I completely agree with the quote, as well. And even Nietsche pretty much paraphrased Romans 5:3-4: "Not only so, but we also glory in our sufferings because we know that suffering produces perseverance; perseverance, character; and character, hope."
What is the last book you read that you would recommend?
I really liked
The God Hater
by Bill Myers, because it so clearly illustrates the Trinity and the reason for the incarnation of Christ. It's about an atheist who's helping create a computer world, and he finds that he has to make an avatar of himself and become one of the people in the computer world in order to save them from disaster.
I enjoyed that book, too. An excellent way of presenting the need for Christ. What are you working on now?
I'm working on a brand new series with a new set of characters, but I don't have a title yet. It's about three sisters—a blogger, a taxi driver, and a stay-at-home mom, who moonlight as private investigators to solve crimes that are personal to them. I've finished the first book and I'm waiting for edits. We should nail down our titles soon, and then I'll post it so my readers will know what's coming.
Where else can readers find you online?
www.terriblackstock.com
Facebook
Twitter
YouTube
The book can be purchased at fine book stores and online via the following buttons:
CBD.com
Finally, what question would you like to ask my readers?
I love that my readers often pass my books around to their friends and families. My question is: How many people do you usually share your favorite books with?
Thank you, Terri, for visiting with us and telling us about your novel.
Readers, Terri has offered to give a signed copy of her book to the winner of our drawing on Thursday, March 8.
To enter, leave a comment below in answer to Terri's question, above. "Please enter me" won't get you entered.
Leave your email address, in case you win, like so: trish[at]trishperry[dot]com.
Be sure to check out my interview with
Kay Strom
, below. Leave an appropriate comment at the bottom of her post to enter the drawing for a signed copy of her book.
And I'd love it if you'd connect with me on Facebook. Just click on my name at the right of today's post.
Annoying legal disclaimer: drawings void where prohibited; open only to U.S. residents; the odds of winning depend upon the number of participants. See full disclaimer
HERE
.