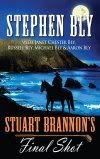 It's 1905. Two orphans flee from Oregon's Tillamook Head. One of them is branded a hero. Do they tell the truth and risk the wrath of a dangerous man?
Before we look at today's featured author, I want to announce that the winner of the signed copy of
Hearts that Survive
, by Yvonne Lehman, is:
wpd_2@ . . .
Congratulations! I'll contact you today for your snail mail address, and we'll get your book to you right away.
I encourage readers to keep commenting and/or subscribe at right (above my list of books) in order to participate in future book give-aways!
Today's post doesn't involve a giveaway, but I wanted to draw your attention to
Stuart Brannon's Final Shot
, by the dear, late
Stephen Bly.
About Stephen: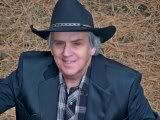 Stephen Bly (August 17, 1944 – June 9, 2011) authored 106 books and hundreds of articles and short stories. His book,
The Long Trail Home
(Broadman & Holman), won the prestigious 2002 Christy Award for excellence in Christian fiction in the category western novel. Three other books,
Picture Rock
(Crossway Books),
The Outlaw's Twin Sister
(Crossway Books), and
Last of the Texas Camp
(Broadman & Holman), were Christy Award finalists.
He spoke at colleges, churches, camps and conferences across the U.S. and Canada. He was the pastor of Winchester Community Church, and served as mayor of Winchester, Idaho (2000-2007). He spoke on numerous television and radio programs, including Dr. James Dobson's "Focus on the Family." He was an Active Member of the Western Writers of America.
Steve graduated summa cum laude in Philosophy from Fresno State University and received a M.Div from Fuller Theological Seminary.
The Blys have three sons: Russell (married to Lois) and father of Zachary and Miranda (married to Chris Ross) and mother of Alayah; Michael (married to Michelle); and Aaron (married to Rina Joye) and father of Keaton and Deckard. A third generation westerner, Steve spent his early years working on California farms owned by his father and an uncle.
About the novel: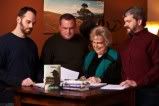 FINISHING DAD'S NOVEL: A FAMILY AFFAIR
Janet Chester Bly
Copyright©2012
My husband, Stephen Bly, hated half-done jobs. He couldn't stand a 'to do' list without immediate action. One big project for 2011: complete his novel,
Stuart Brannon: The Final Shot
.
When he passed away on June 9th, 2011, my sons said to me, "Let's finish that book."
The idea grew. They had their dad's creativity and wit. They'd impart their father's input. I also discovered the value of their feedback and encouragement. I couldn't do it without them.
The editor gave us a four-month extension. This incomplete project became a family affair.
Can a committee write a novel? We had the passion to find out.
Steve left us 7,000 words, a synopsis and some character names. We read over his sample chapters.
"It reads more like a mystery than a western," we four surmised.
This book must resonate like a Stephen Bly novel and resemble the early Stuart Brannon Series. Yet, this story's different. Brannon's older. He struggles to fit into the 20th Century. He also grapples with the game of golf on behalf of a celebrity charity tournament.
We immersed ourselves in the original series. We scanned other Stephen Bly novels for Brannon mentions. I scoured Steve's resources for a basic grounding in the western world he knew so well. I also skimmed our fiction writing books for tips and printed out excerpts for the sons.
We focused our main theme on fighting for justice, truth and mercy.
We met weekly to brainstorm and critique. We started with a cluster diagram of all the known factors. Spirited discussions stirred debate as well as consensus. We assigned each other research topics, then talked through and roughed out random scenes. We drafted an outline and plot points to give direction for which scenes to create next. We tried to include as much of Steve's writings as we could.
To keep the constant additions discernable, I used a different color type each week that turned into a rainbow manuscript. Even with this trick and the outline, the key challenge was to keep the story's timeline straight. Then I took a trip to Oregon, to discover and experience what Steve knew and we didn't. This added much needed color and revealed critical mistakes.
The deadline loomed as we aimed for 75,000 words. I struggled to eek out 2,000 words daily. When Aaron devised an adventure scene and Mike produced the golf tourney and poker game settings, I knew we'd hit the target count. After we exceeded our goal, we deleted scenes and characters that didn't move the plot. The last days and hours were frantic with attempts to get it as perfect as possible.
At 10:36 a.m. on November 1st, 2011, son Mike emailed me, "Well? Ready to push 'send'? At 11:46 a.m., I did.
We finished Steve's last undone task.
~~~~~~~~~~~~~~~~~~~~~~~
Janet Chester Bly has published 30 nonfiction and fiction books, 18 she co-authored with Christy Award winner Stephen Bly. Titles include The Hidden West Series, The Carson City Chronicles, Hope Lives Here and The Heart of a Runaway. She resides at 4200 ft. elev. on the Idaho Nez Perce Indian Reservation. Her 3 married sons live down the mountain with their families.
The book can be purchased at fine book stores and online via the following buttons:
Be sure to check out my interview with
Hannah Alexander
, below. Leave an appropriate comment at the bottom of the post to enter the drawing for a signed copy of the book.
And I'd love it if you'd connect with me on Facebook. Just click on my name at the right of today's post.
Annoying legal disclaimer: drawings void where prohibited; open only to U.S. residents; the odds of winning depend upon the number of participants. See full disclaimer
HERE
.