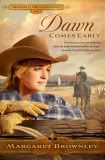 Disgraced dime novelist Kate Tenney finds that the wild west is nothing like it's depicted in her books—and neither are the men!
Today we're talking with
Margaret Brownley
, author of
Dawn Comes Early
, Brides of Last Chance Ranch (Thomas Nelson, March 2012).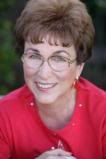 Thrills, mystery, suspense, romance: Margaret penned it all. Nothing wrong with this—except Margaret happened to be writing for the church newsletter. After making the church picnic read like a Grisham novel, her former pastor took her aside and said, "Maybe God's calling you to write fiction."
So that's what Margaret did. She's now a
New York Times
bestselling author and a Romance Writers of America RITA finalist with more than 25 novels to her credit.
The first book in her Brides of Last Chance Ranch series,
Dawn Comes Early
, releases March 2012. The book will be followed by
Waiting for Morning
in December, and her California Gold Rush book
A Long Way Home
will soon be available as an eBook.
Margaret's also excited to announce that her non-fiction book,
Grieving God's Way: The Path to Hope and Healing,
will be published in July—not bad for someone who flunked 8th grade English. Just don't ask her to diagram a sentence.
Please tell us five random things we might not know about you.
--My office is painted Monet purple for creativity.
--I'm an early riser (4 a.m.).
--When I'm not writing you'll find me at the beach.
--I love waterfalls, Italian food and children.
--I think I just proved that I also can't count.
We'll just count that last comment as Number Five. Please tell us a bit more about the plot of Dawn Comes Early.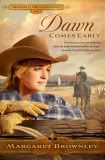 Heiress Wanted. Looking for hard-working, professional woman of good character and pleasant disposition willing to learn the ranching business in Arizona Territory. Must be single and prepared to remain so now and forever more.
Her latest dime novel banned, 29-year old Kate Tenney answers an advertisement for heiress to an Arizona cattle ranch. It seems like the perfect solution for a disgraced novelist with no intention of getting married—ever.
Trouble begins the moment she steps foot in Arizona Territory. The west is nothing like she wrote about in her books. Not only does she have to deal with a hard-nosed ranch owner, and nefarious outlaw, but a traitorous heart. Kate does not trust men and has no intention of falling for Luke Adam's charm. She's determined to learn the ranching business and prove to the doubting ranch owner that she's up to the task—if it kills her. If only she could stay away from a certain handsome blacksmith and his two matchmaking aunts.
What is it about Kate that will make your readers care about her?
Kate has had a hardscrabble life. Deserted by her father and neglected by her mother Kate longs for something permanent in her life. She thinks land will always be there for her, which is why she decides to choose the ranch over a man. I think readers will root for her as she learns the error of her ways.
Please share with us one quote that either inspires you or simply amuses you as you go about your efforts as a writer.
I like this quote from Hemingway: "The most essential gift for a good writer is a built-in, shock-proof [malarky] detector." Now if I could only keep mine in good working order!
What are you working on now?
I've completed book two of the Brides of Last Chance Ranch and am now working on Book three. I also have a novella in the works.
Where else can readers find you online?
You can find me on my website at
www.margaretbrownley.com
I'm also on Twitter and Facebook.
The book can be purchased at fine book stores and online via the following buttons:
CBD.com
Finally, what question would you like to ask my readers?
In
Dawn Comes Early
Kate and Luke are of two different worlds. She's a college educated woman and he's "just a blacksmith." He doesn't even know what she's talking about half the time. Are any of you partnered with an opposite? If so, what are some of the challenges and/or joys of such a relationship?
Thank you, Margaret, for visiting with us and telling us about your novel.
Readers, Margaret has offered to give a signed copy of her book to the winner of our drawing on Thursday, March 29.
To enter, leave a comment below in answer to Margaret's question, above. "Please enter me" won't get you entered.
Leave your email address, in case you win, like so: trish[at]trishperry[dot]com.
Be sure to check out my interview with
Kathi Macias
, below. Leave an appropriate comment at the bottom of her post to enter the drawing for a signed copy of the book.
And I'd love it if you'd connect with me on Facebook. Just click on my name at the right of today's post.
Annoying legal disclaimer: drawings void where prohibited; open only to U.S. residents; the odds of winning depend upon the number of participants. See full disclaimer
HERE
.