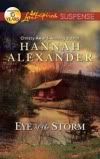 When Dr. Megan Bradley attempts to escape the trauma of murder in Corpus Christi by returning to her hometown of Jolly Mill, Missouri, she discovers there is a man who loves her who is unwilling to let her go.
Before we talk with today's author, I want to announce that the winner of the signed copy of
A Man to Trust
, by Carrie Turansky, is:
mstalgal1966@ . . .
and the winner of the signed copy of
The Key on the Quilt
, by Stephanie Grace Whitson, is:
stacey_dale@ . . .
Congratulations! I'll contact you both today for your snail mail addresses, and we'll get your books to you right away.
I encourage readers to keep commenting and/or subscribe at right (above my list of books) in order to participate in future book give-aways!
Now let's revisit
Hannah Alexander
, author of
Eye of the Storm
(Love Inspired Suspense, Harlequin, March 2012).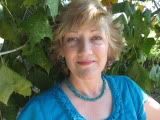 Hannah Alexander is the pen name for Dr. and Mrs. Cheryl Hodde who met, discovered Mel loved helping Cheryl with her novels, and began to collaborate on stories about his experiences as an ER physician. A little over a year later they were married and not only was he bringing home ideas for exciting stories, when they attended conferences, editors liked Cheryl's writing. So far the editors are still listening.
Please tell us a few random things we might not know about you.
--I hate horror stories but am a fan of Dean Koontz.
--We are dog lovers but we have four rescue cats and no dogs.
--Mel's favorite hobby is remote control airplanes, while Cheryl loves to hike.
--It has happened too often to be comfortable that when I write about a particular incident, such as a tornado, we are hit by a tornado. I can be writing about meth lab busts and I drive home to find a meth lab bust taking place down the street from my own home. It can be frightening.
Hmm. Maybe you need to change your genre and start writing wonderful fantasy novels! It would be fun to see what happened after writing those.
Please tell us a bit more about the plot of Eye of the Storm.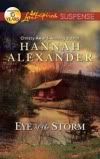 When Dr. Megan Bradley abandons her job at the Vance rescue mission, she not only abandons the man she loves, she turns her back on the work she must do in order to pay back school loans. Little does she suspect that her boss, Gerard Vance, is passionate enough about her to follow her wherever she goes, to protect her no matter the danger she discovers in Jolly Mill, and to love her no matter how hard she tries to reject him and his God.
He proves his worth and God's when they discover that her best friend's mother has been poisoned by her estranged husband, who makes the mistake of believing a dying uncle could be tricked into sharing his wealth with a killer. No one realizes what has happened for sure when that killer is found dead at the bottom of a two-story staircase, No one knows what has happened until a long-time friend jumps into the fray to protect her best friend.
What is it about Gerard and Megan that will make your readers care about them?
Gerard Vance cares enough about people, especially the homeless, who never brought the present situation on themselves, and his dream is to make jobs for them, find them new homes—affordable homes that the banks can't get their claws into. —and help others through, giving no thought to his own financial situation.
Dr. Megan Bradley forces her way past her fear to face danger out of love for her friends, and she realizes the risk is worthwhile. She's been running from pain of loss that she realizes she'll never escape.
If you were the casting director for the film version of your novel, who would play your lead roles?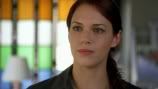 I believe I would like Megan's role to be played by Amanda Righetti, the actress who plays VanPelt in
The Mentalist.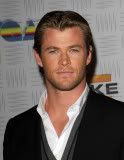 I would like Gerard played by Chris Hemsworth, the actor who played Thor –with short hair.
Please share with us one quote that either inspires you or simply amuses you as you go about your efforts as a writer.
Simply — Without conflict, what will we write when we reach heaven?
What is the last book you read that you would recommend?
Eli
by Bill Myers. My husband read it, and if he will sit and read it, that says tons for the writer. Mel doesn't just sit and read a novel.
What are you working on now?
A novel set in 1855 with a wagon train traveling to Kansas to fight for freedom for the slaves. They are surprised to find slaves much closer to hand who must be rescued or they will die. My hero and heroine must get past the fear that they may lose one another before they will give in to their love.
Where else can readers find you online?
www.hannahalexander.com
, GirlsWriteOut at Blogspot every Friday, and ChristiansRead blog every other Tuesday.
The book can be purchased at fine book stores and online via the following buttons:
CBD.com
Finally, what question would you like to ask my readers?
How many books have you loved so much that you've reread it over and over again, and what was the depth of quality that made you think of one particular character for weeks after?
Thank you, Hannah, for visiting with us and telling us about your novel.
Readers, Hannah has offered to give a signed copy of her book to the winner of our drawing on Monday, March 19.
To enter, leave a comment below in answer to Hannah's question, above. "Please enter me" won't get you entered.
Leave your email address, in case you win, like so: trish[at]trishperry[dot]com.
Be sure to check out my interview with
Yvonne Lehman
, below. Leave an appropriate comment at the bottom of her post to enter the drawing for a signed copy of the book.
And I'd love it if you'd connect with me on Facebook. Just click on my name at the right of today's post.
Annoying legal disclaimer: drawings void where prohibited; open only to U.S. residents; the odds of winning depend upon the number of participants. See full disclaimer
HERE
.