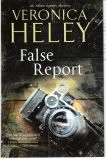 When successful businesswoman Bea Abbot is asked to find some domestic help for a musician falsely accused of murder, she doesn't realize how dangerous this might be - until he ends up on her doorstep.
My apologies, readers, if any of you noticed my failure to post anything during the latter half of last week. We've been dealing with a family crisis involving my new granddaughter. We appear to be on the upswing now, praise God, but your prayers for her health would be sincerely appreciated.
Now, before we talk with today's author, I want to announce that the winner of the signed copy of
Small-Town Sweethearts
, by Jean C. Gordon, is:
jrs362@ . . .
And the winner of the signed copy of
Deception
, by Lillian Duncan, is:
walkerbobo@ . . .
Congratulations! I'll contact you today for your snail mail address, and we'll get your book to you right away.
I encourage readers to keep commenting and/or subscribe at right (above my list of books) in order to participate in future book give-aways!
Now let's revisit novelist
Veronica Heley
, author of
False Report
(Severn House, March 2012).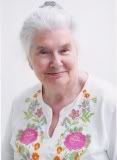 Veronica Heley is celebrating the publication of her 68th book having been in the business for 35 years. She is currently writing two lots of gentle crime stories; the Ellie Quicke Mysteries and the Abbot Agency series. She's also written some short stories, a straightforward biography of Saint Paul, some historical fiction, many articles and reviews, and lots of children's and resource books.
She's involved with her local church and community affairs, likes to break for coffee with friends and does the garden when she has time. She has been a member of a book reading club for 40 years, but has decided that life is too short to read depressing literature any more.
Oh, how funny, Veronica. I'm now in two book clubs, and I do love when we lighten up once in awhile!
Please tell us five random things we might not know about you.
--I believe in chocolate when inspiration fails.
--I like to buy my clothes in Bruges, where they are accustomed to clients who like cream with their cakes.
--I prefer drinking beer to wine.
--I get cross when the powers-that-be change the Latin names of plants I've known since childhood.
--I love Sir Terry Pratchett's fantasy books – including those originally meant for children.
I love Terry Pratchett, too. His diagnosis of Alheimer's is a loss to everyone.
Please tell us a bit more about the plot of False Report.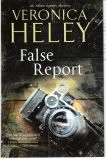 Bea Abbot is already worried that she's losing control of her domestic agency when she's asked to find some domestic help for an eccentric little musician falsely accused of murder. She doesn't realize how dangerous this might be until Jeremy – fleeing from attempts on his life – lands on her doorstep.
Researching the gang who'd used an attractive girl to entrap Jeremy, Bea finds traces of them throughout high society and realizes that some victims of the Badger Game may be uncomfortably close to home. Working through problems at the agency and in her extended family, she is hampered by Jeremy's single-mindedness in composing a song for pretty, dead Josie.
What is it about Bea that will make your readers care about her?
Readers identify with Bea because, while she is a successful businesswomen, she continues to mourn her departed husband and to nurture her dysfunctional family. She believes – as my readers do – in the application of common sense and mugs of sweet tea to problems.
If you were the casting director for the film version of your novel, who would play your lead roles?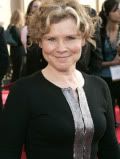 I'd love to see Imelda Staunton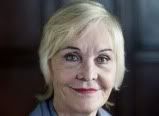 or Sheila Hancock play Bea, because they can do vulnerability as well as authority.
Recently a friend gave me a book that provides links to online music meant to accompany the story at specific points in the plot. I thought that was an interesting idea. If you were to choose a song to be played somewhere within your story, what song would it be?
The little musician in the story composes a song to Josie as the plot unfolds. I could 'hear' it in my head, all the time I was writing this story. I only wish someone would set it to music for me.
What fun that would be! I imagine that's what happened for the author of the book I'm talking about. What is the last book you read that you would recommend?
I'm re-reading Sir Terry Pratchett's
Thud!
at the moment. Jokes that you don't see coming, a likeable hero and a cracking good plot. As he has Alzheimer's, I can only hope that he'll be able to go on producing tales of this calibre for many years to come.
What are you working on now?
Another Bea Abbot, provisionally titled
False Alarm
. A tycoon believes his almost-fatal fall down the stairs has been engineered by one of his executives – while Bea is picking up different signals from his wife.
Where else can readers find you online?
My website is at
www.veronicaheley.com
Readers can also sign up to receive my monthly newsletter, by pressing the button on the home page of the website.
The book can be found in fine bookstores and can be purchased online via these buttons:
Finally, what question would you like to ask my readers?
I plan to make some of my out-of-print books available for E-readers but can't decide which to do first; a historical romp, a modern romance/suspense or one of my Christian children's books. Any preferences?
Thank you, Veronica, for visiting with us and telling us about your novel.
Readers, Veronica has offered to give a signed copy of her book to the winner of our drawing on Monday, February 13.
To enter, leave a comment below in answer to Veronica's question, above. "Please enter me" won't get you entered.
Leave your email address, in case you win, like so: trish[at]trishperry[dot]com.
Be sure to check out my post about
current free Christian novel downloads
, below.
And I'd love it if you'd connect with me on Facebook. Just click on my name at the right of today's post.
Annoying legal disclaimer: drawings void where prohibited; open only to U.S. residents; the odds of winning depend upon the number of participants. See full disclaimer
HERE
.