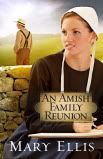 While Julie plans a summer reunion to return all her children to the nest, her niece embarks on an unlikely vocation for someone Amish…and a brand new romance.
Before we talk with today's author, I want to announce that the winner of the signed copy of
Shattered Identity
, by Sandra Robbins, is:
countrybear52@ . . .
Congratulations! I'll contact you today for your snail mail address, and we'll get your book to you right away.
I encourage readers to keep commenting and/or subscribe at right (above my list of books) in order to participate in future book give-aways!
Now let's revisit novelist
Mary Ellis
, author of
An Amish Family Reunion
(Harvest House Publishers, February 2012).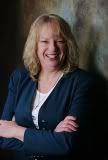 Mary Ellis grew up close to the eastern Ohio Amish where her parents took her to farmer's markets and woodworking fairs. She loved their peaceful, agrarian lifestyle and strong sense of Christian community.
She met her husband in college and they married six days after graduation. They now live close to the largest population of Amish in the country—a four-county area in central Ohio. They often take weekend trips to purchase produce, research for her books and enjoy a simpler way of life.
Mary enjoys reading, traveling, gardening, bicycling and swimming. Before "retiring" to write full-time, Mary taught Middle School and worked as a sales rep for Hershey Chocolate—a job with amazingly sweet fringe benefits.
All three of her Miller Family series,
A Widow's Hope, Never Far from Home,
and
The Way to a Man's Heart
have made the CBA and CBD bestseller lists.
A Widow's Hope
was a finalist in the ACFW Carol Awards for 2010 in the long contemporary category, and a runner-up in the 2010 Holt Medallion Awards. The fourth in the Miller Family series,
An Amish Family Reunion,
released this month.
Please tell us five random things we might not know about you.
I have worked at just about every vocation you can imagine—probably fifteen or so. But I'll mention the five most interesting.
--I worked as a legal secretary and dispensed more legal advice than I probably should have.
--I taught math and algebra in middle school for years even though math had been my worst subject in high school.
--I had a (delicious!) Hershey Chocolate sales route where I sampled candy all day long.
--I sold Avon makeup and purchased more than I sold.
--I was a (volunteer) snake handler at the Cleveland Zoo to school field trips one summer. By far, writing is the best job!
Okay, I was with you until the snake thing. You're a little nuts, lady.
Please tell us a bit more about the plot of An Amish Family Reunion.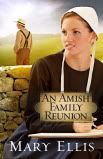 Julia Miller misses her children. They are grown and have families of their own now, but her mother's heart yearns for a houseful of laughter and joy once again. She plans to gather her chicks together in a summer celebration to remember.
At the farm next door, Julia's niece, Phoebe, meets Eli Riehl, a young man who charms her—and everyone else—with his exceptional storytelling ability on a rumschpringe trip to Niagara Falls.
When Phoebe sketches scenes to illustrate one of his tales, Eli encourages her incredible talent, and together they embark on a lofty and unlikely business venture for two young Amish people—writing and illustrating a children's book.
Eli's kindness and appeal extend beyond his knack for words to reach inside Phoebe's shy heart. But he is an only son with five sisters, and when tragedy strikes at home, Eli gives up his writing to assume responsibility on the farm. Though willing to abandon his dream of becoming an author, he won't give up his beloved Phoebe. Can their love for a good story develop into something that lasts forever, or will memories of the past stand in their way?
What is it about your lead character that will make your readers care about her?
My heroine lost her mother at a tender age, but develops a beautiful relationship with her step-mother, Hannah. As an adopted person myself, I learned the bonds of motherhood stretch far beyond blood ties.
If you were the casting director for the film version of your novel, who would play your lead roles?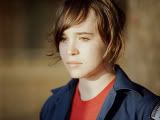 I suppose Ellen Page would make a lovely Phoebe since she's so earnest, forthright and tiny.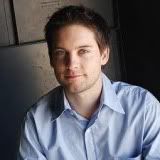 And my hero? I love Toby McGuire for the same reasons, except the tiny part. Amish characters must be straight-forward.
Recently a friend gave me a book that provides links to online music meant to accompany the story at specific points in the plot. I thought that was an interesting idea. If you were to choose a song to be played somewhere within your story, what song would it be?
I suppose
Evergreen
or
Unchained Melody
. I hear those songs playing in my head during every romantic scene I write.
Yes, they're both such romantic songs! What is the last book you read that you would recommend?
I just finished
Miracles Every Day
by Maura Poston Zagrans. It was an incredible true story about faith and healing right here in my hometown, Cleveland, Ohio.
What are you working on now?
I'm starting book two of my New Beginnings series, tentatively titled,
Living in Paradise
.
Where else can readers find you online?
At my brand new website:
www.maryellis.net
The book can be found in fine bookstores and can be purchased online via these buttons:
CBD.com
Finally, what question would you like to ask my readers?
How do your tastes in books change throughout the year—do seasons make a difference?
Thank you, Mary, for visiting with us and telling us about your novel.
Readers, Mary has offered to give a signed copy of her book to the winner of our drawing on Thursday, February 23.
To enter, leave a comment below in answer to Mary's question, above. "Please enter me" won't get you entered.
Leave your email address, in case you win, like so: trish[at]trishperry[dot]com.
Be sure to check out my interview with
Robin Lee Hatcher
, below. Leave an appropriate comment at the bottom of her post to enter the drawing for a signed copy of her book.
And I'd love it if you'd connect with me on Facebook. Just click on my name at the right of today's post.
Annoying legal disclaimer: drawings void where prohibited; open only to U.S. residents; the odds of winning depend upon the number of participants. See full disclaimer
HERE
.