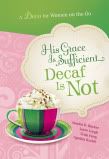 Today I just wanted to give a thank-you shout out to
Novel Rocket
, which is featuring one of my devos from
His Grace is Sufficient...Decaf is NOT
"Jordan, Jericho, and Just My Own Stuff" addresses a modern-day challenge that might not be as serious as the one Joshua faced in his lifetime, but it's a challenge to which the Lord is giving just as much attention.
I love how He does that.
I hope you'll swing by and leave a comment!
www.novelrocket.com