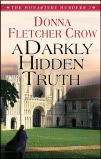 Felicity and Antony are on separate paths, but murder charts a far more labyrinthine course.
Before we talk with today's author, I want to announce that the winner of the signed copy of
Heart of Gold
, by Robin Lee Hatcher, is:
hewkoa@ . . .
Congratulations! I'll contact you today for your snail mail address, and we'll get your book to you right away.
I encourage readers to keep commenting and/or subscribe at right (above my list of books) in order to participate in future book give-aways!
Now let's revisit novelist
Donna Fletcher Crow
, author of
A Darkly Hidden Truth
(The Monastery Murders 2, Monarch Books, September 2011).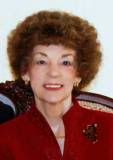 Donna Fletcher Crow is the author of 38 books, mostly novels dealing with British history. The award-winning GLASTONBURY, an Arthurian grail search epic covering 15 centuries of English history, is her best-known work.
Donna and her husband live in Boise, Idaho. They have 4 adult children and 11 grandchildren. She is an enthusiastic gardener.
Please tell us a few random things we might not know about you.
--I am a former rodeo queen and runner-up for Miss Rodeo Idaho.
--I was also a drama teacher, playwright and actress.
--Some of the wildest things I've done for research are snorkeling over a coral reef, hot air ballooning, rappelling into a lava cave and walking 126 miles from London to Walsingham.
Please tell us a bit more about the plot of A Darkly Hidden Truth.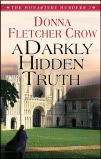 Antony needs Felicity's help to find a valuable stolen icon. But Felicity is off to become a nun. Then her impossible mother turns up unannounced. And a dear friend turns up murdered. Felicity and Antony are off on another adventure that takes them from remote Yorkshire to London to the soggy marshes of the Norfolk Broads.
Felicity learns the wisdom of holy women from today and ages past and Antony explores the arcane rites of the Knights Hospitaller but what good will any of that do them if Felicity can't save Antony's life?
What is it about Felicity that will make your readers care about her?
Felicity Howard is a young American woman who has gone off on an impulse to study in a theological college run by monks in remote Yorkshire. But then, Felicity does most things on impulse. She is headstrong, brilliant, loyal and intrepid— exactly the qualities that Father Antony fear will get her killed.
I see much of the fun of this series as growing Felicity up. At the end of the first book she says, "I thought I knew everything. Now I realize I don't know anything."
"A very good place to start," Antony replies.
If you were the casting director for the film version of your novel, who would play your lead roles?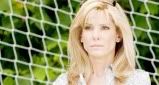 Sandra Bullock in
The Blind Side
would be perfect as Felicity if she were about 15 years younger.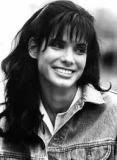 So we'll picture her in the younger, black and white photo with the blond hair from The Blind Side!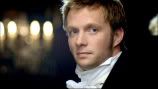 For Antony I can't decide between Rupert Penrey-Jones
and Matthew MacFadden, two of my favorite young English actors. Either one would have to dye his hair black but they would both be stunning in a clerical collar!
Definitely two of my favorites, too.
Recently a friend gave me a book that provides links to online music meant to accompany the story at specific points in the plot. I thought that was an interesting idea. If you were to choose a song to be played somewhere within your story, what song would it be?
Oh, dear, I hope this doesn't sound too macabre or even sacrilegious, but because much of my story is set against the background of Holy Week and Easter worship the triumphant Easter hymn "Up From the Grave He Arose" makes me think of the scene early in the book when a driving rain washes back the soil from a shallow grave, giving Antony the sensation that the body is rising.
What is the last book you read that you would recommend?
I just finished P. D. James'
Death Comes to Pemberley
. I highly recommend this book, although some reviewers disagree, I believe it exactly captures the spirit of
Pride and Prejudice
while not attempting to sound like Jane Austen. It was so much fun to see these beloved characters six years into their marriages and find them behaving with exactly the common sense and concern for one another that I believe the "real" Elizabeth and Darcy and Jane and Bingley would have done. It was also delightful that James gives us glimpses into the further events of characters from Emma and Persuasion. It happened that the evening after I finished reading the novel my husband and I sat down to watch the Elizabeth Garvie/David Rintoul BBC production of
Pride and Prejudice
and I could so perfectly place those characters in the James story.
That sounds like a fun book. I'll have to look into it! What are you working on now?
I have almost finished the rough draft of
An Unholy Communion
, The Monastery Murders 3, in which Felicity and Antony lead a group of teenagers on a pilgrimage through Wales and encounter satanic evil. I am also researching to write book 4 in the Lord Danvers Victorian true-crime mysteries and planning book 3 in the Elizabeth & Richard Mysteries which will have Jane Austen as my background literary figure.
Where else can readers find you online?
I would love to have your readers visit my website at
www.DonnaFletcherCrow.com
. I have trailers for both of the Monastery Murders books on my home page, pictures from my research trips, information about all my books, and a glimpse of my garden.
The book can be found in fine bookstores and can be purchased online via these buttons:
CBD.com
Finally, what question would you like to ask my readers?
What author has influenced you most and why? I hope we get lots of replies to this because I love discussing authors and books with readers!
Thank you, Donna, for visiting with us and telling us about your novel.
Readers, Donna has offered to give a signed copy of her book to the winner of our drawing on Monday, February 27.
To enter, leave a comment below in answer to Donna's question, above. "Please enter me" won't get you entered.
Leave your email address, in case you win, like so: trish[at]trishperry[dot]com.
Be sure to check out my interview with
Mary Ellis
, below. Leave an appropriate comment at the bottom of her post to enter the drawing for a signed copy of her book.
And I'd love it if you'd connect with me on Facebook. Just click on my name at the right of today's post.
Annoying legal disclaimer: drawings void where prohibited; open only to U.S. residents; the odds of winning depend upon the number of participants. See full disclaimer
HERE
.