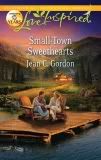 With the help of God and the love of Drew Stacey, a down-sized Wall Street analyst turned church camp manager, NYC assistant art director and former town misfit Emily, ne Jinx, Hazard finds the thing she wants most in the place she least wants to be — Paradox Lake.
Today we're visiting with novelist
Jean C. Gordon
, author of
Small-Town Sweethearts
(Harlequin Love Inspired, January 2012).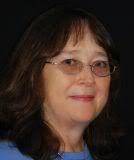 From that day in first grade when she realized t-h-e was the word "the," Jean's been reading everything she can put her hands on. A professional financial planner and editorial supervisor for a financial publisher in Albany, NY, she is as at home writing retirement- and investment-planning advice as she is writing romance novels, but finds novels a lot more fun.
She and her college-sweetheart husband tried the city life in Los Angeles, but quickly returned home to their native Upstate New York. They share a 170-year-old farmhouse just south of Albany with their daughter and son-in-law, two grandchildren, and a menagerie of pets. Their son lives nearby. While Jean creates stories, her family grows organic fruits and vegetables and tends the livestock de jour.
Although her day job, writing and family don't leave her a lot of spare time, Jean likes to give back when she can. She and her husband team-taught a seventh-and-eighth-grade Sunday school class for several years and currently serve on her church's Evangelism Committee. She also shares her love of books with others by volunteering at the church's Book Nook.
Please tell us five random things we might not know about you.
--In high school, I was the runner up Wyoming County (NY) Maple Syrup Princess.
--Broccoli is one of my favorite foods.
--We (my son in law actually) raise organic hogs on our farm.
--I enjoy doing income tax forms.
--I love roller coasters, but riding downhill on a bicycle scares the death out of me.
I love that you clearly have strong left-hemisphere work going on! That can be rare among us "creative" types. Please tell us a bit more about the plot of Small-Town Sweethearts.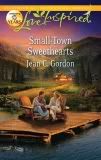 When Emily Hazard's brother asks her to come home to Paradox Lake and serve as temporary guardian for her teenage niece while he's deployed to Afghanistan with his Reserve unit, Emily Hazard agrees on one condition—she won't let herself think about staying. Emily always felt like a misfit in her tiny Adirondack Mountain hometown.
But she doesn't count on falling for handsome Drew Stacey, a former Wall Streeter who's getting the town church camp ready. Though he surprises Emily with his handiness with tools, understanding of teenagers and his steady faith, she's set on heading back to New York City. Like all of my books,
Small-Town Sweethearts
is set in Upstate New York.
What is it about Emily that will make your readers care about her?
I think readers can relate to Emily's desire as a young person to get out into the world and discover all of the things she thinks aren't available at home and the older Emily's realization that many of the things she eschewed are really the things she wants.
If you were the casting director for the film version of your novel, who would play your lead roles?
Taylor Swift . . .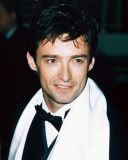 . . . and a young Hugh Jackman.
He may look a little formal here, but he's young! We'll picture him barefoot, in a flannel shirt and jeans and consider this his "former Wall Streeter" evening attire.
Complete this sentence: If I had known 20 years ago what I know today, I would have . . .
. . . been more relaxed and let life play out as it would, rather than trying to micro-plan everything.
What is the last book you read that you would recommend?
The last book I couldn't put down was Winnie Griggs' Love Inspired
Second Chance Family
. I'd recommend it because it was so heartwarming. I know that sounds a little pat. But it made me laugh and it made me cry and I felt so good reading it.
What are you working on now?
Another Love Inspired set in Paradox Lake tentatively called
Small-Town Dad
. It's about Emily's brother Neal. Neal Hazard has declared no more babies for him. The North Country electrician wants to recapture the life he lost by choosing to raise his now-college-age daughter alone. But a woman from the past, Anne Howard, and a precocious toddler interfere and show him that God has another plan for them all. It should be out in the fall.
Where else can readers find you online?
Facebook
, @JeanCGordon on Twitter, and
www.JeanCGordon.com
.
The book is available at fine book stores and online via these buttons:
CBD.com
Finally, what question would you like to ask my readers?
Do you like books with unusual settings or do you have a favorite type of setting you like to stick with?
Thank you, Jean, for visiting with us and telling us about your novel.
Readers, Jean has offered to give a signed copy of her book to the winner of our drawing on Thursday, February 2.
To enter, leave a comment below in answer to Jean's question, above. "Please enter me" won't get you entered.
Leave your email address, in case you win, like so: trish[at]trishperry[dot]com.
Be sure to check out my post about
current free Christian novel downloads
, below.
And I'd love it if you'd connect with me on Facebook. Just click on my name at the right of today's post.
Annoying legal disclaimer: drawings void where prohibited; open only to U.S. residents; the odds of winning depend upon the number of participants. See full disclaimer
HERE
.