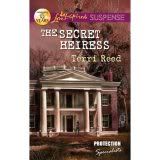 Caroline Tully finds her wealthy adoptive family, but someone in the family wants her dead and its up to her fake fiancé, bodyguard Donovan Cavanagh, to keep her safe.
Before we talk with today's author, I want to announce that the winner of the signed copy of
A Harvest of Hearts
, by Laura Hilton
,
is:
sunny_girl_anna@ . . .
Congratulations! I'll contact you today for your snail mail address, and we'll get your book to you right away.
I encourage readers to keep commenting and/or subscribe at right (above my list of books) in order to participate in future book give-aways!
Now let's meet novelist
Terri Reed
, author of
The Secret Heiress
(Love Inspired Suspense, January 2012).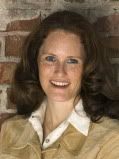 At an early age Terri Reed discovered the wonderful world of fiction and declared she would one day write a book. Now she is fulfilling that dream and enjoys writing for Harlequin's Love Inspired lines. She is an active member of both Romance Writers of America and American Christian Fiction Writers.
She resides in the Pacific Northwest with her college-sweetheart husband, two wonderful children, and an array of critters. When not writing, she enjoys spending time with her family and friends, gardening and playing with her dogs.
Please tell us five random things we might not know about you.
--I've been a gymnastic coach, a preschool teacher, a bank teller, a receptionist, a sales associate, mother and wife.
--I love almonds, chocolate, strawberries and pizza.
--I lived in Italy as an exchange student when I was eighteen.
--I am afraid of snakes.
--And I hope one day to jump out of an airplane.
I think so many of us writers have a long list of previous jobs, as you do. Story fodder, right?
Please tell us a bit more about the plot of your novel.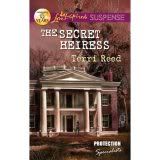 A Shocking Revelation
Finding out she is heir to a fortune shocks Caroline Tully to her core. And to "qualify" for the inheritance, she just has to visit her newfound grandfather's Mississippi home from Christmas to New Year's.
Adopted as a baby, Caroline knows nothing about her mother's family...and doesn't realize they can't be trusted. When attempts are made on her life, there's only one man who can protect her. Donovan Cavanaugh—a man who made her lonely heart want to love again.
Posing as her fiancé, Don promises to find the would-be killer. But will his protection-and his love-be enough to keep her safe?
What is it about Don that will make your readers care about him?
Donovan Cavanaugh's father walked out when he was a boy, leaving a gaping hole in his life. Don joined the military and fought for his country and now suffers with PTSD. When his mother became ill, he came home to care for her until she passed. Don is afraid to love for fear he'll be a loser like his father and break under the responsibility of a family. It takes the love and determination of a special woman to make him see how far from being like his father he is.
If you were the casting director for the film version of your novel, who would play your lead roles?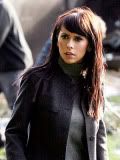 The heroine would be portrayed by Jennifer Love Hewitt.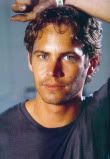 And the hero would be Paul Walker.
Many authors—including multi-published authors—have started taking their out-of-print books and even original books straight to e-books, which they've essentially self-published. What are your thoughts about the idea? Have you done it, or are you likely to?
I haven't put up any books, out-of-print or original work. Love Inspired keeps me busy writing for them. I think every author has to decide for themselves. I know some authors have had success with this and others not so much. I can't predict what the future will hold though I'm keeping myself informed, but have no plans at the moment to venture down this road.
What is the last book you read that you would recommend?
I just finished reading
Mistletoe Matchmaker
by Lissa Manley, a December 2012 release from Love Inspired Romance. This is Lissa's second book in her Moonlight Cove series. Lissa has an engaging voice, fun characters and a sweet romance set against the beautiful Washington coast in the fictional town of Moonlight Cove.
What are you working on now?
I'm working on the third book in my Protection Specialists series.
The Doctor's Defender
will be a Fall 2012 release.
Someone wants Doctor Brenda Storm dead and it's bodyguard Kyle Martin's job to protect the pretty surgeon from a determined killer. Opposites in everyway Brenda must trust Kyle to keep her alive, but can she trust him with her heart?
Where else can readers find you online?
www.loveinspiredauthors.com
www.craftieladiesofromance.blogspot.com
www.eharlequin.com
The book is available at fine book stores and for online purchase via the following buttons:
CBD.com
Finally, what question would you like to ask my readers?
Since New Year's Day is just around the corner, what is the one thing you hope to accomplish this year? For me, it's getting through sending my daughter off to college without falling apart.
Thank you, Terri, for visiting with us and telling us about your novel.
Readers, Terri has offered to give a signed copy of her book to the winner of our drawing on Thursday, January 5.
To enter, leave a comment below in answer to Terri's question, above. "Please enter me" won't get you entered.
Leave your email address, in case you win, like so: trish[at]trishperry[dot]com.
Also, if you'd like to enter your name in the drawing for a
signed copy of my nostalgic historical novel, Unforgettable,
take a look at
this post
.
Be sure to check out my interview with
Joyce Magnin
, below. Leave an appropriate comment at the bottom of the post to enter the drawing for a signed copy of her book.
And I'd love it if you'd connect with me on Facebook. Just click on my name at the right of today's post.
Annoying legal disclaimer: drawings void where prohibited; open only to U.S. residents; the odds of winning depend upon the number of participants. See full disclaimer
HERE
.