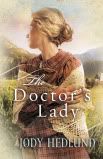 They vowed to keep their marriage in name only, but when the unexpected happens on the grueling journey west ... their carefully constructed partnership will be put to the ultimate test.
Before we chat with today's author, I want to announce that the winner of the signed copy of Debra Ullrick's novel,
The Unlikely Wife,
is:
hisfiction@ . . .
Congratulations! I'll contact you today for your snail mail address, and we'll get your book to you right away.
I encourage readers to keep commenting and/or subscribe at right (above my list of books) in order to participate in future book give-aways!
Now let's meet novelist
Jody Hedlund
, author of
The Doctor's Lady
(Bethany House, September 2011).
Jody Hedlund is an award-winning historical romance novelist and author of the best-selling book,
The Preacher's Bride
. She received a bachelor's degree from Taylor University and a master's from the University of Wisconsin, both in Social Work.
Currently she makes her home in Michigan with her husband and five busy children.
Please tell us five random things we might not know about you.
--My most memorable meal is apple, blueberry, cherry pie—for breakfast.
--If I had to swim across a lake of any kind of beverage, it would be coffee.
--My dad was a twin, my husband's mom was a twin, and we had twins.
--I grew up a PK (pastor's kid).
--My favorite TV Show is
Survivor
and I've watched almost every season since it started.
I'm like you, but with The Amazing Race. I don't think I've ever missed it, thanks to my trusty DVR.
Please tell us a bit more about the plot of The Doctor's Lady.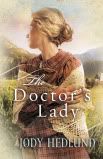 Priscilla White knows she'll never be a wife or mother and feels God's call to the mission field.
Dr. Eli Ernest is back from Oregon Country only long enough to raise awareness of missions to the natives before heading out West once more. But then Priscilla and Eli both receive news from the mission board: No longer will they send unmarried men and women into the field. Left scrambling for options, the two realize the other might be the answer to their needs.
Priscilla and Eli agree to a partnership, a marriage in name only that will allow them to follow God's leading into the mission field. But as they journey west, this decision will be tested by the hardships of the trip and by the unexpected turnings of their hearts.
What is it about Priscilla that will make your readers care about her?
Priscilla White isn't physically strong and she's a bit naïve, and yet she's determined and courageous. Her biggest weakness is her pride. At the beginning of the story she believes she is the perfect missionary candidate because of her piety, education, and upbringing. But during the dangerous trip, she begins to understand that when God chooses to use someone, he looks much deeper than a person's outward qualifications
If you were the casting director for the film version of your novel, who would play your lead roles?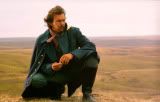 Dr. Eli Ernest needs to be played by Kevin Costner whose rugged, scruffy look in
Dances With Wolves
is exactly the way I envisioned Dr. Ernest. Eli is a man full of passion and unafraid of danger, and yet willing to learn and grow through the challenges he faces.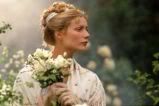 Priscilla White needs to be played by Gwyneth Paltrow. Priscilla is a beautiful and elegant lady with Gwyneth's looks in
Emma
. She's not physically strong and she's a bit naïve, and yet she's determined and courageous.
Here's a hint for your well-to-do fans and loved ones: If you could have any one writing-related gift for Christmas this year, what would it be? The sky is the limit!
I'd love to hire a cleaning lady to come in once a week, a chef to cook meals, and a nanny to take care of the children in the afternoons during my writing time (after we're done with our homeschooling day). One can dream, can't they?
That's truly a writer's dream! I'd love that, too.
What are you working on now?
My next historical romance,
Unending Devotion
, releases in 2012. I'm really excited about this story because it's set in my home state of Michigan. It takes place during the 1880's at a time in history when the lumber era was at its height. Although the story isn't inspired by a true person the way my first two books have been, I do include several real people, particularly a real villain by the name of James Carr who was notorious in central Michigan for his violence and for introducing white slavery into the state.
The heroine of the story is a young woman, Lily Young, who is looking for her sister who's caught up into the degradation of lumber camp life. While Lily searches for her missing sister, she fights against the evil that runs rampant around her, and she fights not to lose her heart to the lumber baron who turns a blind eye to the lawlessness of the lumber business.
That sounds intriguing, Jody. And I like that you incorporate real historical figures into your stories.
Where else can readers find you online?
I hang out on Facebook here: Author Jody Hedlund
I also love to chat on Twitter: @JodyHedlund
My home base is at my website:
www.jodyhedlund.com
The book can be purchased at fine book stores and online via the following buttons:
CBD.com
Finally, what question would you like to ask my readers?
Since I've shared what I want for Christmas, if the sky were the limit for you what would you ask for?
Thank you, Jody, for visiting with us and telling us about your novel.
Readers, Jody has offered to give a signed copy of her book to the winner of our drawing on Monday, December 5.
To enter, leave a comment below in answer to Jody's question, above. "Please enter me" won't get you entered.
Leave your email address, in case you win, like so: trish[at]trishperry[dot]com.
Be sure to check out my post about
the raffle for Sandi Rog
and my interview with
Lisa Jordan
, below. Leave an appropriate comment at the bottom of Lisa's post to enter the drawing for signed copy of her book.
And I'd love it if you'd connect with me on Facebook. Just click on my name at the right of today's post.
Annoying legal disclaimer: drawings void where prohibited; open only to U.S. residents; the odds of winning depend upon the number of participants. See full disclaimer
HERE
.