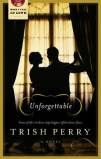 Some of life's trickiest steps happen off the dance floor.
Today I'm posting about one of my very own books, which releases tomorrow, March 1. But first I want to announce that the winner of today's drawing for
Vicious Cycle
, by Terri Blackstock, is:
dianemestrella@ . . .
Congratulations! I'll contact you today for your snail mail address, and we'll get your book to you right away.
I encourage readers to keep commenting and/or subscribe at right (below my list of books) in order to participate in future book give-aways!
Now, let me tell you about
Unforgettable
, my first novel with Summerside Press, which is coming out tomorrow.
Here's the back cover description:
Rachel Stanhope tries to see the good in everyone. But even her good graces are challenged when she meets Josh Reegan outside her Arlington, Virginia dance studio on a brisk fall morning in 1951. Admittedly, he's attractive, but she finds his cynicism and cockiness hard to tolerate.

A hard-news journalist and former World War II Air Force pilot, Josh considers distractions like ballroom dancing frivolous wastes of time. He has yet to shed his wartime drive to defend good against evil whenever he can. Yes, Rachel's confident nature is a refreshing challenge, but he wouldn't tangle with her if his newspaper hadn't roped him into covering one of her studio's competitions in New York City.

Between Arlington and New York, between the melodrama of ballroom antics and the real drama of political corruption, between family involvement and romantic entanglement, Rachel and Josh have their hands full. The last thing either of them expects is mutual need and support. But once they stop dancing around the truth, the results are unforgettable.
Since I always ask my interviewees to tell us who they would cast, were their books made into films, I'll do the same.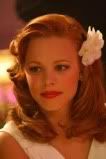 For Rachel Stanhope, I envisioned Rachel McAdams (in this incarnation, rather than one of her more contemporary looks).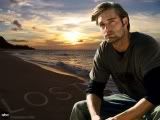 And for Josh Reegan, I pictured Josh Holloway from
Lost
. I pictured his hair short, as it is in this shot, rather than the long, messier look he had on the show:
And yes, I know my characters have the same names as the actors. I swear that was a coincidence. Pretty weird, no?
The book is available for online pre-ordering today (and should be available for ordering tomorrow) via the following buttons:
CBD.com
In the meantime,
I'm going to give away three copies of the book
to the winners of my drawing on Monday, March 7.
To enter, leave a comment below in answer to my question, below. "Please enter me" won't get you entered.
Leave your email address, in case you win, like so: trish[at]trishperry[dot]com.
What dance-related book or film have you particularly enjoyed in the past, and why?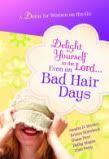 Also scheduled for release tomorrow is
Delight Yourself in the Lord...Even on Bad Hair Days
, the fun devotional I wrote with Sandra D. Bricker, Kristin Billerbeck, Diann Hunt, and Debby Mayne. I'll post about the release later this week and will give away a few copies of that book, as well!
Be sure to check out my interview with

Mary Ellis

below, and leave a comment under her interview to be entered in a drawing for a signed copy of her book.
Annoying legal disclaimer: drawings void where prohibited; open only to U.S. residents; the odds of winning depend upon the number of participants. See full disclaimer
HERE
.