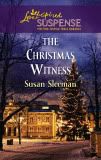 Someone wants to make this a Christmas Megan Cash won't live long enough to forget.
Before we chat with today's author, I want to announce that the winner of the signed copy of Roseanna White's novel,
Love Finds You in Annapolis, Maryland,
is:
crazi.swans@ . . .
Congratulations! I'll contact you today for your snail mail address, and we'll get your book to you right away.
I encourage readers to keep commenting and/or subscribe at right (above my list of books) in order to participate in future book give-aways!
Now let's chat with novelist
Susan Sleeman
, author of
The Christmas Witness
(Love Inspired, December 2011).
Susan Sleeman is a best-selling author of inspirational romantic suspense and mystery novels. She grew up in a small Wisconsin town where she spent her summers reading Nancy Drew and developing a love of mystery and suspense books. Today, she channels this enthusiasm into writing romantic suspense and mystery novels and hosting the popular internet website TheSuspenseZone.com.
Susan currently lives in Florida, but has had the pleasure of living in nine states. Her husband is a church music director and they have two beautiful daughters, a very special son-in-law and an adorable grandson.
Please tell us five random things we might not know about you.
--Not only have I lived in nine states, but I actually lived in Texas twice.
--I am our church librarian.
--One day when my husband was at work I decided to remodel the upstairs of our house and took out all the walls before he came home that night.
--I used to have so many Christmas decorations it would take several days to put them all out.
--I love to bake.
I absolutely love the take-down-the-walls item. That should be in a book.
Please tell us a bit more about the plot of The Christmas Witness.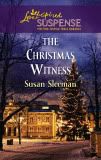 When a criminal threatened to kill Megan Cash if she testified against him, she didn't back down. Years later, he's out of jail and ready for revenge against Megan and her daughter. The only one who can protect them is the former FBI agent who broke Megan's heart.
But Reid Morgan isn't the same man—he's now a widowed father with a harrowing past . . . and a heart more guarded than ever. Still, he's the only one who believes Megan when she says she's in danger. Because someone wants to make this a Christmas she won't live long enough to forget.
What is it about Megan and Reid that will make your readers care about them?
Both Megan and Reid have faced having loves ones deal with cancer. Reid's wife lost her battle and Megan's daughter is still battling the disease. I think this makes both of them very real characters that we all can identify with as we all know someone with cancer and what a heart-wrenching struggle that can be. We can empathize with the pain and sadness they both have endured and want them to find some peace in their lives.
If you were the casting director for the film version of your novel, who would play your lead roles?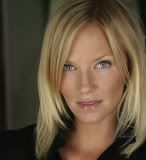 Megan would be played by Kelli Giddish.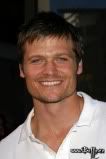 Reid would be played by Bailey Chase.
Many authors—including multi-published authors—have started taking their out-of-print books and even original books straight to e-books, which they've essentially self-published. What are your thoughts about the idea? Have you done it, or are you likely to?
This month I am e-publishing
Nipped in the Bud,
my cozy mystery that released from Barbour in 2010. This will be published in a group effort with other cozy mystery authors and we have given the line of mysteries the name Spyglass Lane Mysteries. I think this is a great opportunity for authors to provide readers with books that they can no longer get in traditional form. Also, many readers today read only on e-readers and by publishing this book it allows those readers to read it as well. And as a wonderful bonus the book will release for only .99 and then retail at 2.99. A price point any reader can love.
What is the last book you read that you would recommend?
The last book I read that I can recommend is
Died in the Wool
, by Elizabeth Ludwig and Janelle Mowery. This is a light-hearted, yet very well written cozy mystery that keeps the reader interested through the whole book and doesn't have a lot of gore or violence that mysteries sometimes have.
What are you working on now?
I just finished the edits on the first book in a new series I am writing for Love Inspired Suspense and I'm busy writing the second book in the series. This series is called The Justice Agency – Law enforcement and family go hand in hand. It's about five adopted siblings who work in various fields of law enforcement until their adoptive parents are murdered. When the police can't figure out who killed their beloved parents the Justice siblings come together to solve the case. They discover in the process that they like working together and they form an investigative agency called The Justice Agency. They dedicate the agency to helping people who traditional law enforcement is either unable or unwilling to help.
Double Exposure
, the first book of this series will release in June 2012 and
Dead Wrong
will release in November 2012.
Where else can readers find you online?
Readers can visit me at
my website
,
Facebook page
or
Twitter
The book is available at fine book stores and for online purchase via the following buttons:
CBD.com
Finally, what question would you like to ask my readers?
Since my book is a Christmas book, my mind has been on Christmas for months. When do you begin thinking about Christmas and what is the first thing you do to prepare for the holiday?
Thank you, Susan, for visiting with us and telling us about your novel.
Readers, Susan has offered to give a signed copy of her book to the winner of our drawing on Monday, December 19.
To enter, leave a comment below in answer to Susan's question, above. "Please enter me" won't get you entered.
Leave your email address, in case you win, like so: trish[at]trishperry[dot]com.
Be sure to check out my post about
the raffle for Sandi Rog
and my interview with
Jill Elizabeth Nelson
, below. Leave an appropriate comment at the bottom of Jill's post to enter the drawing for signed copy of her book.
And I'd love it if you'd connect with me on Facebook. Just click on my name at the right of today's post.
Annoying legal disclaimer: drawings void where prohibited; open only to U.S. residents; the odds of winning depend upon the number of participants. See full disclaimer
HERE
.