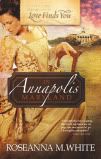 In 1784 peace has been declared, but war still rages in the heart of Lark Benton.
Before we chat with today's author, I want to announce that the winner of the signed copy of Jody Hedlund's novel,
The Doctor's Lady,
is:
lanehillhouse@ . . .
Congratulations! I'll contact you today for your snail mail address, and we'll get your book to you right away.
I encourage readers to keep commenting and/or subscribe at right (above my list of books) in order to participate in future book give-aways!
Now let's meet novelist
Roseanna White
, author of
Love Finds You in Annapolis, Maryland
(Summerside Press, December 2011).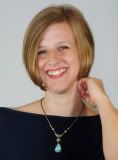 Roseanna M. White grew up in the mountains of West Virginia, the beauty of which inspired her to begin writing as soon as she learned to pair subjects with verbs. She spent her middle and high school days penning novels in class, and her love of books took her to a school renowned for them. After graduating from St. John's College in Annapolis, Maryland, she and her husband moved back to the Maryland side of the same mountains they equate with home.
Roseanna is the author of two biblical novels,
A Stray Drop of Blood
and
Jewel of Persia
, both from
WhiteFire Publishing
and
Love Finds You in Annapolis, Maryland
from Summerside Press. She is the senior reviewer at the Christian Review of Books, which she and her husband founded, the senior editor at WhiteFire Publishing, and a member of ACFW, HisWriters, and Colonial American Christian Writers.
Please tell us five random things we might not know about you.
--I'm an absolutely terrible housekeeper—I proved I was capable after college and before kids, but these days I'm lucky to get dishes put away, let alone break out that vacuum.
--I'm addicted to email. Which might not be a secret if you've ever emailed me.
--Though the books I write tend to delve into deep issues and are never "typical" in their romances, it's rare I read a book that isn't just straight-up romance. I'm such a sucker for a good, mushy love story!
--Um . . . I'm considering getting my kids a kitten for Christmas (shhhh, don't tell!) but have a fear of trying to litter-box-train one. I've only had outside-cats, I don't know what I'm doing! LOL.
--And, last but not least, though I rarely indulge it, I have a fashionista tendency. If only I had a fashionista budget!
Yeah, those outdoor cats will spoil you. All the best with that!
And don't feel bad about the housekeeping. I defy anyone to find a mom who can use the words "kids" and "vacuum" in the same sentence without saying exactly what you said.
Please tell us a bit more about the plot of Love Finds You in Annapolis, Maryland.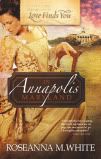 Never did Lark think she'd want to escape Emerson Fielding, the man she's loved all her life. But when he betrays her, she flees to Annapolis, Maryland, the country's capital. There Lark throws herself into a new circle of friends who force her to examine all she believes.
Emerson follows, determined to reclaim his betrothed. Surprised when she refuses to return with him, he realizes that in this new country he has come to call his own, duty is no longer enough. He must learn to open his heart and soul to something greater … before he loses all he should have been fighting to hold.
What is it about Lark that will make your readers care about her?
Lark is a young lady who has always done what is expected of her . . . and who has had enough of that when it gets her only a broken heart. Growing up, she was always eclipsed by the beauty of her sister and cousin, so she has no idea that she has come into her own. Instead, she thinks her face will never compare to Violet's . . . that her spirit will never live up to her friend Sena's . . . that her courage could never equal Alice's . . . . Through the course of the book, she must discover who Lark is, and accept that without comparing herself to the other young ladies around her.
If you were the casting director for the film version of your novel, who would play your lead roles?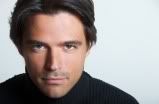 My hero would be the yummy John Gidding, who is as close to Emerson as I could imagine—though he'd have to grow his hair. We need shoulder-length hair, tied back at the nape, thank you very much.
Mercy. I've never seen this particular young man. We can kind of pretend he has long hair in this shot, pulled back as ordered.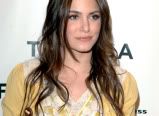 I originally modeled Lark on Dakota Fanning, with her neither-brown-nor-blond hair, but the cover model overrode my description. So I'm now saying Nikki Reed is the best match, though when I picked her I didn't realize her eyes were the wrong color. She needs dark blue eyes, but otherwise she's a fair match.
Many authors—including multi-published authors—have started taking their out-of-print books and even original books straight to e-books, which they've essentially self-published. What are your thoughts about the idea? Have you done it, or are you likely to?
I won't do it personally, no—given that my hubby owns WhiteFire Publishing, if I were to do anything with out-of-print books, I'd do it through WFP. That way it would still have the backing and distribution that WhiteFire's working hard to achieve. But in general, I can respect the trend, especially for out-of-print books.
My opinion on the original books is a little more complex. I think authors have to be careful about protecting their reputation and name, and sometimes there are reasons their never-published titles have remained in their unpubbed folder. Not always, mind you—I would never say that. But it has to be a very careful, prayerful decision.
Very good point. That's the one danger I've considered as well. I think the market (or lack thereof) is going to dictate the success of many books that are released before their time!
What is the last book you read that you would recommend?
I've been reading soooooo slowlllllyyyyy lately. Right now I'm in the middle of Laurie Alice Eakes'
A Necessary Deception
, which thus far is fabulous, and I'm sure it will end as well as it began. But if we're talking books I've actually finished (ahem), I have to say that everyone should rush out to pre-order
Love's Sacred Song
by Mesu Andrews. This is a biblical novel based on the Song of Solomon, and it's just phenomenal. I can't remember the last time I read a heroine so compelling!
Good to hear! I had the pleasure of meeting Mesu this year at the American Christian Fiction Writers conference, but I haven't had the chance to read any of her writing yet (I don't get through my reading fast enough, either). I'm so glad to hear her latest is that good.
What are you working on now?
Well at the moment I'm about a third of the way through a historical romance set in 1861 Savannah, about a whimsical heroine determined to write her own love story, and a disillusioned hero not so sure anymore that he's up to the role she wants him to fill. This one is under contract but the release date hasn't been finalized yet. Next to come out, however, will be a Revolutionary War spy romance set against Loyalist New York of 1780. That one's scheduled to release in January 2013.
Where else can readers find you online?
www.roseannamwhite.com
www.roseannamwhite.blogspot.com
www.facebook.com/roseanna.white
The book is available at fine book stores and for online purchase via the following buttons:
CBD.com
Finally, what question would you like to ask my readers?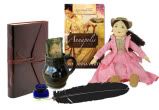 Well, I'm in the middle of planning a
Colonial Christmas party
for my book launch, so I'm in the spirit, 18th century style. My question, in that theme, is this: if you could receive one handmade gift this year, what would it be? (We'll assume the giver to be talented in whatever craft the gift requires.)
Readers, if you click on the above link, you'll be taken to Roseanna's Great Annapolis Giveaway. But be sure to answer her question to enter her book giveaway here before you go!
Thank you, Roseanna, for visiting with us and telling us about your novel.
Readers, Roseanna has offered to give a signed copy of her book to the winner of our drawing on Monday, December 12.
To enter, leave a comment below in answer to Roseanna's question, above. "Please enter me" won't get you entered.
Leave your email address, in case you win, like so: trish[at]trishperry[dot]com.
Be sure to check out my post about
the raffle for Sandi Rog
and my interview with
Margaret Daley
, below. Leave an appropriate comment at the bottom of Margaret's post to enter the drawing for signed copy of her book.
And I'd love it if you'd connect with me on Facebook. Just click on my name at the right of today's post.
Annoying legal disclaimer: drawings void where prohibited; open only to U.S. residents; the odds of winning depend upon the number of participants. See full disclaimer
HERE
.