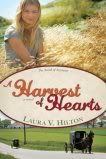 Worlds apart, yet one in heart.
Before we talk with today's author, I want to announce that the winner of the signed copy of Alice J. Wisler's novel,
A Wedding Invitation,
is:
kalea_kane@ . . .
Congratulations! I'll contact you today for your snail mail address, and we'll get your book to you right away.
I encourage readers to keep commenting and/or subscribe at right (above my list of books) in order to participate in future book give-aways!
Now let's revisit with novelist
Laura Hilton
, author of
A Harvest of Hearts
(Whitaker House, September 2011).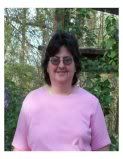 Laura Hilton, her husband, Steve, and their five children make their home in Horseshoe Bend, Arkansas. She is a pastor's wife, a stay-at-home mom and home-schools three of her children. Her two oldest children are homeschool graduates and are in college. Laura is also a breast cancer survivor.
Her publishing credits include
Hot Chocolate
and
Shadows of the Past
from Treble Heart Books; a devotional in a compilation from Zondervan; and the first book,
Patchwork Dreams
, in her Amish of Seymour series from Whitaker House released in April 2011, the second book,
A Harvest of Hearts
in September 2011, and
Promised to Another
in April 2012.
Laura has her business degree from Ozarka and is a member of American Christian Fiction Writers. Laura is a professional book reviewer for the Christian market, with over a thousand book reviews published at various online review sites.
Please tell us five random things we might not know about you.
--I love snow, pine trees and ice-covered ponds.
--I have a wonderful Christmas Village that we display on our piano every Christmas season that my parents made out of ceramics.
--My favorite Christmas song is "The Carol of the Bells."
--My favorite Christmas treats are sugar cookies and white chocolate covered pretzels.
--We have a gingerbread house tradition in our house that we can't break.
Now I can't get "The Carol of the Bells" out of my mind. I'm glad you mentioned one I enjoy!
Please tell us a bit more about the plot of A Harvest of Hearts.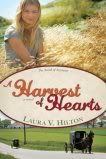 Matthew Yoder volunteered to be part of the swap of Amish men from his Old Order Pennsylvania Amish Community, to the Amish community in Seymour, Missouri. There is nothing for him in Pennsylvania, as the youngest of twelve children, and the lack of farmland around Lancaster County, he felt he could make a better future in another district.
Shanna Stoltzfus has been raised Amish, and couldn't wait for her rumspringa so she could pursue her education. She hated having to quit school in the 8th grade to stay home and learn everything that makes a home run smoothly. But now she has earned her GED and is taking college courses, but her family is begging her to come home; her little sisters miss her.
And there's something about newcomer, Matthew Yoder that draws her attention. But is it enough to give up her dreams of education and join the Amish church?
What is it about Shanna and Matthew that will make your readers care about them?
Shanna is outgoing, outspoken, and determined. Matthew is solid, stable, and devoted.
Many authors—including multi-published authors—have started taking their out-of-print books and even original books straight to e-books, which they've essentially self-published. What are your thoughts about the idea? Have you done it, or are you likely to?
No, I haven't done it and I don't think I'm likely to at this point anyway. I'm not sure I'm technology savvy enough to do something like that.
What is the last book you read that you would recommend?
I have finished reading
The Christmas Singing
by Cindy Woodsmall. A nice Christmassy read and a sweet romance.
What are you working on now?
I'm working on the first book of a new Amish series.
Where else can readers find you online?
laurav.hilton.com
or on facebook (Author Laura V. Hilton).
The book is available at fine book stores and for online purchase via the following buttons:
CBD.com
Finally, what question would you like to ask my readers?
What is your favorite Christmas tradition?
Thank you, Laura, for visiting with us and telling us about your novel.
Readers, Laura has offered to give a signed copy of her book to the winner of our drawing on Thursday, December 29.
To enter, leave a comment below in answer to Laura's question, above. "Please enter me" won't get you entered.
Leave your email address, in case you win, like so: trish[at]trishperry[dot]com.
Be sure to check out my post about
the raffle for Sandi Rog
and my interview with
Rose McCauley
, below. Leave an appropriate comment at the bottom of Rose's post to enter the drawing for signed copy of her book.
And I'd love it if you'd connect with me on Facebook. Just click on my name at the right of today's post.
Annoying legal disclaimer: drawings void where prohibited; open only to U.S. residents; the odds of winning depend upon the number of participants. See full disclaimer
HERE
.