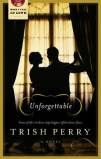 Some of life's trickiest steps happen off the dance floor.
Readers, this bonus post is my late Christmas gift to you (late, because I won't fulfill the giveaway until January 5). This week I gave away signed copies of all of my books through The Book Club Network, but I forgot to tell TBCN about one of my novels,
Unforgettable
.
How I could forget a novel called
Unforgettable
is beyond me.
So I want to give away a copy of the book to one of my readers here.
And I'm going to use this giveaway to tell you about another of my books,
Tea for Two, the ebook version of which is on sale only through January 3
. If you have an ereader--or if you get one for Christmas!--check out the short-term sale price for your
Kindle
,
Nook
, or
Kobo
. The book is also available at this sale price for your
Sony Reader
, but the page isn't yet showing the proper price.
Whether or not you choose to buy
Tea for Two
at its sale price is up to you. All you have to do to enter the drawing for the signed copy of
Unforgettable
is email me
HERE
and tell me the short-term sale price of the ebook version of
Tea for Two
.
NOTE: Don't post the price in the comments section, below!
Use the link above to email me your answer.
I'll randomly choose a name from my emailers on Thursday, January 5, and
Unforgettable
will be on its way to the winner!
May you all have a fabulous Christmas with your family and friends. Happy birthday to our dear, sweet Lord!