In book four of the Bright's Pond series strange happenings are afoot at the Greenbrier Nursing Home. Strange even for Bright 's Pond. The residents suddenly act like kids again riding trikes, climbing trees, and of all things falling in love.
Before we talk with today's author, I want to announce that the winner of the signed copy of
Christmas Belles of Georgia
, featuring Rose McCauley's novella,
Nick's Christmas Carol,
is:
paulalipper@ . . .
Congratulations! I'll contact you today for your snail mail address, and we'll get your book to you right away.
I encourage readers to keep commenting and/or subscribe at right (above my list of books) in order to participate in future book give-aways!
Now let's meet novelist
Joyce Magnin
, author of
Blame it on the Mistletoe: A Novel of Bright's Pond
(Abingdon Press, September 2011).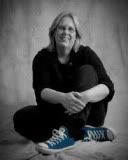 Joyce Magnin is the author of five novels, including the popular and quirky Bright's Pond Series and the middle grade novel
Carrying Mason.
She is a frequent conference speaker and writing instructor.
Joyce lives in Pennsylvania with her son, Adam, and their crazy cat, Mango, who likes to eat nachos.
Please tell us five random things we might not know about you.
--I love video games, particularly Role-Playing games and own my own Xbox360.
--I enjoy fine art needle crafts including cross-stitch.
--I've never eaten a scallop.
--I don't like glass elevators.
--I once worked as a dog groomer—for one day.
Hilarious! I actually had a character in The Perfect Blend who did exactly the same thing--one day as a dog groomer. I wonder if you experienced anything like she did.
Please tell us a bit more about the plot of Blame it on the Mistletoe.
Is There Really a Fountain of Youth in Paradise?
Welcome back to Bright 's Pond, where strange happenings are afoot at the Greenbrier Nursing Home. Strange even for Bright 's Pond. The residents suddenly act like kids again riding trikes, climbing trees, and of all things falling in love. Some of the townsfolk blame it on the crooked new gazebo, or its builder, a quirky little man who quotes Don Quixote, collects water from the fountain at the Paradise trailer park, and disappears on a regular basis.
While Chief of Police Mildred Blessing investigates the mystery, Griselda and her friends deal with a luau Thanksgiving, preparations for the Christmas pageant, and maybe even an upcoming wedding. Only, in Bright 's Pond, nothing ever really goes as planned . . .
What is it about Griselda that will make your readers care about her?
Most of my readers already love Griselda. Like so many women, Griselda, at age forty-something, is just beginning to find her true self and become the woman God intended her to be.
If you were the casting director for the film version of your novel, who would play your lead roles?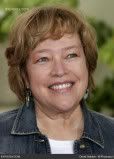 Cathy Bates: Agnes Sparrow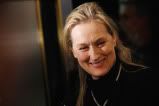 Griselda: Meryl Streep
Many authors—including multi-published authors—have started taking their out-of-print books and even original books straight to e-books, which they've essentially self-published. What are your thoughts about the idea? Have you done it, or are you likely to?
I like the idea. It gives authors a second chance at building another kind of fan base. Yep, I might step into it one day now that the Bright's Pond series is finished and fans are asking for more.
What is the last book you read that you would recommend?
Actually, I just finished reading
A Game of Thrones
—way different from my genre but I like fantasy. I love this book. It's sad but exciting.
What are you working on now?
I'm finishing up my second middle grade novel for Zondekidz and eagerly getting ready for the launch of
Harriet Beamer Takes the Bus
. I'm also writing the second Harriet Beamer book.
Where else can readers find you online?
Joycemagnin.blogspot.com
or
Joycemagnin.com
The book is available at fine book stores and for online purchase via the following buttons:
CBD.com
Finally, what question would you like to ask my readers?
When you stop reading a book, can you pinpoint the reason?
Thank you, Joyce, for visiting with us and telling us about your novel.
Readers, Joyce has offered to give a signed copy of her book to the winner of our drawing on Monday, January 2.
To enter, leave a comment below in answer to Joyce's question, above. "Please enter me" won't get you entered.
Leave your email address, in case you win, like so: trish[at]trishperry[dot]com.
Reader, if you'd like to enter your name in the drawing for a
signed copy of my nostalgic historical novel, Unforgettable,
take a look at
this post
.
Be sure to check out my interview with
Laura Hilton
, below. Leave an appropriate comment at the bottom of the post to enter the drawing for a signed copy of her book.
And I'd love it if you'd connect with me on Facebook. Just click on my name at the right of today's post.
Annoying legal disclaimer: drawings void where prohibited; open only to U.S. residents; the odds of winning depend upon the number of participants. See full disclaimer
HERE
.