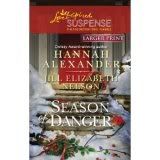 A romance-shy veterinarian and a widowed health inspector hunt the killer who used mistletoe extract to poison pets and people in a Tennessee mountain town.
Before we chat with today's author, I want to announce that the winner of the signed copy of Margaret Daley's novel,
His Holiday Family,
is:
shryackmom@ . . .
Congratulations! I'll contact you today for your snail mail address, and we'll get your book to you right away.
I encourage readers to keep commenting and/or subscribe at right (above my list of books) in order to participate in future book give-aways!
Now let's chat with novelist
Jill Elizabeth Nelson
, author of Mistletoe Mayhem, featured in the
Season of Danger
anthology (Love Inspired Suspense, December 2011).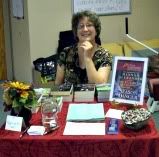 Jill Elizabeth Nelson is an award-winning author of mystery and suspense. She writes what she likes to read—tales of adventure seasoned with romance, humor, and faith. Jill speaks regularly at conferences, writer's groups, library associations, and civic and church groups. When teaching classes for writers, she delights in bringing the "Ahah! moment" to her students, so they can make a new skill their own.
Jill and her husband live in rural Minnesota where they raised four children and are currently enjoying their grandchildren.
Please tell us a few random things we might not know about you.
--My seven month old grandson weighs as much as my nearly three year old granddaughter.
--Since my family runs toward petite babies, don't ask me how we got the whopping grandson. He sure is a smiley little butterball! That's several random things so far.
--Oh, and I live in the Lutefisk Capital of the World, and I eat lutefisk, but I'm not Norwegian. That's three random things in one sentence!
Please tell us a bit more about the plot of Mistletoe Mayhem.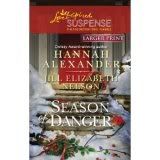 After being jilted by her fiancé, Kelly Granger buries her broken heart in her work as a veterinarian in her home town of Abbottsville, Tennessee, located in the Great Smoky Mountains. She and her assistant, Tim Hallock, battle to save community pets from a violent and mysterious illness. Is this sickness a danger to humans?
Her question is answered when state health inspector Matt Bennett is sent to investigate local eating establishments, including Kelly's sister's restaurant, for the cause of poisoning among the patrons. Kelly refuses to believe that her sister served toxic mistletoe extract to her customers—yet mounting evidence points in that direction.
Kelly puts herself in harm's way, facing down a vicious dog and even more vicious people, to uncover a common denominator between the human and animal illnesses. Matt has his hands full keeping up with her, as well as proving himself worthy of her trust—and hopefully, her love. Unless she has her heart set on her veterinary assistant, Tim Hallock.
The question won't matter if his investigation sends Kelly's sister to jail. She'll never have anything to do with him then. They need to uncover the truth. But will the answer cost them more than their romance? Will it cost them their lives?
What is it about your lead characters that will make your readers care about them?
Both my hero and my heroine love animals. That's a big thumbs up with readers right there.
Mistletoe Mayhem
is about letting go of bitterness and learning to trust again. Kelly, the heroine, must do that in order to finally recognize and open her heart to the man the Lord has sent her. Matt, the hero, must let go of unworthy jealousy and make peace with the possibility that she might choose another man before he can see the best way to win her heart.
If you were the casting director for the film version of your novel, who would play your lead roles?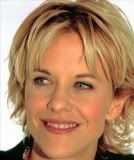 I think Meg Ryan would make a wonderful Kelly, though she might be a little older than the character in my book.
I used an older picture of Meg Ryan, so we have the younger version for you.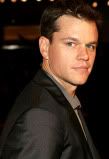 Matt Damon with his hair colored dark would make a terrific Matt. Hmmm. Their names are the same. Must be a sign!
I did that once with my characters. Named them before choosing photos to use as guides, and then I ended up choosing actors with the same first names. Weird.
Many authors—including multi-published authors—have started taking their out-of-print books and even original books straight to e-books, which they've essentially self-published. What are your thoughts about the idea? Have you done it, or are you likely to?
Yes, I'm strongly considering the possibility. I'm researching modes and methods right now and haven't decided how to go about it yet. First, I plan to e-publish a handbook for writers on the technique of writing in Deep Point of View. I hope to offer this as a download on my web site early in the New Year.
What is the last book you read that you would recommend?
I recently enjoyed James Rubart's intriguing and unusual
Rooms
. Big thumbs up on his books for people who like a Godly supernatural twist to their stories. Another recent read that I relished (alliteration intended) was
Race Against Time
. I thoroughly enjoyed the Alaska setting, since I have a sister living there, and the writing team of Kimberley Woodhouse and her teenage daughter Kayla does an awesome job of telling a stirring and exciting story. I can hardly wait for the next book in the series.
What are you working on now?
I recently turned in a the manuscript for another LI Romantic Suspense entitled
Betrayal on the Border
, where we join a former Army Ranger (the heroine) and a television news reporter (the hero) for a wild ride pitted against drug runners. I don't have a release month for
Betrayal on the Border
yet. Now I've moved into Christmas preparations, and that will keep me busy, but I've got a fresh book proposal under way that I hope to submit to Steeple Hill after the first of the year.
Where else can readers find you online?
Visit Jill on the web at:
www.jillelizabethnelson.com
or look her up on Facebook or Twitter:
JillElizabethNelson.Author
or
http://twitter.com/jnelson57
.
The book is available at fine book stores and for online purchase via the following buttons:
CBD.com
Finally, what question would you like to ask my readers?
I'm researching e-readers for personal use. Those of you who use an e-reader, which one did you choose and why? Those of you who do not use an e-reader, is it something you might consider in the future, or do you love holding a print book in your hands too much to move into the electronic reading world?
Thank you, Jill, for visiting with us and telling us about your novel.
Readers, Jill has offered to give a signed copy of her book to the winner of our drawing on Thursday, December 15.
To enter, leave a comment below in answer to Jill's question, above. "Please enter me" won't get you entered.
Leave your email address, in case you win, like so: trish[at]trishperry[dot]com.
Be sure to check out my post about
the raffle for Sandi Rog
and my interview with
Roseanna White
, below. Leave an appropriate comment at the bottom of Roseanna's post to enter the drawing for signed copy of her book.
And I'd love it if you'd connect with me on Facebook. Just click on my name at the right of today's post.
Annoying legal disclaimer: drawings void where prohibited; open only to U.S. residents; the odds of winning depend upon the number of participants. See full disclaimer
HERE
.