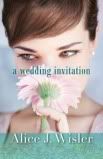 Have you ever attended the wrong wedding?
Before we chat with today's author, I want to announce that the winner of the signed copy of Roseanna White's novel,
Love Finds You in Annapolis, Maryland,
is:
followsjc@ . . .
Congratulations! I'll contact you today for your snail mail address, and we'll get your book to you right away.
I encourage readers to keep commenting and/or subscribe at right (above my list of books) in order to participate in future book give-aways!
Now let's chat with novelist
Alice J. Wisler
, author of
A Wedding Invitation
(Bethany House, October 2011). Tell us about yourself, Alice.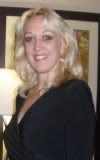 I was raised in Japan as a missionary kid, and spent twenty years in Japan. No wonder sushi is my favorite food. After college, I taught English as a Second Language in a refugee camp in the Philippines.
Since the death of my four-year-old son Daniel in 1997, I teach online grief-writing workshops and speak at bereavement conferences.
My four published novels are
Rain Song, How Sweet It Is, Hatteras Girl
and
A Wedding Invitation.
How heartbreaking, Alice, about your son. I'm so sorry. And how loving of you to help others struggling with grief.
Please tell us five random things we might not know about you.
--My first modeling experience was when I was eight, for a poster advertising melodeons (this was a hand-held instrument) for a Japanese company.
--I love turkey skin almost as much as I love the meat. (I do know it's not good for me.)
--I was in the Amazon Jungle when my daughter caught a piranha on a fishing trip.
--I skipped school after an Eagles concert in 1976 and went with friends to meet them at their hotel in Osaka (we'd gone backstage the night before and Joe Walsh invited us to hang out with the band).
--My uncle is Eugene Peterson (author of
The Message
) and is a wonderful person.
I feel as if my life has been awfully sheltered, in that I only identify with the turkey skin item. Sigh.
Please tell us a bit more about the plot of A Wedding Invitation.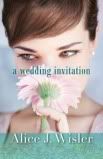 Samantha visits her Aunt Dovie in Winston-Salem, NC, (after attending the wrong wedding) and from there, things are set in motion for her life to change. She comes face-to-face with a student she once taught in the Philippines at a refugee camp, and later is reunited with a Carson, a fellow teacher---the one she fell in love with.
Together, Carson and Samantha are asked to help Lien, a young Amerasian girl, find her birth mother before Lien's wedding.
What is it about Samantha that will make your readers care about her?
Samantha is down to earth, a bit of a flirt, flawed, protective of her heart, and funny.
If you were the casting director for the film version of your novel, who would play your lead roles?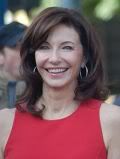 I have no idea. I suppose Aunt Dovie would be someone sweet like Mary Steenburgen.
Many authors—including multi-published authors—have started taking their out-of-print books and even original books straight to e-books, which they've essentially self-published. What are your thoughts about the idea? Have you done it, or are you likely to?
Very tempting, but have not gone down that path yet.
What is the last book you read that you would recommend?
Under the Mesquite
, by Guadalupe Garcia McCall. This is a YA book about a girl who finds out her mother has cancer. Very touching and poetically written. (A review of it is at my blog.)
What are you working on now?
Thanks for asking! I'm writing a novel about a man who gives up his Amish heritage and moves to the mountains of North Carolina to help other dissatisfied Amish youth start new lives in English society. This novel,
Still Life in Shadows
(my title that may or may not stick), has just been accepted by Moody Publishers (the new River North) and should be out fall 2012. I'm excited!
Congrats on that! Where else can readers find you online?
My website is a good place to find me.
www.alicewisler.com
. I have a newsletter,
Literary Lyrics
, and love it when readers sign up for it at my website. It's free!
I have two blogs, too. One is Patchwork Quilt at:
www.alicewisler.blogspot.com
and the other is Writing the Heartache:
www.writingtheheartache.blogspot.com
.
The book is available at fine book stores and for online purchase via the following buttons:
CBD.com
Finally, what question would you like to ask my readers?
If I rented a beach house on the Outer Banks of North Carolina, would you join me for a weekend?
Thank you, Alice, for visiting with us and telling us about your novel.
Readers, Alice has offered to give a signed copy of her book to the winner of our drawing on Thursday, December 22.
To enter, leave a comment below in answer to Alice's question, above. "Please enter me" won't get you entered.
Leave your email address, in case you win, like so: trish[at]trishperry[dot]com.
Be sure to check out my post about
the raffle for Sandi Rog
and my interview with
Susan Sleeman
, below. Leave an appropriate comment at the bottom of Susan's post to enter the drawing for signed copy of her book.
And I'd love it if you'd connect with me on Facebook. Just click on my name at the right of today's post.
Annoying legal disclaimer: drawings void where prohibited; open only to U.S. residents; the odds of winning depend upon the number of participants. See full disclaimer
HERE
.