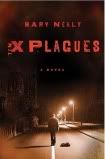 A demon possessed serial killer acts out the Ten Plagues of Egypt on the city of Chicago.
Before we chat with today's author, I want to announce that the winner of the signed copy of DiAnn Mills's novel,
Attracted to Fire,
is:
JFWisherd@ . . .
Congratulations! I'll contact you today for your snail mail address, and we'll get your book to you right away.
I encourage readers to keep commenting and/or subscribe at right (above my list of books) in order to participate in future book give-aways!
Now let's revisit novelist
Mary Connealy
, author of
Ten Plagues
(Barbour Publishing, October 2011).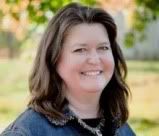 Mary Connealy takes a walk on the suspenseful side with
Ten Plagues
, a romantic thriller, writing as Mary Nealy. Mary usually writes romantic comedy with cowboys. She is a Carol Award winner, and a Rita and Christy finalist. She is the author of The Kincaid Brides Series:
Out of Control, In Too Deep, Over the Edge
.
Among her novels are Lassoed in Texas Trilogy, Montana Marriages Trilogy and The Sophie's Daughters series.
Please tell us five random things we might not know about you.
--My mom's mother had a master's degree from Columbia University in New York back in the day when they barely let women go to college.
--I've got two brothers who are pastors in fairly diverse churches, but they get along great.
--I'm married to my high school sweetheart who is my very own romantic cowboy hero.
--I attended a one room country school and so did my husband and my children.
--I live in the house my husband's grandfather build on land that's been in my husband's family for close to 150 years.
What terrific family history, Mary. I'm so impressed by your grandmother!
Please tell us a bit more about the plot of Ten Plagues
.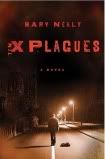 A demon possessed serial killer acts out the
Ten Plagues
of Egypt on the city of Chicago.
An inner city mission pastor draws the attention of a madman and becomes the focus of his rage.
A lady cop with the spiritual gift of discerning spirits gets the case and is confronted with an evil unlike any she's ever known.
The pastor and the cop race to stop a murderer, knowing that the plague of the first born and the plague of darkness are being saved just for them.
What is it about your lead character that will make your readers care about her?
My lead character is a lady cop with the spiritual gift of discerning spirits. I was reading the list of spiritual gifts and when I hit the one about discerning spirits I realized I knew very little about that gift. I wondered what would that be like? What if you walked up to someone and could tell they were possessed by a demon? The idea for a story about a woman with that gift was born.
If you were the casting director for the film version of your novel, who would play your lead roles?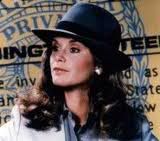 Keren would be played by a young Stephanie Zimbalist.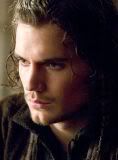 Paul by Henry Cavill (who is my new choice for
every
hero, the next
Superman
).
I completely get that. What a great look he has! I've heard a lot of good buzz about him.
Here's a hint for your well-to-do fans and loved ones: If you could have any one writing-related gift for Christmas this year, what would it be? The sky is the limit!
I'd like a writing retreat with all my best writing buddies in a beautiful cabin in the Rocky Mountains for a week. Food will magically appear so all we do is write and talk.
What is the last book you read that you would recommend?
I am right in the middle of Ruth Logan Herne's Christmas release:
Yuletide Hearts (Love Inspired)
. I'm a sucker for a really great, sentimental Christmas romance and I'm loving this one.
What are you working on now?
I'm doing revisions for the third book in the Kincaid Brides series and I absolutely loved this book. I had so much fun writing it. Book #1 is
Out of Control
about the control freak brother. It released in August. Book #2
In Too Deep
, about the brother who's the shallow charmer, comes in February 2012 and Book #3
Over the Edge
, about the crazy brother, releases in August 2012.
Where else can readers find you online?
Find Mary online at:
Mary Nealy's Website
My Website
My Blog
Seekerville
Petticoats & Pistols
The book is available at fine book stores and for online purchase through these buttons:
CBD.com
Finally, what question would you like to ask my readers?
I'm a little nervous about doing this pseudonym/new genre thing, but I loved writing this book and I think a change like this makes it more fun to go back and write the cowboy romance, which I love and intend to keep doing forever.
I'm so afraid that readers will feel betrayed and I'm trying to warn them that they're picking up something different. I think (I hope) the cover is a huge warning.
How do you feel about an author changing genres? Do you feel cheated? I've had authors do this to me but the major betrayal came when a romance novelist dragged me to the end of the book and then no happily ever after!!!!!!
I was very, very, very annoyed. Has that ever happened to you?
Thank you, Mary, for visiting with us and telling us about your novel.
Readers, Mary has offered to give a signed copy of her book to the winner of our drawing on Thursday, November 10.
To enter, leave a comment below in answer to Mary's question, above. "Please enter me" won't get you entered.
Leave your email address, in case you win, like so: trish[at]trishperry[dot]com.
Be sure to check out my interview with

Susan Page Davis

, below. Leave an appropriate comment at the bottom of the post to enter the drawing for signed copy of her book.
Annoying legal disclaimer: drawings void where prohibited; open only to U.S. residents; the odds of winning depend upon the number of participants. See full disclaimer
HERE
.
Finally, be sure to check out the terrific inspirational fiction releasing this month!
A Lasting Impression
by
Tamera Alexander
-- Historical Romance from Bethany House; To create something that will last is Claire Laurent's most fervent desire as an artist. It's also her greatest weakness. All that Sutton Monroe holds dear lies in ruin. He's determined to reclaim his heritage and to make the men who murdered his father pay. But what he discovers on his quest for vengeance reveals a truth that may cost him more than he ever imagined.
Bound by Grace
by
Amber Stockton
-- Historical Romance from Barbour. When Charlotte Pringle's father disrupts her idyllic relationship with Richard Baxton by announcing he's been working on a marriage arrangement to secure her future, Richard despairs over the loss of the woman he's come to love, until his niece persuades him to fight.
Fatal Reality
by
Jonathan Wakefield
-- A Thriller/Suspense from OakTara -- In this race only the winner will be allowed to live.
Gateway Weddings; Romancing America
by
Myra Johnson
-- A Romance from Barbour. Three Missouri women enter the gateway to life, love, and longing.
Hope and a Future
by
Betty Arrigotti
-- Romance from OakTara; Will Marjorie Gloriam overcome her fear and trust God to be a Friend with plans to give her Hope and a Future?
I Can Do Better All By Myself
by
E. N. Joy
, --Biblical Fiction from Urban Fiction (Kensington). The singles ministry at New Day Temple of Faith is beginning to unravel, and the pastor is considering dissolving the ministry. Some members believe the only way to hold it together is by getting their pastor to join. And why shouldn't their leader show support by joining, considering the pastor's own single status?
Katie's Way
by
Marta Perry
-- Romance from Praise (Penguin). A quilt shop brings Amish and Englisch together, and trouble follows...
Lonestar Angel
by
Colleen Coble
-- Romance from Thomas Nelson. Five years ago Eden and Clay Larson's baby was stolen and never found. Eden blamed herself, Clay lost himself in work. Their young and rocky marriage ended. Or so Eden thought.
Mind Over Madi
by
Lynda Lee Schab
-- General Fiction from OakTara; All men cheat. At least, that's what Madi's mother has always told her.
Peril
by
Suzanne Hartmann
-- Thriller/Suspense from OakTara; A top-secret agent must trust God to protect her many secrets when she accepts high-profile assignments but can she trust Him when He leads her to reveal her secrets and takes her to death's doorstep?
Promise Brides
by
S. Dionne Moore
-- Historical Romance from Barbour; Love is the same, no matter when, no matter where-it never comes without sacrifice.
Protection for Hire
by
Camy Tang
-- Thriller/Suspense from Zondervan; Tessa Lancaster's skills first earned her a position as an enforcer in her uncle's Japanese Mafia gang. Then they landed her in prison for a crime she didn't commit. Now, three months after her release, her abilities have gained her a job as bodyguard for a wealthy socialite and her three-year-old son. But there's a problem or two … or three ….
The Land of Darkness; The Gates of Heaven Series
by
C.S. Lakin
-- Speculative Fiction from Living Ink (AMG); Jadiel is twelve and things couldn't get much worse—or could they?
The Long Trail Home
by
Vickie McDonough
-- Historical Romance from Moody Publishers; When Riley Morgan returns home after fighting in the War Between the States, he is excited to see his parents and fiancée again. But when he arrives he learns his life will never be the same again.
The Merchant's Daughter
by
Melanie Dickerson
-- Historical from Zondervan; An unthinkable danger. An unexpected choice. Annabel, once the daughter of a wealthy merchant, is trapped in indentured servitude a recluse. She must decide whether to follow the plans she has cherished or the calling God has placed on her heart.
The Rancher's Courtship
by
Laurie Kingery
-- Romance from Love Inspired; Though Caroline Wallace can't have a family, she can still have a purpose. Becoming Simpson Creek's new schoolmarm helps heal the heartache of losing Pete, her fiancé, to influenza. Then Pete's brother arrives, trailing a herd of cattle and twin six-year-old girls.
Thyme for Love
by
Pamela S. Meyers
--Romance & Mystery from OakTara; April Love has always dreamed of being a chef. But she didn't expect a former fiancé or murder to be part of the recipe for her new job.
Turnabout's Fair Play
by
Kaye Dacus
-- Romance from Barbour; When Maureen O'Connor begins scheming to match her grandson Jamie with Flannery McNeill, the last thing she has in mind is a romance of her own.
Happy reading!