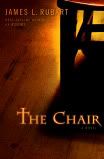 If someone gave you an ancient looking chair and told them it was made by Jesus Christ, would you believe them?
Before we chat with today's author, I want to announce that the winner of the signed copy of Susan Page Davis's novel,
The Lady's Maid,
is:
patterly@ . . .
Congratulations! I'll contact you today for your snail mail address, and we'll get your book to you right away.
I encourage readers to keep commenting and/or subscribe at right (above my list of books) in order to participate in future book give-aways!
Now let's revisit novelist
James L. Rubart
, author of
The Chair
(B&H Fiction, September 2011).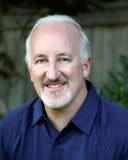 James L. Rubart is the best-selling, and award winning author of
ROOMS, BOOK OF DAYS,
and
THE CHAIR
. He graduated from the University of Washington with a degree in Broadcast Journalism.
During the day he runs Barefoot Marketing, helping authors make more coin of the realm. In his free time he dirt bikes, hikes, water skis and take photos. No, he doesn't sleep much. He lives with his amazing wife and teenage sons in the Pacific Northwest and still thinks he's young enough to water ski like a madman.
Please tell us five random things we might not know about you.
--I used to appear in TV ads and voice radio spots.
--I used to be a semi-pro magician.
--I almost lost three fingers on my right hand when I was 1 ½ years old.
--I love improv.
--I can speak five languages. (The last one isn't true, but that would be cool, huh?)
And I suppose you expect us to believe the other four items, hmmm?
Please tell us a bit more about the plot of The Chair
.
If you were given an ancient looking chair and told Jesus Christ made it, would you believe them?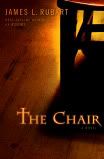 When an elderly lady shows up in Corin Roscoe's antiques store and gives him a chair she claims was built by Christ, he scoffs. But when a young boy is miraculously healed after sitting in the chair, he stops laughing and starts to wonder: Could this chair heal the person whose life I destroyed twelve years ago?
As word spreads of the boy's healing, a mega-church pastor is determined to manipulate Corin into turning over the chair. But the mysterious woman who gave him the piece insinuates it is Corin's destiny to guard the chair above everything else. But why? Desperate, he turns to the one person he can trust, a college history professor who knows more about the legend of the chair than he reveals.
Searching for truth about the artifact and the unexplained phenomena surrounding it, Corin soon realizes he isn't the only one willing to do almost anything to possess the power that seems to surround the chair.
What a cool premise. Sure to be another bestseller!
What is it about Corin that will make your readers care about him?
His greatest desire is to restore his relationship with his brother, but he doesn't think it can ever happen because of what he did to his brother years before. But he won't stop trying.
Plus he loves extreme sports so there's little chance of a boring moment when Corin is around.
If you were the casting director for the film version of your novel, who would play your lead roles?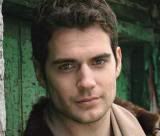 My protagonist, Corin would be played by Henry Cavill.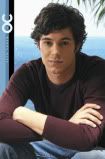 His brother Shasta would be played by Adam Brody.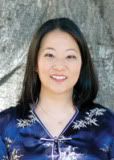 Corin's girlfriend would be played by Camy Tang.
Camy, you lucky dog, you!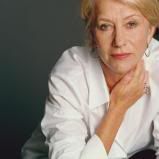 Nicole who gives Corin the chair would be played by Helen Mirren.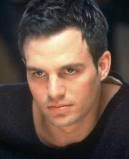 Mark Jefferies who is coming after the chair would be played by Mark Ruffalo.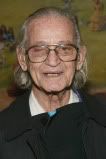 Tesser--Corin's old history professor--would be played by legendary comedian Professor Irwin Corey (who I met and based Tesser on.)
I didn't use one of his wacko pictures from the past--I imagined your Tesser wasn't quite that far over the top.
Here's a hint for your well-to-do fans and loved ones: If you could have any one writing-related gift for Christmas this year, what would it be? The sky is the limit!
More time. Just another three hours a day to write and get everything else done would do it!
Well, I guess that gift wish will be a little harder than others to fulfill. What is the last book you read that you would recommend?
The Hunger Games
, by Suzanne Collins. Well crafted, all the boring parts were left out, and I was fully immersed in the story.
Oh, me too, and I'm not usually a big fan of post-apocalyptic fiction. What are you working on now?
I recently signed a new five-book contract and I'm working on the first of those novels (due on shelves next year about this time).
Plus I'm promoting a Small Group Study Guide based on my first novel
ROOMS
. There's a workbook, DVD with me teaching the major themes of the book and we even hired actors to act out scenes from the book. It's published by LifeWay and they did a tremendous job.
What fun! And a very clever marketing idea.
Where else can readers find you online?
www.jameslrubart.com
Facebook: James L. Rubart
Twitter: @jimrubart
The book is available at fine book stores and can be purchased online through the following buttons:
CBD.com
Finally, what question would you like to ask my readers?
If you had to give your life (so far) a title (that would go on a book) what would it be?
Thanks so much for having me, Trish. Always a blast to be here with you.
Great question Jim. And thank you for visiting with us and telling us about your novel.
Readers, Jim has offered to give a signed copy of her book to the winner of our drawing on Tuesday, November 15.
To enter, leave a comment below in answer to Jim's question, above. "Please enter me" won't get you entered.
Leave your email address, in case you win, like so: trish[at]trishperry[dot]com.
Be sure to check out my interview with

Susan Page Davis

, below. Leave an appropriate comment at the bottom of the post to enter the drawing for signed copy of her book.
Annoying legal disclaimer: drawings void where prohibited; open only to U.S. residents; the odds of winning depend upon the number of participants. See full disclaimer
HERE
.