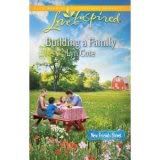 Can she find the courage to risk losing her heart to this ready-made family?
Today's bonus post doesn't involve a giveaway, but I wanted to draw your attention to
Building a Family
(Love Inspired, September 2011), a new release by my writer friend,
Lyn Cote
.
About Lyn:
When Lyn Cote became a mother, she gave up teaching, and while raising a son and a daughter, she began working on her first novel. Rejection followed. Finally in 1997, Lyn got "the call." Her first book,
Never Alone
, was chosen for the brand new Love Inspired romance line.
Since then, Lyn has had over thirty novels published. In 2006 Lyn's book,
Chloe
, was a finalist for the RITA, and her books
Her Patchwork Family
and
Her Healing Ways
were finalists for the Carol Award in 2010 and 2011, two of the highest awards in the romance genre.
Lyn's brand "Strong Women, Brave Stories," always includes three elements: a strong heroine who is a passionate participant in her times, authentic historical detail, and a multicultural cast of characters. Lyn also features stories of strong women both from real life and true to life fiction on her blog http://BooksbyLynCote.com. She also can be found on Facebook, Twitter and Goodreads. Drop by and "friend or follow" her.
Now living her dream of writing books at her lake cottage in northern Wisconsin, Lyn hopes her books show the power of divine as well as human love.
About the book: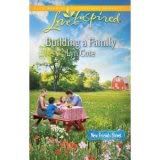 Lawyer Eleanor Washburn defends wayward teenagers and supervises volunteers for Habitat for Humanity without missing a beat. But she is unnerved by fascinating single dad Pete Beck—especially since his chaotic life includes a little girl wishing for a mother. Sweet Cassie has Eleanor yearning for what's been missing from her lonely existence. Soon, both dad and daughter are chipping away at Eleanor's defenses. Can she find the courage to risk losing her heart to this ready-made family?
Be sure to check out my interviews with

Sarah Sundin

and

Sandra D. Bricker

, below. Leave an appropriate comment at the bottom of each post to enter the drawing for a signed copy of the book.
Annoying legal disclaimer: drawings void where prohibited; open only to U.S. residents; the odds of winning depend upon the number of participants. See full disclaimer
HERE
.
Finally, take a look at the exciting novels releasing this month!
A Wedding Invitation
by
DiAnn Mills
-- A Thriller/Suspense from Tyndale. When a Secret Service Agent is assigned to the Vice President's rebellious daughter, danger lurks in every corner - and her heart.
Deeply Devoted: A Novel; The Blue Willow Brides Series
by
Maggie Brendan
-- A Historical from Revell -- She is staking her future on a man she's never met. Can she learn to love him?
Freezing Point
by
Beth Goddard
-- A Thriller/Suspense from Love Inspired. Casey Wilkes didn't realize her simple human-interest story would put her life at risk—again.
Lethal Remedy
by
Richard L. Mabry M.D.
-- A Thriller/Suspense from Abingdon; A doctor discovers that the experimental "wonder drug" that offers the only hope of cure for a universally fatal infection can be attacking more than just bacteria.
Love on the Line
by
Deeanne Gist
, -- Historical Romance from Bethany House. Rural switchboard operator Georgie Gail is proud of her independence in a man's world ... which makes it twice as vexing when the telephone company sends a man to look over her shoulder.
Maggie's Journey
by
Lena Nelson Dooley
-- A Historical from Realms (Charisma Media). Near her eighteenth birthday, Margaret Lenora Caine finds a chest hidden in the attic containing proof that she's adopted and her journey begins.
Recipe for Deceit
by
S. Dionne Moore
-- Mystery from Barbour. The third LaTisha Barnhart mystery finds the sassy diner owner trying to figure out who put the hit on a hitman.
Rodeo Dust
by
Shannon Vanatter
-- Romance from Barbour Heartsong; Can they rely on God to find their common ground or will they draw a line in the rodeo dust that neither will cross?
Southern Fried Sushi: A Novel
by
Jennifer Rogers Spinola
-- General Fiction from Barbour; Ride the roller coaster of Shiloh Jacobs's life as her dreams derail, sending her on a downward spiral from the heights of an AP job in Tokyo to penniless in rural Virginia.
Ten Plagues
by
Mary Nealy
-- Thriller/Suspense from Barbour; A demon possessed serial killer pits himself against a former ego driven cop, who's found peace as a mission pastor and a tough lady cop with the spiritual gift of discerning spirits.
The Baker's Wife
by
Erin Healy
-- Thriller/Suspense from Thomas Nelson; To save her husband and son, Audrey Bofinger must rescue her enemy.
The Chair
by
James Rubart
-- Thriller/Suspense from B and H Publishing; If you were given an ancient looking chair and told Jesus Christ made it, would you believe them?
The Christmas Child
by
Linda Goodnight
-- Romance from Love Inspired; When a battle weary cop and a Christmas crazy teacher join forces to care for an abandoned, mute boy in a small town, neither is prepared for the shocking revelations waiting...just in time for Christmas.
The Lady's Maid
by
Susan Page Davis
-- Romance from Barbour; As a lady's maid, Elise will follow her mistress anywhere, even into the Wild West.
The Wishing Pearl
by
Nicole O'Dell
-- Young Adult from Barbour; Join conflicted sixteen-year-old Olivia Mansfield on her journey to hope and healing as she leaves her messed-up life behind and moves into home for troubled teens
There You'll Find Me
by
Jenny B. Jones
-- Young Adult from Thomas Nelson; Grief brought Finley to Ireland. Love will lead her home.
When Love Gets in the Way
by
Janelle Mowery
-- A Historical from Harvest House; Straight from the heart of the Old West, the Colorado Runaway series is full of adventure, humor, and romance.
When Two Hearts Meet
by
Janelle Mowery
-- A Historical from Harvest House; Rachel Garrett finds that attaining her dream of becoming a nurse is fraught with peril, and a deputy sheriff with a wall around his heart doesn't help matters.