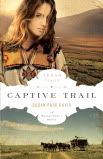 A girl has become a woman while in captivity, and a stagecoach driver longs to return her to the home she barely remembers.
But before we visit with today's author, I want to announce that the winner of the signed copy of Robin Lee Hatcher's novel,
Belonging
, is:
bookwurm70@ . . .
Congratulations! I'll contact you today for your snail mail address, and we'll get your book to you right away.
I encourage readers to keep commenting and/or subscribe at right (above my list of books) in order to participate in future book give-aways!
Now let's revisit novelist
Susan Page Davis,
author of
Captive Trail
(Moody Publishers, September 2011).
Susan Page Davis is an award-winning author with thirty-six published novels and novellas. A Maine native, she has also lived in Oregon and recently moved to western Kentucky.
Susan has six children and eight grandchildren and loves to spend time with them. She loves animals, puzzles, reading, and genealogy. In January, 2011, she was named Favorite Author of the Year among readers of Heartsong Presents books. She's a member of Women Writing the West and American Christian Fiction Writers and a past winner of the Carol Award (ACFW's Book of the Year) and the Inspirational Readers' Choice Award.
Please tell us five random things we might not know about you.
--I once served Bob Dylan a cup of tea.
--I love cats.
--I grew up in an 1850s stone farmhouse.
--I like to find wild plants you can eat.
--I had my appendix removed while I was nine months pregnant.
Oh, my goodness, Susan! That last one is shocking! I dealt with appendicitis just a year or so ago, so I vividly remember the pain involved. I can't imagine what you went through, carrying a baby in the midst of appendicitis!
Please tell us a bit more about the plot of Captive Trail.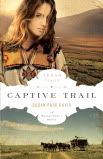 Taabe Waipu has run away from her Comanche village and is fleeing south in Texas on a horse she stole from a dowry left outside her family's teepee. The horse has an accident and she is left on foot, injured and exhausted. She staggers onto a road near Fort Chadbourne and collapses.
On one of the first runs through Texas, Butterfield Overland Mail Company driver Ned Bright carries two Ursuline nuns returning to their mission station. They come across a woman who is nearly dead from exposure and dehydration and take her to the mission.
With some detective work, Ned discovers Taabe Waipu's identity. He plans to unite her with her family, but the Comanche have other ideas, and the two end up defending the mission station. Through Taabe and Ned we learn the true meaning of healing and restoration amid seemingly powerless situations.
What is it about your lead character that will make your readers care about her?
Taabe is a very strong woman, even though she's first presented in a weak and vulnerable situation. Her struggle to belong and to accept her past and future will touch hearts.
What were some of your favorite words of encouragement from a mentor, colleague, or reader?
The thing that really encouraged me to keep trying and pushed me on into publication was my husband and his support. He took over shopping and some other chores so I could write.
Oh, let's hear it for supportive spouses! That can make all the difference for an author.
What is the last book you read that you would recommend?
Oh, that's easy!
Miss Julia Speaks Her Mind
, by Ann B. Ross. It's hilarious (but not a Christian book).
What are you working on now?
I'm writing another western, but this one's much lighter in tone.
Lady in the Making
will be the third in my new Prairie Dreams series. In it, a lady with a past has to convince a gentleman that she really is a lady now.
I see a lot of potential humor in that premise!
Where else can readers find you online?
See my website at:
www.susanpagedavis.com
. I also have a FaceBook page maintained by my daughter, but I can't interact directly with readers there, so I like to encourage folks to visit my personal site. You can also find fun stuff about Captive Trail and the rest of the Texas Trails series at:
www.texastrailsfiction.com
.
The book is available at fine book stores and for purchase online through the following buttons:
CBD.com
Finally, what question would you like to ask my readers?
I'd love to have some ideas for 10-minute refreshers (A walk around your garden? A glass of cold tea?). I need to get up and take a short break once in a while, so tell me—what rejuvenates you in a short time?
Thank you, Susan, for visiting with us and telling us about your novel.
Readers, Susan has offered to give a signed copy of her book to the winner of our drawing on Thursday, September 15.
To enter, leave a comment below in answer to Susan's question, above. "Please enter me" won't get you entered.
Leave your email address, in case you win, like so: trish[at]trishperry[dot]com.
Be sure to check out my interview with Margaret Daley, below. Leave an appropriate comment at the bottom of the post to enter the drawing for a signed copy of her book.
Annoying legal disclaimer: drawings void where prohibited; open only to U.S. residents; the odds of winning depend upon the number of participants. See full disclaimer
HERE
.