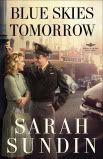 In a time of peril, can they find the courage to confront their fears and embrace a love that lasts?
Before we visit with today's author, I want to announce that the winner of the signed copy of Lisa Bergren's novel,
Torrent
, is:
blstef1@ . . .
Congratulations! I'll contact you today for your snail mail address, and we'll get your book to you right away.
I encourage readers to keep commenting and/or subscribe at right (above my list of books) in order to participate in future book give-aways!
Now let's meet novelist
Sarah Sundin
, author of
Blue Skies Tomorrow
(Revell, August 2011).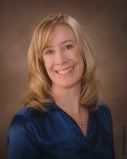 Sarah Sundin lives in northern California with her husband and three children. When she isn't ferrying kids to soccer and tennis, she works on-call as a hospital pharmacist and teaches Sunday school and women's Bible studies.
She belongs to American Christian Fiction Writers and Christian Authors Network. She is the author of the Wings of Glory series—
A Distant Melody
(Revell, 2010),
A Memory Between Us
(2010), and
Blue Skies Tomorrow
(August 2011). In 2011,
A Memory Between Us
was a finalist in the Inspirational Reader's Choice Awards and Sarah received the Writer of the Year Award at the Mount Hermon Christian Writers Conference.
Please tell us five random things we might not know about you.
--During summer breaks in college, I worked as a ride operator at Knott's Berry Farm. I knew how to jump on and off of a moving merry-go-round. Don't ask to see it now.
--For my birthday present I made my husband buy me a model kit of a B-17 Flying Fortress (the plane my heroes fly in my series). He and I put it together—175 itty-bitty pieces to paint and assemble—and I was a prissy girly girl who never did models. It's so cool! One half of the fuselage is clear so you can the itty-bitty crewmembers and bombs and all.
--I don't like mushrooms, beans, or fish.
--I wrote the rough drafts for all three of these books longhand, curled up on my couch. I've skipped that step with my next series.
--My least favorite subject in school? Creative writing. Go figure.
I lived right down the road from Knott's Berry Farm when I was a little kid! It was itty bitty back then. Fond memories . . .
Please tell us a bit more about the plot of Blue Skies Tomorrow.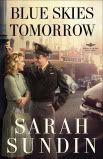 Lt. Raymond Novak prefers the pulpit to the cockpit, but at least his stateside job training B-17 pilots allows him the luxury of a personal life. As he courts Helen Carlisle, a young war widow and mother who conceals her pain under a frenzy of volunteer work, the sparks of their romance set a fire that flings them both into peril.
After Ray leaves to fly a combat mission at the peak of the air war over Europe, Helen takes a job in a dangerous munitions yard and confronts an even graver menace in her own home.
Will they find the courage to face their challenges? And can their young love survive until blue skies return?
Blue Skies Tomorrow
is the third book in the Wings of Glory series, which follows the three Novak brothers, B-17 bomber pilots with the US Eighth Air Force stationed in England during World War II. Each book stands alone.
What is it about your lead characters that will make your readers care about them?
Helen Carlisle is an energetic young war widow who does everything she can to help her country on the Home Front while raising her young son alone—and dealing with deep hurt in her past. Raymond Novak is a gentle thoughtful soul who takes on a role he feels ill-equipped for, and he has to find the courage to forge forward and to turn to God to find the purpose in his adventure.
If you were the casting director for the film version of your novel, who would play your lead roles?
This is always so hard for me. I don't picture celebrities for my characters. I see them firmly in my head but almost never find anyone who looks just like them. But for Ray, I would cast the model who "plays" him on the book cover. Oh my goodness! He looks just like the Ray in my mind. Uncanny. The model for Helen isn't quite like I pictured her, but she'd do nicely. She has that pretty, girl-next-door look.
What were some of your favorite words of encouragement from a mentor, colleague, or reader?
Ironically what encouraged me most was some verbal slaps upside the head. During a discouraging time in my rejection letter years, I had two godly women ask me the same question in a week's span: "Sarah, what are you afraid of?" Afraid? I wasn't afraid. I just had natural concerns. Or did I? Nope. Fear. And what's God's most common command—do not fear! I had to let go of my fear, turn to Him for guidance, and obey.
I think nearly every woman I know struggles with fear. No wonder the Lord addressed it so often in the Scriptures.
What is the last book you read that you would recommend?
I'm stuck in research mode right now, so my fiction to-be-read pile is getting way too high and it taunts me. The latest book I finished was
And If I Perish
, by Evelyn Monahan, about front-line nurses in World War II. While it was research, it was a touching and exciting narrative about some of our least-recognized veterans.
What are you working on now?
I signed another contract with Revell for a series tentatively titled Wings of the Nightingale. It follows three World War II flight nurses who discover love, friendship, and peril in the skies and on the shores of the Mediterranean. I just finished the first novel in the series, which will release Fall 2012. It features a You've Got Mail-like anonymous pen pal relationship between a loner nurse and an Army engineer burdened by the legacy of his infamous father.
Where else can readers find you online?
Website:
www.sarahsundin.com
Blog:
www.sarahsundin.blogspot.com
Facebook:
www.facebook.com/SarahSundinAuthor
Twitter:
twitter.com/sarahsundin
The book is available at fine book stores and for online purchase through the following buttons:
CBD.com
Finally, what question would you like to ask my readers?
I love hearing people's family World War II stories, from the child collecting scrap metal to the grandmother counting ration points to the uncle on the Normandy beaches to the father working in a factory. What's your story?
Thank you, Sarah, for visiting with us and telling us about your novel.
Readers, Sarah has offered to give a signed copy of her book to the winner of our drawing on Monday, October 3.
To enter, leave a comment below in answer to Sarah's question, above. "Please enter me" won't get you entered.
Leave your email address, in case you win, like so: trish[at]trishperry[dot]com.
Be sure to check out my interview with

Christa Allan

, below. Leave an appropriate comment at the bottom of the post to enter the drawing for a signed copy of her book.
Annoying legal disclaimer: drawings void where prohibited; open only to U.S. residents; the odds of winning depend upon the number of participants. See full disclaimer
HERE
.