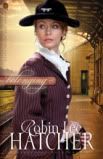 Can two bitter pasts make one sweet future?
Before we visit with today's author, I want to announce that the winner of the signed copy of Mary Connealy's novel,
Out of Control
, is:
rsj4911@ . . .
Congratulations! I'll contact you today for your snail mail address, and we'll get your book to you right away.
I encourage readers to keep commenting and/or subscribe at right (above my list of books) in order to participate in future book give-aways!
Now let's meet novelist
Robin Lee Hatcher
, author of
Belonging
(Zondervan, September 2011).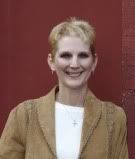 Best-selling novelist Robin Lee Hatcher is known for her heartwarming and emotionally charged stories of faith, courage, and love. She discovered her vocation after many years of reading everything she could put her hands on, including the backs of cereal boxes and ketchup bottles. The winner of the Christy Award for Excellence in Christian Fiction (
Whispers from Yesterday
), the RITA Award for Best Inspirational Romance (
Patterns of Love
and
The Shepherd's Voice
), two RT Career Achievement Awards (Americana Romance and Inspirational Fiction), and the RWA Lifetime Achievement Award, Robin is the author of over 60 novels. Her historical romance
Catching Katie
was named one of the Best Books of 2004 by the Library Journal.
Robin enjoys being with her family, spending time in the beautiful Idaho outdoors, reading books that make her cry, and watching romantic movies. She is passionate about the theater, and several nights every summer, she can be found at the outdoor amphitheater of the Idaho Shakespeare Festival, enjoying plays under the stars. She makes her home on the outskirts of Boise, sharing it with Poppet, the high-maintenance Papillon, and Princess Pinky, the kitten who currently terrorizes the household.
I'm always doubly amazed by you, Robin, when I read your bio and then reflect on what a sweet, humble nature you have.
Please tell us five random things we might not know about you.
--I have loved horses since I was a toddler and bought my first at the age of 14.
--I played Death in the 16th Century morality play,
Everyman
(but not in the 16th Century!).
--My first job was as a carhop at a local drive-in (cue
Happy Days
theme song).
--I've had an idea for a time travel novel for close to 20 years; maybe some day I'll write it.
--I've got a major sweet tooth.
I think it's funny how many novelists (including myself) have specific novels in mind for possible future release or writing. Mine is a spiritual warfare story. It sounds as if you're in the same boat--the genre is a bit distant from what you currently publish.
Please tell us a bit more about the plot of Belonging.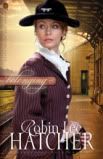 In the high desert town of Frenchman's Bluff, Idaho, Felicia Kristoffersen has set out to create a future for herself that is better than her painful past. Alone in the world with only her faith to sustain her, she must prove herself as this tiny community's new school teacher. She cannot, must not, fail. But there are those who never wanted her there to begin with.
Five years after the death of his wife, local merchant Colin Murphy cares about just one thing: raising his daughter, Charity. Colin wants to give her the educational advantages he never had. The new schoolmarm's inexperience doesn't sit well with him, and if this teacher up and marries like the last one did, Charity's heart will be broken once again.
A woman who hasn't known love. A man who lost the love he had.
In the midst of the wide, sage-covered plains, each is about to discover that life's bitterest circumstances truly can work together for good.
At 26, Felicia Kristoffersen is alone in the world—homeless, friendless and penniless. She has to prove that she can perform as the newly hired teacher in Frenchman's Bluff, Idaho. This is her only chance. If she fails for any reason, she will have no place to go and no way to support herself. And the man who owns her cottage voted against her, wants the school board to let her go, and is watching for her to make a mistake. Only her faith in God, learned from her beloved mother who died when she was ten, keeps her from falling into fear.
Colin Murphy, a merchant in town, has hidden his inability to read and he wants an experienced teacher, not a novice, to help his young daughter Charity succeed where he has failed. He doesn't want another female who will marry and leave the town without a teacher, as has happened in the past. Colin certainly doesn't plan to marry again himself. Nor does he put much stock in God's plans for his future.
As he gets to know Felicia, Colin begins to have a change of heart about the new schoolmarm and wonders if God just might have the best plan after all. But Felicia believes Colin is promised to another, and it seems that she will have to leave Frenchman's Bluff after all—but for a different reason than she first imagined.
What is it about your lead characters that will make your readers care about them?
I try to write about characters with real-life vulnerabilities, the kind that I struggle with or that people I know struggle with. I believe that's what makes readers care about the characters who people my novels.
If you were the casting director for the film version of your novel, who would play your lead roles?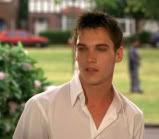 Colin would be played by Jonathan Rhys Meyers.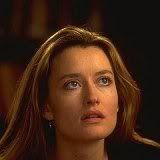 Felicia would be played Natascha McElhone.
What were some of your favorite words of encouragement from a mentor, colleague, or reader?
When I was around 14 or 15, my Aunt Marge told me that I would be a writer one day. I have no idea what she read of mine to cause her to say it. But when I put pen to paper nearly 15 years later, I remembered those words and they gave me courage.
God bless Aunt Marge! We all need to bear in mind how powerful our words can be, especially when we talk to kids!
What is the last book you read that you would recommend?
The Help
by Kathryn Stockett. It is simply stunning on so many levels. It shocks you and it makes you examine yourself and it makes you laugh and it inspires you.
One of my favorites, too. What are you working on now?
I'm finishing the next book in the series,
Betrayed
, which will release in September 2012.
Where else can readers find you online?
Web Site
Blog
Facebook
Twitter
The book is available at fine book stores and for online purchase through the following buttons:
CBD.com
Finally, what question would you like to ask my readers?
What was the last book you read that made you cry?
Thank you, Robin, for visiting with us and telling us about your novel.
Readers, Robin has offered to give a signed copy of her book to the winner of our drawing on Thursday, September 8.
To enter, leave a comment below in answer to Robin's question, above. "Please enter me" won't get you entered.
Leave your email address, in case you win, like so: trish[at]trishperry[dot]com.
Be sure to check out my interview with Ann Gabhart, below. Leave an appropriate comment at the bottom of the post to enter the drawing for a signed copy of her book.
Annoying legal disclaimer: drawings void where prohibited; open only to U.S. residents; the odds of winning depend upon the number of participants. See full disclaimer
HERE
.
Finally, take a look at all of the fantastic inspirational fiction releasing this month! Where possible, the Amazon link is embedded in the book title.
A Biltmore Christmas
by
Diane Ashley
and
Rhonda Gibson
-- A Historical Romance from Barbour; Explore the luxuries of America's largest home through the eyes of the fictional Bradford sisters
A Bride's Portrait of Dodge City, Kansas
by
Erica Vetsch
-- A Romance from Barbour. Hoping to leave the shadows of her shady yesteryears behind, Adeline Reid is focusing on her photography career. But when her ex-boyfriend's compatriot in crime shows up in Dodge City her entire past is threatened by exposure.
A Harvest of Hearts
by
Laura V. Hilton
-- Shanna Stoltzfus thought nothing could make her return home to her Amish family. She was wrong. But can anything make her give up her dreams and stay?
A Heart Revealed
by
Julie Lessman
-- A Historical Romance from Revell. Her heart is tied to a youthful vow . . . but can true love set it free?
A Log Cabin Christmas Collection
by
Margaret Brownley
,
Wanda Brunstetter
,
Jane Kirkpatrick
,
Kelly Eileen Hake
,
Liz Johnson
,
Liz Tolsma
,
Michelle Ule
,
Debra Ullrick
, and
Erica Vetsch
-- General Fiction Historical from Revell. In a time of peril, can they find the courage to confront their fears and embrace a love that lasts?
A Marriage for Meghan
by
Mary Ellis
-- Romance from Harvest House; An engaging story of one girl's quest for independence and true love as social prejudice tests a community's faith in a simpler world.
A Quaker Christmas
by
Laura Lee Bliss
,
Rachael Phillips
Ramona Cecil, and Claire Sanders -- Romance from Barbour. Christmas is a simple matter among the Quakers of the historic Ohio River Valley, but can it be a a special time to welcome love into four households?
A Whisper of Peace
by
Kim Vogel Sawyer
-- Historical Romance from Bethany House. Will Clay Selby be forced to choose between his desire to minister to the natives and the quiet nudging of his heart to spend his life with a quiet, independent Indian woman who is not a part of the tribe?
Belonging
; Where the Heart Lives Series
by
Robin Lee Hatcher
-- Historical Romance from Zondervan; Can two bitter pasts make one sweet future?.
Captive Trail
by
Susan Page Davis
-- Historical General Fiction from Moody Publishers; A girl has become a woman while in captivity, and a stagecoach driver longs to take her to the home she barely remembers.
Christmas at Barncastle Inn
by
Lynette Sowell
,
Susan Page Davis
,
Darlene Franklin
, and
Janelle Mowery
-- Romance from Barbour; Each Christmas the Barncastle family transforms its sprawling Victorian bed and breakfast into a fantasy world through time. Will its guests also discover that forgiveness is timeless?
Captive Trail
by
Irene Hannon
-- Thriller/Suspense from Revell; A woman who protects children. An ex-Navy SEAL turned police detective. A stalker with deadly intent.
Deep Cover
by
Sandra Orchard
-- Romance from Love Inspired; Undercover Cops: Fighting for justice puts their lives--and hearts--on the line.
Dry As Rain
by
Gina Holmes
-- General Fiction from Tyndale; Undercover Cops: Behind every broken vow lies a broken heart. A richly engaging story of betrayal and redemption, Dry as Rain illuminates with striking emotional intensity the surprising truth of what it means to forgive.
Falling to Pieces
; A Quilt Shop Murder
by
Vanetta Chapman
-- A Cozy Mystery from Zondervan; Not your usual Amish buggy ride!
Finding Angel
by
Kat Heckenbach
-- Speculative Fiction from Splashdown Books; Angel doesn't remember her magical heritage…but it remembers her.
From Ashes to Honor
by
Loree Lough
-- General Fiction from Abingdon. If only he'd answered that last call from the World Trade Center....
From This Day Forward; American Tapestries
by
Margaret Daley
-- Historical Romance from Summerside Press; Following the War of 1812, an Englishwoman, stranded in South Carolina, pregnant and recently widowed, struggles to make a life for herself. Can a disenchanted American physician heal her wounded heart?
Hailee
by
Penny Zeller
-- Historical Romance from Whitaker House; Can this unlikely pair come to terms with their pasts and face the future together?
Hidden in the Everglades
by
Margaret Daley
-- A Thriller/Suspense from Love Inspired; Michael Hunt needs Kyra Morgan's help to keep his sister safe. It will take everything they have to escape the www.annemateer.comEverglades alive.
Love Finds You on Christmas Morning
by
Debby Mayne
and
Trish Perry
-- Romance from Summerside Press; Two women receive marriage proposals in the same house— 85 years apart. Love finds a home on Christmas morning in two heartwarming holiday stories.
Love Finds You in Sundance, Wyoming
by
Miralee Ferrell
-- Romance from Summerside Press; While war rages in Europe, Rebekah Hendricks dreams of life far beyond the family farm in Oklahoma. And when a telegram arrives in October of 1918, she believes God has provided her way of escape.
Naomi's Gift-An Amish Christmas Story
by
Amy Clipston
-- Romance from Zondervan; Take a trip to Bird-in-Hand, Pennsylvania, where you'll meet the women of the Kauffman Amish Bakery in Lancaster County.
Pirate of My Heart
by
Jamie Carie
-- Historical Fiction from B and H Publishing; Forced to flee the only home she's ever known, Lady Kendra Townsend risks everything for a chance at finding true love in the wilds of a new America.
Remembering Christmas
: A Novel
by
Dan Walsh
-- General Fiction from Revell; Can one Christmas change a person's life forever?
Shadowed in Silk
by
Christine Lindsay
-- Historical Romance from Whitefire Publishing; Neglected by family, Abby travels to India after WWI with her small son, only to be abandoned by her husband, a cruel stranger, and to fall in love with a man who can never return her love without offending God.
Surrender the Dawn
by
Mary Lu Tyndall
-- Historical Romance from Barbour; You'll be swept away in this seafaring romance between a plucky damsel-in-distress and a nefarious rake who's selling out his country amid the War of 1812.
The Aristocrat's Lady
by
Mary Moore
-- Historical from Love Inspired; She was resigned to a life without love-until she met him...
The Christmas Belles of Georgia
by
Debra Ullrick
,
Jeanie Smith Cash
,
Rose Allen McCauley
, and Jeri Odell -- Romance from Barbour; They were sisters once—identical quadruplets—given up for adoption at birth. Now each receives a letter advising her to claim her inheritance and the family she never knew. . .at Christmas.
The Doctor's Lady
by
Jody Hedlund
-- Historical Romance from Bethany House; Priscilla White knew God wanted her to be a missionary, not a wife. But the only way she can serve is to be married. Married in name only, her new journey will test her spirit. . . and the new longings of her heart.
The Healing
; Kentucky Brothers Series
by
Wanda Brunstetter
-- Romance from Barbour; Can Esther Beiler win Samuel Fisher's heart, or has she already lost it to an English woman? How will God untangle star-crossed lovers when jealousies and misconceptions threaten to tear them apart?
The Wounded Heart
; An Amish Quilt Novel
by
Adina Senft
-- General Fiction from Faith Words (Hachette); When she's diagnosed with multiple sclerosis, a young Amish mother must choose between obedience or following her heart.
To Have and To Hold; Bridal Veil Island Series
by
Tracie Peterson
and
Judith Miller
-- Historical Romance from Bethany House; Amid a time of growth and change for Bridal Veil, can Marshall and Audrey find a foundation on which to build a love to last forever?
Wings of a Dream
by
Anne Mateer
-- General Fiction from Barbour; While war rages in Europe, Rebekah Hendricks dreams of life far beyond the family farm in Oklahoma. And when a telegram arrives in October of 1918, she believes God has provided her way of escape.