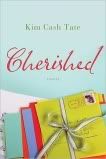 Before healing can begin for Kelli and Heather, they need to believe they are worth cherishing.
No interview today, but this Monday I do want to give away my copy of
Cherished
by
Kim Cash Tate
(Thomas Nelson, August 2011), which I just read and reviewed. This drawing will only be open to commenters (I'm not including subscribers automatically on this one.)
Answer my question, below, to enter.
About Kim:

When Kim graduated from George Washington University Law School she expected to live and practice law in Washington, DC the rest of her life—but God had other plans. Kim moved to Madison, WI where she married Bill and joined a church—which led to a complete "reshaping" of Kim's identity. After almost a decade as a lawyer Kim resigned her partnership to stay home with her children. Now she's the author of three books (two fiction, one non-fiction). Kim, Bill, and their two children live in Missouri.
About the book: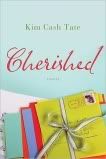 Kelli London once dreamed of being a songwriter. As crazy as it seemed, she hoped that God would use the lyrics that came to her even while she slept. She dreamed about Brian too, that the love they shared as high-school students would grow into marriage. But choices that still haunt her destroyed those dreams. Until now—when a series of love letters reawakens her hope for the future.
Heather Anderson's life has spun out of control—first, an affair with a married man, then a one-night stand with the drummer of a popular Christian band has left her devastated. Broken and alone, she cried out to the only One able to save her. He met her there, but it was just the beginning. Because now she must take a different path. And the one God has planned for her looks nothing like the one she envisioned.
As Kelli and Heather awaken to their true worth, they find the freedom to pursue their dreams—and relationships—based on the security of knowing God's unconditional love.
My review of the book:
Is there a place in God's kingdom, a chance for forgiveness, for a woman who has committed one of the biggies, sin-wise? That's one of the questions addressed in Kim Cash Tate's novel,
Cherished
. Most of us, Christian or otherwise, know the answer in our heads. But in our hearts? It's difficult to fully embrace God's forgiveness and unconditional love when the guilt we carry is too big to make room for anything else.

Tate's two female protagonists chose abortion and adultery and struggle now to step back onto His path. One of the strengths of
Cherished
is the fact that it considers the heavy-duty, imperfect lives many Christians lead, as well as the consequences of their choices. No cookie-cutter, perfect Christians here. And not every character who talks Christianese is sincere. That's the real world, folks, and it's frankly refreshing to see in an Inspirational novel.

Conversely, some readers might find themselves skeptical that Christians would invoke prayer and Scripture and references to a good God as often as Tate's characters do. Considering the setting—the Christian music industry, the world of worship leaders, youth ministry, and families firmly ensconced in the Christian faith—the behaviors are fitting. The more time one spends with fellow Christians, the more prevalent is the connection between everyday life and the One who makes it both tolerable and a joy.
Cherished
makes that clear, without coming right out and overstating it.

In reading this novel, the reader is drawn toward that connection, as well. And no reader will finish this book with my opening question still rattling around in her heart. Tate's heroines are forgiven, loved, and cherished, and the reader will believe that she is, as well.
The book is available in fine book stores and for online purchase via the following buttons:
CBD.com
To enter the drawing for this book, answer this question:
When was a time you felt truly cherished, either by a person or by the Lord? What were the circumstances?
Be sure to check out my interviews with

Robin Lee Hatcher

and

Margaret Daley

, below. Leave an appropriate comment at the bottom of each post to enter the drawings for signed copies of their books.
Annoying legal disclaimer: drawings void where prohibited; open only to U.S. residents; the odds of winning depend upon the number of participants. See full disclaimer
HERE
.
Books I review are either provided for me by the author, publisher, or I have purchased them myself. I receive no monetary compensation for anything written on this blog.