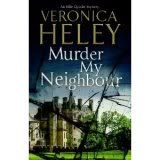 It came naturally to Ellie Quicke to look after her family and friends, but there were no easy answers to the problems of those around her, and one of these was about to get way out of hand.
Before we visit with today's author, I want to announce that the winner of the copy of Winnie Griggs's novel,
Second Chance Family
, is:
judyjohn2004@ . . .
Congratulations! I'll contact you today for your snail mail address, and we'll get your book to you right away.
I encourage readers to keep commenting and/or subscribe at right (above my list of books) in order to participate in future book give-aways!
Now let's visit with novelist
Veronica Heley
, author of
Murder My Neighbour
(Severn House, May 2011).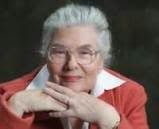 Veronica Heley celebrated the publication of her 67th book this summer, having been in the business for over 30 years. She is currently writing two gentle crime series; the Ellie Quicke Mysteries, the Abbot Agency series. Also some short stories. In the past she's also written a straightforward biography of St Paul, some historical fiction, many articles and reviews, masses of children's and resource books, and story-boards for cartoons.
She's involved with her local church and community affairs, likes to break for coffee with friends and does the garden when she has time. She has been a member of a book reading club for 40 years, but has decided that life is too short to read depressing literature any more.
Please tell us five random things we might not know about you.
--I believe in chocolate when inspiration fails.
--I like to buy my clothes in Bruges, where they are accustomed to clients who like cream with their cakes.
--I prefer drinking beer to wine.
--I get cross when the powers-that-be change the Latin names of plants I've known since childhood.
--I love Sir Terry Pratchett's fantasy books – even those originally meant for children.
Oh, my goodness, I can't tell you how many of your items rang true for me, as well, although I've never been to Bruges.

Please tell us a bit more about the plot of Murder My Neighbour.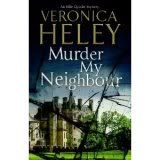 Ellie's old friend and housekeeper falls of a ladder after seeing a 'ghost' in a neighbour's house . . . while Ellie is trying to get rid of a desperate young man . . . who says he is looking for his great aunt . . . who has gone missing.
Flavia Pryce was supposed to have moved to a retirement home, but it seems she never arrived there. Ellie's walk round the block reveals that someone is still tending the vegetables in Mrs Pryce's garden. Perhaps the house is not as deserted as it looks?
So where is Mrs Pryce, and who knows more about her departure than they are prepared to tell? And how can Ellie deal with her difficult daughter Diana's latest financial disaster?
What is it about your lead character that will make your readers care about her?
Readers identify with Ellie Quicke because she is a sixtyish housewife who has had the great good fortune, second time round, to marry her best friend. She doesn't think of herself as intelligent, but she solves neighbourhood crimes because she has sharp eyes, and networks in the community. She is gradually learning how to deal with a family inheritance – and an appallingly ambitious daughter. Readers tell me they know someone just like Diana, and they cheer Ellie on in her constant battle to deal with her daughter's problems.
Most novels feature a villain, whether in the form of a person or as an entity or psychological fear. Who or what would you say is your novel's villain?
In
Murder My Neighbour
there are a number of people whose greed and stupidity leads them to commit acts which have disastrous and unforeseen consequences. The suspects in this book are not black or white; generally speaking, people aren't all good or all evil, but shades of grey. Ellie comes across some unlikeable characters but also some for whom she finds sympathy.
If you were the casting director for the film version of your novel, who would play your lead roles?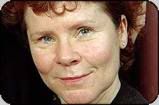 I'd love to see Imelda Staunton play Ellie, because she can do vulnerability as well as determination.
Exactly. She's excellent.
What is the last book you read that you would recommend?
At the moment I'm reading everything I can find by Lawrence Block, because he can take a flawed character and get us to understand and identify with him. And technically, he's a master of suspense.
What are you working on now?
Another Ellie Quicke, provisionally titled
Murder in Mind
, in which I am killing off the members of a horrible family, one by one. I'm enjoying that.
Hilarious. I'm intrigued and very interested in that one.
Where else can readers find you online?
My website is at
www.veronicaheley.com
. Readers can also sign up to receive my monthly newsletter, by pressing the button on the home page of the website.
The book is available for purchase at fine bookstores and via these online buttons:
Finally, what question would you like to ask my readers?
I have been getting published for over thirty years and have a large number of books – some for children, some for adults – which are now out of print. If I could find the time to do some editing on them, would you like to have them available on E-books?
Thank you, Veronica, for visiting with us and telling us about your novel.
Readers, Veronica has offered to give a signed copy of her book to the winner of our drawing on Monday, August 22.
To enter, leave a comment below in answer to Veronica's question, above. "Please enter me" won't get you entered.
Leave your email address, in case you win, like so: trish[at]trishperry[dot]com.
Be sure to check out my interview with MaryLu Tyndall, below. Leave an appropriate comment at the bottom of the post to enter the drawing for a signed copy of her book.
Annoying legal disclaimer: drawings void where prohibited; the odds of winning depend upon the number of participants. See full disclaimer
HERE
.