"Mercy! Does it come with an insulin drip?"
This was the response one of my
Tea for Two
characters had when she heard about tea shop owner, Millicent Ashford Jewell's, latest dessert, best served with Earl Grey tea.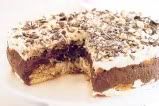 The dessert in question was Milly's delicious Malted Chocolate Mousse Cake, which isn't really as sweet as it sounds. The recipe came to mind while I was reading emails on one of my loops--the discussion was about what to serve at a summer dinner gathering.
So I got the idea for today's post and book giveaway, but first, I want to announce that the winner of the drawing for the signed copy of Ronie Kendig's latest novel,
Wolfsbane
, is:
jchoppes@ . . .
Congratulations! I'll contact you today for your snail mail address, and we'll get your book to you right away.
I encourage readers to keep commenting and/or subscribe at right (below my list of books) in order to participate in future book give-aways!
Okay, so about today's post. I'm always looking for new recipe ideas, and I thought we'd have a simple little contest this week. Tell us what one of your favorite summer recipes is called, and tell us why you love it. I'm going to pick the one that sounds the tastiest and send that person a signed copy of
Tea for Two
next week. (If you already have
Tea for Two
, I'd be happy to switch it out for another of my books.)
But you have to be willing, if your recipe is chosen, to let me post it next week for everyone to try.
If you suggest Aunt Hannah's secret family recipe for basil-thyme chicken salad supreme and then can't share it with us, you're gonna have some 'splaining to do, Lucy.
So let's hear it, readers! Which of your recipes do you think we should try, and why? Leave your email address, in case you win, like so: trish[at]trishperry[dot]com.
Be sure to check out my post about Susan Meissner's novel, The Shape of Mercy, below, and leave a comment at the bottom of the post to enter the drawing for a copy of her book.
Annoying legal disclaimer: drawings void where prohibited; open only to U.S. residents; the odds of winning depend upon the number of participants. See full disclaimer
HERE
.