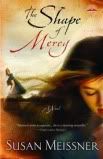 We understand what we want to understand.
Before we look at today's book and author, I want to announce that the winner of the signed copy of Lisa Wingate's novel,
Dandelion Summer
, is:
ecspiers@ . . .
Congratulations! I'll contact you today for your snail mail address, and we'll get your book to you right away.
I encourage readers to keep commenting and/or subscribe at right (below my list of books) in order to participate in future book give-aways!
Today, rather than an interview, I'm posting a quick review of a novel I recently read and truly enjoyed. I want to give away a copy to one of my readers--and
this drawing is only for this week's readers who enter an appropriate comment below
, rather than also including my subscribers.
Here's what I just posted on Amazon and elsewhere about
Susan Meissner
's novel,
The Shape of Mercy
(Waterbrook Press, 2008).
Meissner's beautifully written story about Mercy Hayworth, a victim of the Salem witch trials, feels so genuine, it will send you straight to Google to find out whether or not Mercy was a real person. But Mercy's isn't the only story here. We walk her path, chronicled in her diary, along with Lauren (Lars) Durough, the wealthy college student aching to stand on her own feet by working for the mysterious Abigail Boyles, Mercy's 83-year-old descendant. The intertwining lives of all three women will quickly capture the reader's curiosity, and questions about assumptions, choices, love, regret, and forgiveness will linger well after the story ends. Highly recommended.
About the book:
Meissner's newest novel is potentially life-changing, the kind of inspirational fiction that prompts readers to call up old friends, lost loves or fallen-away family members to tell them that all is forgiven and that life is too short for holding grudges.
Achingly romantic, the novel features the legacy of Mercy Hayworth—a young woman convicted during the Salem witch trials—whose words reach out from the past to forever transform the lives of two present-day women. These book lovers—Abigail Boyles, elderly, bitter and frail, and Lauren Lars Durough, wealthy, earnest and young—become unlikely friends, drawn together over the untimely death of Mercy, whose precious diary is all that remains of her too short life. And what a diary! Mercy's words not only beguile but help Abigail and Lars together face life's hardest struggles about where true meaning is found, which dreams are worth chasing and which only lead to emptiness, and why faith and hope are essential on life's difficult path.
Meissner's prose is exquisite and she is a stunning storyteller. This is a novel to be shared with friends. (
Publisher's Weekly
)
About Susan, in her own words: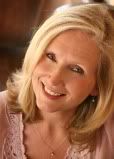 I cannot remember a time when I wasn't driven to write. I attribute this passion to a creative God and to parents who love books and more particularly to a dad who majored in English and passed on a passion for writing.
I was born in 1961 in San Diego, California, and am the second of three daughters. I spent my very average childhood in just two houses. I attended Point Loma College in San Diego, but married my husband in 1980 and left college before I could graduate. I had been majoring in education, thinking I might like to teach kindergarten, but I would have been smarter to major in English with a concentration in writing. The advice I give now to anyone wondering what to major in is follow your heart and choose a path that you know you already enjoy.
I didn't do a lot of writing in the years my husband was on active duty in the Air Force, when we were living overseas, or when we were having children. When my little heirs were finally all in school, though, I became aware of a deep, gnawing desire to write a novel; a desire I managed to ignore for several years.
Finally when I could disregard it no longer, I resigned in 2002 as editor of a small town newspaper, and set out to write my first book,
Why the Sky is Blue
. It took four months to write and ten months to be accepted by a publisher.
The book is available at fine bookstores and for online purchase via the following buttons:
CBD.com
I'm going to send a copy of this book to the winner of our drawing on Monday, August 8.
To enter, leave an answer--at the very bottom of this post--to the question below. "Please enter me" won't get you entered.
Leave your email address, in case you win, like so: trish[at]trishperry[dot]com.
Tell us about something you assumed in the past, only to learn you assumed incorrectly.
Be sure to check out my interview with

Ronie Kendig

, below, and leave a comment at the bottom of the post to enter the drawing for a signed copy of her book.
Annoying legal disclaimer: drawings void where prohibited; open only to U.S. residents; the odds of winning depend upon the number of participants. See full disclaimer
HERE
.
Finally, consider these fantastic Inspirational novels releasing in August. Where available, the title provides a link to the book's Amazon page.
A Horseman's Heart
by
Myra Johnson
-- Romance from Barbour/Heartsong. When Kip Lorimer shows up with a horse to donate to the family's equine therapy program, Sheridan Cross can't help but be suspicious. A cowboy a thousand miles from home and living out of a horse trailer? What's wrong with this picture?
A Most Unsuitable Match
by
Stephanie Whitson
-- A Historical from Bethany House. They are opposites in every way. . . except how neither one can stop thinking about the other.
Agent Undercover
by
Lynette Eason
-- Romantic Suspense from Love Inspired. A little boy with a secret, a killer with a vendetta, and a man and a woman who will stop at nothing to protect the child while catching the killer.
Aquasynthesis
by
Grace Bridges, Fred Warren, Caprice Hokstad, P.A. Baines, Adam Graham, R.L. Copple, Travis Perry, Mike Lynch, Keven Newsome, Kat Heckenbach, and Ryan Grabow.
-- Fantasy from Splashdown Books. From classic-style fantasy and science fiction stories, through speculative tales that delve deeper into motivations and meanings, we move from humor to sacrifice by a linking story that connects many very different themes.
Blue Skies Tomorrow
by
Sarah Sundin
-- General Fiction Historical from Revell. In a time of peril, can they find the courage to confront their fears and embrace a love that lasts?
Edge of Grace
by
Christa Allan
-- General Fiction from Abingdon. Unable to cope with her brother's news that he is gay, Caryn Becker rejects him. But when he is attacked and nearly killed, she is forced to make hard choices that take her to the very edge of grace.
Lost in Dreams, Book Two; Altered Heart Series
by
Roger Bruner and Kristi Rae Bruner
-- Young Adult from Barbour. Eighteen-year-old Kim Hartlinger discovers the victory Jesus provides during the most trying of circumstances as she learns to lean on other Christians.
Marrying Miss Marshall
by
Lacy Williams
-- Romance from Bethany House. Her job is to protect the town... but who will protect her heart?
Out of Control
by
Mary Connealy
-- Romance from Bethany House. Rafe Kincaid controls everything in his life . . . until he meets Julia.
Ransome's Quest
by
Kaye Dacus
-- Historical Romance from Harvest House.
Romance, intrigue, and swashbuckling leaps of faith create a wonderfully heroic close to this beloved series.
Something Old
by
Dianne Christner
-- Romance from Barbour. Love is rarely plain and simple.
Surrender the Dawn
by
Mary Lu Tyndall
-- A Historical from Barbour. You'll be swept away in this seafaring romance between a plucky damsel-in-distress and a nefarious rake who's selling out his country amid the War of 1812.
The Matrimony Plan
by
Christine Johnson
-- Historical Romance from Love Inspired. A rich girl falls in love with a poor boy -- until the tables are turned.