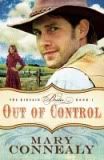 A Colorado rancher must face the greatest failure of his life to be with a woman who loves a dangerous cavern—more than she loves him.
Before we visit with today's author, I want to announce that the winner of the signed copy of Bonnie Leon's novel,
Wings of Promise
, is:
mnjesusfreak@ . . .
Congratulations! I'll contact you today for your snail mail address, and we'll get your book to you right away.
I encourage readers to keep commenting and/or subscribe at right (above my list of books) in order to participate in future book give-aways!
Now let's revisit with novelist
Mary Connealy
, author of
Out of Control
(Bethany House, August 2011).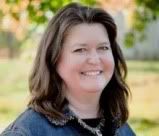 Mary Connealy, author of "romantic comedy with cowboys," is a Christy Award Finalist, a Carol Award Winner, a Rita Award finalist and an IRCC Award finalist. She is a GED Instructor by day and an author by night and so she can remember what she's doing, she likes to wear a little crown and a Wonder Woman cape while she types.
Mary lives on a ranch in eastern Nebraska with her husband, Ivan, and has four grown daughters.
Please tell us five random things we might not know about you.
--I'm third in a family of eight children. We grew up in a tiny, ramshackle, two bedroom farm house with no money but a wonderful Christian family that believed in education.
--Out of that group there are eight bachelor's degrees, five master's degrees, two pastors, a surgeon and one published author, me.
--My husband and I, just counting immediate family, have over one hundred brothers, sisters, sister & brother's in-law, nieces, nephew and their spouses and children. Try having a small wedding with this crowd!
--I have eaten a peanut butter sandwich for lunch nearly everyday for six years and I just hit a wall. I almost barfed the last time I ate one…about two weeks ago. Now I have no idea what to take to lunch.
--I have just enough computer skills to be truly dangerous to myself and others. I have a tendency to give advice about things I have no idea how to do myself—and I'd like to apologize right now to all the people I've lead astray.
Considering that the average number of workdays in a year is 260, that means you ate around 1,560 peanut butter sandwiches before hitting that wall. I'm surprised you didn't stick to it.
Please tell us a bit more about the plot of Out of Control.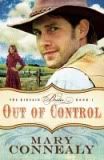 Julia Gilliland has always been interested in the natural world around her. She particularly enjoys her outings to the cavern near her father's homestead, where she explores for fossils and formations and plans to write a book about her discoveries. The cave seems plenty safe—until the day a mysterious intruder steals the rope she uses to climb her way out.
Rafe Kincaid has spent years keeping his family's cattle ranch going, all without help from his two younger brothers, who fled the ranch—and Rafe's controlling ways—as soon as they were able. He's haunted by one terrible day at the cave on a far-flung corner of the Kincaid property, a day that changed his life forever. Ready to put the past behind him, he plans to visit the cave one final time. He sure doesn't expect to find a young woman trapped in one of the tunnels—or to be forced to kiss her!
Rafe is more intrigued by Julia than any woman he's ever known. But how can he overlook her fascination with the cave he despises? And when his developing relationship with Julia threatens his chance at reconciliation with his brothers, will he have to choose between the family bonds that could restore his trust, or the love that could heal his heart?
What is it about your lead character that will make your readers care about him?
Rafe is so take charge that he's alienated almost everyone he knows. And he's lonely and trying to change. But still, people don't always do things right and he can't stand quietly while they mess up. Watching him struggle to give control of his life to God … especially with Julia nagging him to do that and hurry up so she can run things, is pretty funny.
Control freaks might not be all that much fun in real life, but they do make fun characters.
Most novels feature a villain, whether in the form of a person or as an entity or psychological fear. Who or what would you say is your novel's villain?
My villain is in many ways the cavern that's at the heart of the story. It is both beautiful and deadly. I tried to capture the lure and the terror I felt after a long ago visit to Carlsbad Cavern.
What is the last book you read that you would recommend?
I just finished reading Pam Hillman's
Stealing Jake
and I loved it. It's only available as an ebook from Tyndale. I bought a Kindle just so I could read Pam's book.
Wow, that's quite a compliment! What are you working on now?
I'm just finished with book #2 in the Kincaid Brides series and on to book #3.
In Too Deep
, book # two is Ethan's story, the second brother. It's coming in February. I love these three titles,
Out of Control
,
In Too Deep
and
Over the Edge
.
Yes, those are fun titles! Where else can readers find you online?
My Website
My Blog
Seekerville
Petticoats & Pistols
The book is available at fine book stores and online via the following buttons:
CBD.com
Finally, what question would you like to ask my readers?
I was inspired to write
Out of Control
after a long ago visit to Carlsbad Cavern. That place captured my imagination like no where I've ever been. Has that ever happened to you? Have you ever been emotionally or mentally transported by a beautiful place or a frightening place? That was the fascination to me of Carlsbad Cavern. The beautiful of it is so tempting. And I could imagine being in there, with only lantern light. The cliffs, the floors that looked like they'd broke like glass. The darkness and the staggering beauty that would lure you on to see more. Tell me about a beautiful place or event.
Thank you, Mary, for visiting with us and telling us about your novel.
Readers, Mary has offered to give a signed copy of her book to the winner of our drawing on Thursday, September 1.
To enter, leave a comment below in answer to Mary's question, above. "Please enter me" won't get you entered.
Leave your email address, in case you win, like so: trish[at]trishperry[dot]com.
Be sure to check out my interview with Michelle Sutton, below. Leave an appropriate comment at the bottom of the post to enter the drawing for a signed copy of her book.
Annoying legal disclaimer: drawings void where prohibited; open only to U.S. residents; the odds of winning depend upon the number of participants. See full disclaimer
HERE
.