Bush pilot Kate Evan's spunk has always gotten her through tough times, but does she have what it takes to go the distance?
Before we visit with today's author, I want to announce that the winner of the copy of MaryLu Tyndall's novel,
Surrender the Dawn
, is:
sunny_girl_anna@ . . .
Congratulations! I'll contact you today for your snail mail address, and we'll get your book to you right away.
I encourage readers to keep commenting and/or subscribe at right (above my list of books) in order to participate in future book give-aways!
Now let's visit with novelist
Bonnie Leon
, author of
Wings of Promise
(Revell, August 2011).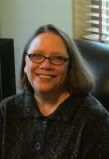 Bonnie Leon is the author of eighteen novels, including the popular
Touching the Clouds, Wings of Promise
, the Sydney Cove series and the bestselling
Journey of Eleven Moons
. She also stays busy speaking for women's groups and teaching at writing seminars and conventions.
Bonnie and her husband, Greg, live in Southern Oregon. They have three grown children and five grandchildren.
Please tell us five random things we might not know about you.
--I hate asparagus.
--I close my eyes during violent scenes in movies.
--I love to pick blackberries.
--I cry easily when emotionally moved.
--I love deep winter snowfalls.
Please tell us a bit more about the plot of Wings of Promise.
Kate Evans is a lone woman in a man's world. Spunk, determination and guilt drive her to fulfill her dream to be a bush pilot. She's made a place for herself in the Alaskan territory, but living her dream isn't easy. A question goads her—does she have what it takes to go the distance? Every flight tests her ability as a pilot. Every run might be the last.
Her personal life is complicated. She wrestles to make peace with her past and in the present she is torn between her affection for fellow pilot Mike Conlin and doctor Paul Anderson.
When a terrible tragedy occurs, Kate's mind may be made up for her.
What is it about your lead characters that will make your readers care about them?
Kate and Paul are real people, like you and me. They have flaws and strengths. The challenges they face are the kind we all struggle with. Readers can relate to these two people and will find themselves rooting for them.
Most novels feature a villain, whether in the form of a person or as an entity or psychological fear. Who or what would you say is your novel's villain?
My characters face challenges from all three of the villains you've mentioned, but the one with the greatest power to destroy them is the psychological fears they carry. It will take more than their own strength to prevail.
If you were the casting director for the film version of your novel, who would play your lead roles?
I'd love to see Hillary Swank in the role of Kate.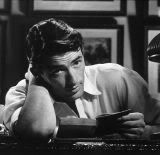 A young Gregory Peck would be just right for Paul Anderson.
Oh, just look how gorgeous he was.
What is the last book you read that you would recommend?
Only one? That's a tough question to answer. However, if I must choose I'd have to say
Rooms
by James Rubart. It surprised me. It's not a genre I usually read and I was prepared not to like it. But I loved it. The book kept me guessing and trying to figure out who the villain was. And it was full of spiritual gems.
What are you working on now?
I have several ideas percolating in my mind, but what's up front at the moment is a series proposal I'm preparing for Revell. I think it's one they'll like. It takes place in the 1920's at a posh resort on the Southern California coast. The working titles are
A Square Peg, Susie Sunshine
, and
A Rose by Any Other Name.
It is a three book series with a different heroine for each book. I love the way the stories are falling together, interconnected but each its own tale. As I get to know the characters I'm becoming more and more excited to actually begin the process of writing the books.
Where else can readers find you online?
www.bonnieleon.com
Facebook
The book is available at fine bookstores and online via the following buttons:
CBD.com
Finally, what question would you like to ask my readers?
I'd like to ask you for your help—for me and other writers. If you like a book, tell others about it. Writers work hard and sometimes getting the word out about a new book is difficult. Word of mouth is the best method of spreading the news.
If you read my books and like them, I'd so appreciate a helping hand. Thank you.
Readers, since Bonnie didn't put this in the form of a question, I will. How do you tend to spread the word when you've read a book you love?
Thank you, Bonnie, for visiting with us and telling us about your novel.
Readers, Bonnie has offered to give a signed copy of her book to the winner of our drawing on Thursday, August 25.
To enter, leave a comment below in answer to my question, above. "Please enter me" won't get you entered.
Leave your email address, in case you win, like so: trish[at]trishperry[dot]com.
Be sure to check out my interview with Veronica Heley, below. Leave an appropriate comment at the bottom of the post to enter the drawing for a signed copy of her book.
Annoying legal disclaimer: drawings void where prohibited; open only to U.S. residents; the odds of winning depend upon the number of participants. See full disclaimer
HERE
.