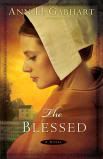 Estranged from her family, Lacey finds herself in a marriage of convenience to a preacher twice her age, but she never expected him to take her to a Shaker village where marriage is forbidden and individual family units dissolved.
Before we visit with today's author, I want to announce that the winner of the signed copy of Michelle Sutton's novel,
Letting Go
, is:
godlovinmomandwife@ . . .
Congratulations! I'll contact you today for your snail mail address, and we'll get your book to you right away.
I encourage readers to keep commenting and/or subscribe at right (above my list of books) in order to participate in future book give-aways!
Now let's meet novelist
Ann Gabhart,
author of
The Blessed
(Revell Books, July 2011).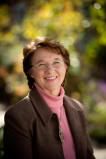 Ann H. Gabhart has published over twenty novels for adults and children including her bestselling Shaker novels. Ann lives just thirty miles from a restored Shaker village in Kentucky and so has walked some of the same paths her characters might have walked in generations past. That personal knowledge of the physical layout of a Shaker village and her thorough research provide a colorful backdrop for her Shaker novels.
Ann enjoys bringing history to life in her stories whether that's national history, Shaker history, or her family's history as she did in her book,
Angel Sister
, her Depression era novel with a setting based on her mother's childhood.
Ann lives on a farm in Central Kentucky with her husband, Darrell who sings bass in a Southern Gospel quartet. They have three children and nine grandchildren.
Please tell us four random things we might not know about you.
--Let's see. I got the dog hunger when I was about ten and have had at least one dog in my life ever since. They go with me on my walks in the woods and fields here on our farm where my husband still raises beef cattle.
--The only time I ever had to go to the doctor for stitches was after a cow slung her head and knocked me about five feet. I had a boxer's cut on my eyebrow and a major black eye.
--I go to a little church where if we have fifty people for morning services we think we have a crowd, and sometimes I lead the singing even though I can barely carry a tune. At little churches like mine whoever is brave enough to stand in front of the congregation gets the job. That leads me to the last thing most people can't believe when I tell them now.
--When I was young I was so shy I melted into a puddle of nerves if I had to get up in front of people. I even had to work up my courage to call someone other than friends and family on the phone. I got over it and now I enjoy speaking in front of people.
Please tell us a bit more about the plot of The Blessed.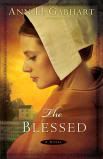 Lacey Bishop's life is a tangled mess. After her mother's death, her father marries a woman who has no patience with Lacey. So at age thirteen, she's sent to work for a preacher and his wife, Miss Mona. When Miss Mona dies, the preacher convinces Lacey, now twenty, the only decent thing to do is marry him. That way, she can continue to act as mother to the little girl left on his doorstep as a baby four years earlier.
Reluctantly, Lacey agrees, but she never once imagined Preacher Palmer would give up his church to join the nearby Shaker community where all live as brothers and sisters and believe marriage to be a sin. To make matters worse, Lacey is drawn to Isaac Kingston, a man who came to the Shakers after his young bride died. Any thought of love between them seems no more than a foolish dream. Will Lacey ever find true happiness?
I really find this premise intriguing, Ann. The conflicts you've set up are wonderful.
What is it about your lead character that will make your readers care about her?
Lacey's had some hard knocks in life, but she keeps getting back up and facing each new challenge with an invincible spirit. When Lacey was a little girl, her mother taught her to do a dance every year to welcome spring at the first sighting of a dandelion bloom. Even with all the trials that come her way after her mother dies, Lacey keeps doing her spring dandelion dance. She wants to keep joy in her heart and she wants to be loved. At the same time she's a sensible person who knows there's always some balancing to do in life. She's blessed with a good helping of common sense. That's why she finds the Shakers so odd when she goes into the community during the strangest period of Shaker history, what the Shakers called their Era of Manifestations.
Most novels feature a villain, whether in the form of a person or as an entity or psychological fear. Who or what would you say is your novel's villain?
In some ways Preacher Palmer could be considered the villain even though he is a man of God. He's sure he knows what's best for Lacey and for himself and his flock, but past sins catch up with him and ensnare him in his own tangled web of missteps he's taken in his life. In other ways the Shaker beliefs could be considered the obstacle to Lacey's happiness when they separate her from the child she loves.
If you were the casting director for the film version of your novel, who would play your lead roles?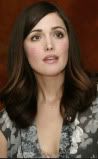 I don't watch very many movies or much TV because I prefer to read. So when I'm asked this question I have to Google photos of actresses and actors to pick look-alikes. The trouble is that people can look so different from one photo to the next. But for my lead roles in
The Blessed,
I picked Rose Byrne for Lacey.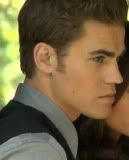 And Paul Wesley for Isaac.
What is the last book you read that you would recommend?
Bad Ground
by Dale Cramer. Dale has a wonderful command of the tools of a writer's trade. He plops readers down into his unusual setting in
Bad Ground
and makes us care what happens to his characters. I found the information about hardrock mining fascinating. It's a background Dale can write about with much expertise because he lived the life of a hardrock miner before he started writing.
What are you working on now?
I just finished my fifth Shaker novel,
The Gifted
, scheduled for release next summer. My main character, Jessamine, is very different from Lacey in
The Blessed
. The Shaker sister in charge of teaching her the Shaker way keeps wondering whatever will she do with Sister Jessamine. Before that I have a historical novel,
Words Spoken True
, releasing in February 2012. This novel, set in 1855 Louisville, KY, has, by far, the most romance of any of my inspirational titles, but there's some interesting and surprisingly timely history too.
Where else can readers find you online?
I enjoy meeting readers in person or via the net. My website is
www.annhgabhart.com
. I send out an occasional newsletter readers can sign up for there. I post about my writing and life down here on the farm a couple of times a week on
One Writer's Journal
,
www.annhgabhart.blogspot.com
. I have a Facebook author's page, Ann H Gabhart, and do some tweeting on Twitter with a user name annhgabhart.
The book is available at fine bookstores and for online purchase through the following buttons:
CBD.com
Finally, what question would you like to ask my readers?
Since I'm a dog lover, I sometimes put a dog or other animal in my stories. So here's my question for you. What fictional pets or animal characters stick in your memory from books you've read? I'll tell you mine in the comments after I hear yours.
Thank you, Ann, for visiting with us and telling us about your novel.
Readers, Ann has offered to give a signed copy of her book to the winner of our drawing on Monday, September 5.
To enter, leave a comment below in answer to Ann's question, above. "Please enter me" won't get you entered.
Leave your email address, in case you win, like so: trish[at]trishperry[dot]com.
Be sure to check out my interview with Mary Connealy, below. Leave an appropriate comment at the bottom of the post to enter the drawing for a signed copy of her book.
Annoying legal disclaimer: drawings void where prohibited; open only to U.S. residents; the odds of winning depend upon the number of participants. See full disclaimer
HERE
.