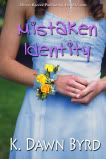 When a good Christian girl and her gorgeous non-Christian wild and crazy best friend fall in love with the same guy, who wins?
Before we visit with today's author, I want to announce that the winner of the signed copy of
Yesterday's Tomorrow
, by Cathy West, is:
jnkbull@ . . .
Congratulations! I'll contact you today for your snail mail address, and we'll get your book to you right away.
I encourage readers to keep commenting and/or subscribe at right (below my list of books) in order to participate in future book give-aways!
Now let's meet novelist
K. Dawn Byrd,
author of the e-book,
Mistaken Identity
(Desert Breeze Publishing, June 2011).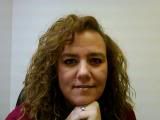 K. Dawn Byrd is an author of inspirational romance and romantic suspense.
Mistaken Identity
, her first young adult romance released on June 15 from Desert Breeze Publishing.
Queen of Hearts
, a WWII romantic suspense released in April 2010 and was the bestselling book for her publisher during its debut month.
Killing Time
, a contemporary romantic suspense, released August 1, also with Desert Breeze Publishing.
K. Dawn Byrd is an avid blogger and gives away several books per week on her blog, most of which are signed by the authors. She's also the moderator of the popular facebook Christian Fiction Gathering group.
When not reading or writing, K. Dawn Byrd enjoys spending time with her husband of 16 years while walking their dogs beside a gorgeous lake near her home and plotting the next story waiting to be told.
Please tell us five random things we might not know about you.
-- I have two hairless Chinese Crested dogs.
-- I love sour things...pickles, olives, sour candy.
-- I used to ride a Harley, but gave it up to have more time to write.
-- My writing buddy is my African Gray parrot, Miss Scarlet.
-- I'm a WWII buff.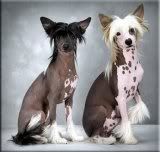 Okay, I had to post a picture of the hairless Chinese Crested dogs. Readers, these aren't Kim's dogs, just an example of what they look like. I can't believe this happens naturally!
Please tell us a bit more about the plot of Mistaken Identity.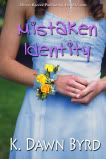 Eden Morgan makes a list of six goals to accomplish in order to have the best summer ever. Getting a boyfriend, which is perhaps the most important goal, becomes complicated when she and her best friend, Lexi, fall for the same guy. Since Lexi is popular, gorgeous, and always gets her guy, Eden thinks she doesn't have a chance.
Channing Johnson is everything Eden's ever dreamed of and she can't believe he just moved in next door. When he starts showing interest in her, she's overjoyed...until she sees him out on a date with Lexi. He says Lexi talked him into it to repay her for tutoring him. Lexi says they're in love.
Eden doesn't know who to believe and is forced to choose between her best friend and the guy of her dreams. Nothing is as it seems and no matter who she chooses, someone will get hurt.
What is it about your lead character that will make your readers care about her?
Eden isn't perfect. She's just like the rest of us. She makes mistakes, but she's trying to live for God. She's self-conscious about her weight even though she's just a few pounds overweight and she compares herself to her gorgeous best friend, afraid that she'll never measure up.
Why will readers enjoy your novel?
My editor, an adult, loved it. She said it reminded her of being in high school and having a crush on the boy next door. Hopefully, it will entertain adults as they remember days gone by and it will strengthen the Christian walk of teens.
If your publisher asked you to write your next novel in a different genre, which genre would you choose?
I've written a little bit of everything. My first release was a WWII romantic suspense (
Queen of Hearts
), my next a contemporary romantic suspense (
Killing Time
). Of course,
Mistaken Identity
is a young adult romance. In October, a contemporary romance will release. And in 2012, my young adult mystery series will debut, starting in January.
What is the last book you read that you would recommend?
Rebecca's Contrition
by Michelle Buckman. I loved the book. I enjoy fast moving books with psychological themes and this one didn't disappoint.
What are you working on now?
I'm working on the young adult mystery series that debuts in January.
Where else can readers find you online?
Links:
My blog:
www.kdawnbyrd.blogspot.com
,
Facebook
You Tube
stores.desertbreezepublishing.com
www.kdawnbyrd.com
The e-book is available for online purchase through the following buttons:
CBD.com
Finally, what question would you like to ask my readers?
My heroine, Eden, wants a car for her sixteenth birthday. She's hoping for the blue Mustang convertible she saw at a local dealer. She works part-time and has told her parents she'll pay for the insurance and gas. What is the most memorable gift you ever received? What did you love or hate about it?
Thank you, Kim, for visiting with us and telling us about your novel.
Readers, Kim has offered to give a copy of her e-book to the winner of our drawing on Monday, July 18.
Please note that this is an e-book, not a print book.
To enter, leave an answer to Kim's question (above) at the bottom of today's post. "Please enter me" won't get you entered.
Leave your email address, in case you win, like so: trish[at]trishperry[dot]com.
Be sure to check out my interview with

Dorothy Love

, below, and leave a comment at the bottom of the post to enter the drawing for a signed copy of her book.
Annoying legal disclaimer: drawings void where prohibited; open only to U.S. residents; the odds of winning depend upon the number of participants. See full disclaimer
HERE
.