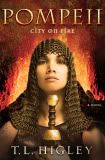 A city shadowed by a roiling volcano, a young politician running from his destiny and a Jewish slave girl with a desperate plan – are any of them safe from harm?
Before we visit with today's author, I want to announce that the winner of the signed copy of Cynthia Hickey's novel,
Fudge-Laced Felonies
, is:
lorizimbardi@ . . .
Congratulations! I'll contact you today for your snail mail address, and we'll get your book to you right away.
I encourage readers to keep commenting and/or subscribe at right (below my list of books) in order to participate in future book give-aways!
Now let's meet novelist
T.L. Higley
, author of
Pompeii: City on Fire
(B and H Books, June 2011).

T.L. Higley holds a degree in English Literature and is currently pursuing a graduate degree in Ancient and Classical History. She is the author of eight novels, including
Shadow of Colossus, City of the Dead,
and
Petra: City in Stone
.
She lives with her husband and four children near Philadelphia, and has traveled the world researching her novels and falling into adventures.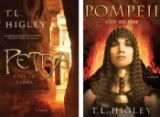 Please tell us five random things we might not know about you, Tracy.
-- I was an only child until the age of 13, which meant lots of time wandering around inside my own head, and most certainly shaped some craziness there.
-- In fact, through elementary school I was more likely to be found reading a book during recess than playing games on the playground.
-- I tried to get the neighborhood kids involved in screenplays I'd written, but they never learned their lines well enough.
-- By sixth grade I started my own newspaper and convinced some classmates to help – we made some good money!
-- Now I live on top of a hill, where I can sit alone in my office and stare into the distant hills, which I find quite inspiring.
I love the childhood picture these random comments create!
Please tell us a bit more about the plot of Pompeii: City on Fire.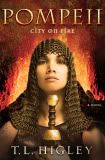 Pleasure-seeking Romans find the seaside town of Pompeii the perfect getaway. But when the rich patrician Cato escapes Rome, intent on a life of leisure, he is unprepared for the hostility he encounters.
In the same place, but at the opposite end of society, Ariella has disguised herself as a young boy to be sold into a gladiator troupe. Survival is her only ambition.
But evil creeps through the streets of Pompeii, and neither Ariella's secret nor Cato's evasion is immune to it. Political corruption, religious persecution, and family peril threaten to destroy them, even before an ominous mountain in the distance spews its fire.
As Vesuvius churns with deadly intent, Cato and Ariella must bridge their differences to save the lives of those they love – before fiery ash buries Pompeii, turning the city into a lost world.
I honestly can't wait to read this book! I feel tense just reading your description.
What is it about your lead character that will make your readers care about her?
Ariella's a fighter. Literally and figuratively. She's survived atrocities in Jerusalem as Rome destroys the city, slavery in the household of a depraved Roman senator, and now she's fighting for survival in the gladiator arena. Her heart's intact, but it's very self-protected and angry. She's in need of redemption.
Why will readers enjoy your novel?
There's a whole lot going on! Political corruption, personal intrigue, gladiator fights, lots of romance, and a city about to buried under lava! It's a fast-paced story with some really fun characters.
If you were the casting director for the film version of your novel, who would play your lead roles?
I'm a big fan of the TV show
Castle
, and a bit of those two characters were in my head as I was writing
Pompeii
. So I'd have to say Nathan Fillion ...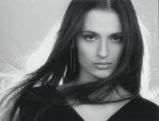 ... and Stana Katic.
I figured I'd post Nathan shirtless to fit better with the time frame. (Let's ignore the background in the pic.) And I can't believe how much more exotic Stana looks with long hair! I imagined she wouldn't have the short, perky cut she sports on
Castle
if she were starring in your film.
And if your novel were brought to film, what's one song you'd like to hear featured in it?
I listened to the soundtrack from the film
Gladiator
about a million times while writing this book. Can we just use that whole soundtrack for my film?!
Perfect! Another Hans Zimmer masterpiece.
What is the last book you read that you would recommend?
I'm currently reading
From Achilles to Christ: Why Christians Should Read the Pagan Classics
, by Louis Markos. I think Christians are often reluctant to dive into learning about the pagan world, but there is so much there to be learned about ourselves, and so much to learn about how humanity has always longed for and searched for God. Even the most remote pagan writings have echoes of that longing, in ways that show eternity written in our hearts.
There's such an element of sadness to that. I saw the same qualities when studying Sociology--that same longing colors all of mankind, whether mankind acknowledges it or not.
What are you working on now?
I'm working on something a bit different right now. A novel with contemporary and historical storylines interweaving, and a main character that will be forced into an adventure through Venice, Egypt and Greece before discovering who she truly is.
Where else can readers find you online?
I would love to have folks visit me at
www.TLHigley.com
, where they can read the first three chapters of all my books, and download a free short story.
The book can be purchased at bookstores or online via the following buttons:
CBD.com
Finally, what question would you like to ask my readers?
When you pick up a novel, what is the deep longing in your heart that you hope to have filled by that book, the thing that only one book of many ever really satisfies?
Thank you, Tracy, for visiting with us and telling us about your novel.
Readers, Tracy has offered to give a signed copy of her book to the winner of our drawing on Thursday, June 16.
To enter, leave a comment below in answer to Tracy's question, above. "Please enter me" won't get you entered.
Leave your email address, in case you win, like so: trish[at]trishperry[dot]com.
Be sure to check out my interview with

Carla Stewart

, below, and leave a comment at the bottom of the post to enter the drawing for a signed copy of her book.
Annoying legal disclaimer: drawings void where prohibited; open only to U.S. residents; the odds of winning depend upon the number of participants. See full disclaimer
HERE
.