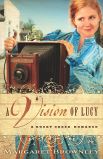 When posing for Lucy anything can happen—and usually does!
Before we visit with today's author, I want to announce that the winner of the signed copy of Carla Stewart's novel,
Broken Promises
, is:
jeanasworld@ . . .
Congratulations! I'll contact you today for your snail mail address, and we'll get your book to you right away.
I encourage readers to keep commenting and/or subscribe at right (below my list of books) in order to participate in future book give-aways!
Now let's meet novelist
Margaret Brownley
, author of
A Vision of Lucy
(Thomas Nelson, June 2011).
Tell us about yourself, Margaret.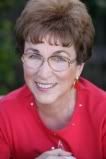 Thrills, mystery, suspense, romance: I penned it all. Nothing wrong with that—except I happened to be writing for the church newsletter. After making the church picnic read like a Grisham novel, my former pastor took me aside and said, "Maybe God's calling you to write fiction."
So that's what I did. I now have more than 25 novels to my credit, including bestselling and RITA finalist
A Lady Like Sarah
—not bad for someone who flunked 8th grade English. Just don't ask me to diagram a sentence.
Please tell us five random things we might not know about you.
-- I already told you I flunked English.
-- I wasn't that great in history, either—all those dates and battles!
-- I'm allergic to broccoli.
-- I still like to watch old
Colombo
movies, and my current favorite TV show is
Dancing with the Stars
.
-- I just know that somewhere inside of me is a dancer trying to get out.
You give hope to bad grammarians everywhere, Margaret! Please tell us a bit more about the plot of A Vision of Lucy.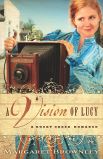 Sage Advice for Photographers from A VISION OF LUCY
• When photographing stampeding cattle, charging bulls or blazing shoot-outs, use a fast shutter speed.
• Brides, take pity on your photographer. Matthew S. Brady and his helpers were able to record the entire War Between the States with little more than 1100 photographs. Half that number should satisfy most brides.
• Doctors, do not look at the camera like it's a patient needing help through death's door. Such a pose will speak ill of you, and it won't do much for your practice, either.
• A man imagines himself more handsome than his photograph; a woman believes herself more homely.
• While posing for a photograph spinsters should avoid looking desperate or deprived. A serene smile will show that your circumstances are by choice and not for lack of beauty or character.
Lucy Fairbanks dreams of working as a photographer at the Rocky Creek newspaper. If she can earn money making photographs, then maybe her father will see that what she does is worthy, more than just a distraction. And her deepest hope is that he'll see her as an artist, the way he thought of her deceased mother, whose paintings still hung on their walls.
But trouble follows Lucy on every photo shoot: a mess of petticoats and ribbons, an accidental shooting, even a fire.
When Lucy meets David Wolf—a quiet, rustic man who lives on the outskirts of town—she thinks she can catch the attention of the editor with his photograph.
But instead of landing her a job Lucy's photograph stirs up old resentments and hurts, forever changing the town, and revealing the truth about David's past that left him deeply scarred. The truth turns out to be more painful than the lies—especially when it keeps him from the woman he loves.
What is it about your lead character that will make your readers care about her?
Lucy is funny, loyal and dearly loves her brother. She talks too much, is a terrific friend and isn't afraid to go after what she wants. If only that didn't get in her so much trouble.
Why will readers enjoy your novel?
I hope readers will enjoy the romance, humor and elements of faith. It's a fun story but it touches on serious themes of acceptance, forgiveness and redemption.
And if your novel were brought to film, what's one song you'd like to hear featured in it?
"Unchained Melody"
. Remember it in
Ghost
? Love it!
Oh, yes. What a rebirth that song had, thanks to that movie.
What is the last book you read that you would recommend?
If you happen to be writing about a cattle ranch I highly recommend the
Working Cowboy Manual
. If per chance you've got a hankering to shoe a horse you might want to give
The Art of Blacksmithing
a try. Hey, you asked!
I guess a historical author had better be sure she enjoys her particular time period before committing to it, right?

What are you working on now?
I'm working on a new series call Brides of Last Chance Ranch, which is why I'm deep researching mode.
Where else can readers find you online?
My homestead address is
www.margaretbrownley.com
I'm also on Facebook and Twitter and resident blogger on
www.petticoatsandpistols.com
The book is available at fine bookstores and via the online buttons:
CBD.com
Finally, what question would you like to ask my readers?
Curious minds want to know: How do you choose your books? By the cover, reviews, back copy, setting, author or word of mouth?
Thank you, Margaret, for visiting with us and telling us about your novel.
Readers, Margaret has offered to give a signed copy of her book to the winner of our drawing on Monday, June 20.
To enter, leave a comment below in answer to Margaret's question, above. "Please enter me" won't get you entered.
Leave your email address, in case you win, like so: trish[at]trishperry[dot]com.
Be sure to check out my interview with

T.L. Higley

, below, and leave a comment at the bottom of the post to enter the drawing for a signed copy of her book.
Annoying legal disclaimer: drawings void where prohibited; open only to U.S. residents; the odds of winning depend upon the number of participants. See full disclaimer
HERE
.