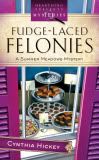 Cash, diamonds, and a bloody glove send a candy-maker on the hunt.
Before we visit with today's author, I want to announce that the winner of the signed copy of Mona Hodgson's new release,
Too Rich for a Bride
, is:
ashley.vanburen@ . . .
Congratulations! I'll contact you today for your snail mail address, and we'll get your book to you right away.
I encourage readers to keep commenting and/or subscribe at right (below my list of books) in order to participate in future book give-aways!
Now let's revisit with novelist
Cynthia Hickey
, and talk about he novel,
Fudge-Laced Felonies
(Barbour Publishing), which we missed when it was released in 2008.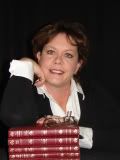 Cynthia Hickey has been making up stories since she was a child. She lives in Arizona with her husband and two of their seven children, plus a dog, two cats, two birds, and a snake named Flash.
Please tell us five random things we might not know about you.
-- Was the backdrop for the Arkansas weather while on honeymoon.
-- Secretly always wanted to be an actress and play an insane person.
-- Almost got fired from first job because of a television interview.
-- Love being Scot Irish.
-- Would have a pet lion if not for the fear of having my head bit off.
Sounds like you have a few good plot items in there, Cynthia!
Please tell us a bit more about the plot of Fudge-Laced Felonies.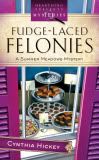 Summer Meadows is realizing her dream of owning her own candy store, and she's growing a Midnight Blue rosebush to enter into the county fair. When the bush dies, and she finds diamonds clogging the drip line, she coerces her best friend and her life long crush, Ethan Banning to help her find out to whom they belong.
She doesn't expect her search to dig up a dead body or to be used as bait in a covert FBI operation. Can it be possible that the mild residents of Mountain Springs, Arkansas can be involved in murder?
What is it about your lead character that will make your readers care about her?
Summer is impulsive and a bit vain with a heart as big as the Ozark mountains.
Why will readers enjoy your novel?
I believe they will be able to relate to the characters and I hope they find a laugh on every page.
If you were the casting director for the film version of your novel, who would play your lead roles?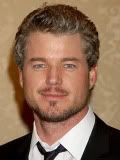 Ethan Banning, the love interest would be played by Eric Dane.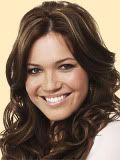 Summer Meadows by Mandy Moore.
And if your novel were brought to film, what's one song you'd like to hear featured in it?
I have no idea. Something sweet like candy and romance and country fairs.
I found a really pretty song for you: Nanci Griffith's rendition of "Roseville Fair" on her
One Fair Summer Evening
CD. She dedicates it to "all the sweethearts." Sweet as candy and very romantic. I can just see your hero and heroine falling in love to it.
What is the last book you read that you would recommend?
Charlotte Figg takes Over Paradise
, by Joyce Magnin Moccero. Hilarious characters that are true-to-life.
What are you working on now?
I have a contemporary novella contracted with Barbour that is releasing in fall 2012. I'm also playing around with a historical novel.
Where else can readers find you online?
Cynthiahickey.com
or Facebook.
The book can be purchased online via the following buttons:
Finally, what question would you like to ask my readers?
What draws you into the pages of a novel so deeply that you can't put it down and sigh when the book is finished?
Thank you, Cynthia, for visiting with us and telling us about your novel.
Readers, Cynthia has offered to give a signed copy of her book to the winner of our drawing on Thursday, June 9.
To enter, leave a comment below in answer to Cynthia's question, above. "Please enter me" won't get you entered.
Leave your email address, in case you win, like so: trish[at]trishperry[dot]com.
Be sure to check out my interview with

Janice Hanna

, below, and leave a comment at the bottom of the post to enter the drawing for a signed copy of her book.
Annoying legal disclaimer: drawings void where prohibited; open only to U.S. residents; the odds of winning depend upon the number of participants. See full disclaimer
HERE
.
Finally, take a look at all of the excellent inspirational fiction releasing this month! When available, I've made the titles links for purchasing:
A Vision of Lucy
by
Margaret Brownley
-- Romance from Thomas Nelson. Trouble may follow Lucy wherever she goes, but with the help of God and the rugged, reclusive David Wolf, she'll never face adversity alone.
Behind the Badge
by
Susan Sleeman
-- A Thriller/Suspense from Love Inspired Suspense. Can a rookie sheriff's deputy find a killer before the killer takes the lives of the people she loves?
Beyond All Measure
by
Dorothy Love
-- General Fiction from Thomas Nelson. Unless she can let go of her fears and learn to trust again, Ada may lose the heart of a good man.
Broken Wings: A Novel
by
Carla Stewart
-- General Fiction from Faith Words (Hachette). One woman clings to her memories. The other wants to erase hers. A story of an unlikely friendship birthed in providence and bathed in grace.
Forever After (A Hanover Falls Novel)
by
Deborah Raney
-- General Fiction from Howard (Simon & Schuster). A series of arson fires at Hanover Falls rebuilt homeless shelter threatens its residents and casts new suspicions about the original fire.
Home Sweet Home
by
Kim Watters
-- Romance from Love Inspired. Finding a home is all Abby dreamed about, until she discovers the man she falls in love with has a less permanent agenda.
Idaho Brides
by
Erica Vetsch
-- Romance from Barbour. Experience the Wild West through the eyes of the three McConnell brothers who long to overcome their troubled childhood as drunkard's sons.
Love Finds You in Amana, Iowa
by
Melanie Dobson
-- Romance from Summerside Press. As the rest of the nation is embroiled in the Civil War, the Amana Colonies have remained at peace—until now.
Protecting Her Own
by
Margaret Daley
-- Thriller/Suspense from Love Inspired Suspense. Protecting her own father when an assailant targets him, bodyguard Cara Madison with Connor Fitzgerald, an ex-boyfriend, searches for a would be killer while fighting her feelings toward Connor.
Purple Knot
by
Raquel Byrnes
-- Romance from White Rose. With her faith shaken and her world cast in shadows, can Reyna trust the God she believes abandoned her?
Spring for Susannah
by
Catherine Richmond
-- Romance from Thomas Nelson. How could a marriage possibly work when the couple has only exchanged a few letters?
The Inconvenient Marriage of Charlotte Beck
by
Kathleen Y'Barbo
-- Romance from Waterbrook/Multnomah (Random House). Unlikely romance is sometimes just an inconvenient marriage away
The Irresistible Earl
by
Regina Scott
-- A Romance from Love Inspired Historical. If Chase Dearborn, the powerful Earl of Allyndale, found Meredee Price's family in Scarborough, surely he'd continue his quest to challenge Meredee's stepbrother to a duel. Meredee is determined to avoid the earl at all costs.
The Story in the Stars, Gateway to Gannah, Book 1
by
Yvonne Anderson
-- Fantasy from Risen Books. The inhabitants of the planet Gannah are known as bloodthirsty savages who once tried to conquer the galaxy. Now a plague has ravaged the planet and only one survivor remains.
The Sweetest Thing
by
Elizabeth Musser
-- General Fiction from Bethany House. The Sweetest Thing is the story of two girls--opposites in every way--fighting for the same thing: survival amidst tumultuous change.
The Wedding Season: The Gentleman Takes a Bride
by
Louise M. Gouge
-- Romance from Love Inspired Historical. Surely Elizabeth Moberly was born to be a nobleman's bride. She can't possibly be attracted to the untitled stranger who interrupts her cousin's wedding.
Under a Desert Sky
by
DiAnn Mills
-- General Fiction from Summerside Press. A race from danger...straight into the arms of love.
Happy reading!