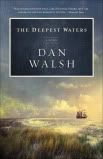 What would you do if you'd finally found the love of your life, then were suddenly separated on your honeymoon by a shipwreck, and were now forced to face life alone in a strange city, living with people you've never met (and you're pretty sure they can't stand you)?
Before we visit with today's author, I want to announce that the winner of the signed copy of Elizabeth Ludwig's new release,
Died in the Wool
, is:
hediru@ . . .
Congratulations! I'll contact you today for your snail mail address, and we'll get your book to you right away.
I encourage readers to keep commenting and/or subscribe at right (below my list of books) in order to participate in future book give-aways!
Now let's meet novelist
Dan Walsh
, author of
The Deepest Waters
(Revell, April 2011).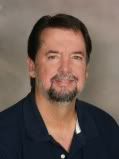 Dan Walsh is a member of American Christian Fiction Writers (ACFW). His first novel,
The Unfinished Gift
won 2 Carol Awards (Book-of-the-Year) from ACFW for best debut author and best short historical fiction. The sequel,
The Homecoming
, released last year in June. His third novel,
The Deepest Waters
, has just released and his fourth,
Remembering Christmas
, comes out this September. For those who haven't read Dan's novels, reviewers often compare his books to Nicholas Sparks, Richard Paul Evans and Jason Wright.
He writes fulltime in the Daytona Beach area, where he lives with the love of his life, Cindi, his wife of 34 years. They have two grown children and one grandson. As they await more grandchildren, they enjoy the company of two mini-aussies, Bailey and Darcy.
Please tell us five random things we might not know about you.
I am something of a contradiction with seemingly opposite interests.
-- I can be totally satisfied with a pizza, but I also love fine gourmet dining.
-- I love hanging around people, but equally love long periods of quiet and solitude.
-- I used to be a long-haired surfing bum with absolutely no aspirations (I actually wore a surfer shirt and baggies underneath my high school graduation robe).
-- I love babies and small dogs.
-- If there was an
American Idol
for the middle-aged, I wouldn't win, but I'd make it into the early rounds (as long as I could sing the old standard love songs).
We must be from the same generation, Dan. I wore shorts and a T-shirt under my high school graduation robe!
Please tell us a bit more about the plot of
The Deepest Waters
.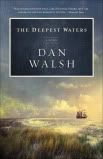 In 1857, John and Laura Foster are sailing from San Francisco to New York on their honeymoon aboard the steamship, SS Vandervere. After a hurricane strikes, the grand ship begins to sink. The women and children are rescued when an old sailing ship passes by, but there's no room to take on the men, who are left to flounder on the open sea.
On the lonely voyage to New York, Laura mourns her beloved husband. She takes inspiration from Micah, an elderly slave who works on the boat. As Laura battles despair, John battles the elements, both believing they'll never see each other again.
The Deepest Waters
tells an epic story of hope, faith and love through an intimate lens. It's inspired by real events.
I haven't started reading my copy yet, but I
love
this premise.
What is it about your lead characters that will make your readers care about them?
First, I suppose I need to decide who the lead character is. It started off being Laura Foster, but Micah, an old Negro slave who befriends her, certainly grew through the story to become a major force in the book.
I think readers will care about Laura because of her courage in the face of heartbreaking challenges, and the honest way she confronts her fears. And I think they'll care about Micah, who has this abounding joy and Christ-like demeanor, despite the fact his life is filled with suffering and loss. He seems to know God intimately, though he's never been able to read a Bible. The few verses he's memorized are powerfully owned and practiced in his life, causing a profound effect on everyone around him, especially Laura.
Why will readers enjoy your novel?
I can't improve on what Athol Dickson said:
"It has everything: action, romance, 
tearful partings, desperate situations, beautiful and terrifying natural 
settings, history, characters I hated and characters I loved, and plenty of 
unexpected twists, all wrapped up in eloquent and straightforward 
prose."
Quite an endorsement, especially coming from such a fine writer.
If you were the casting director for the film version of your novel, who would play your lead roles?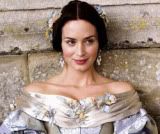 For Laura Foster, Emily Blunt would work (but you'd have to think of her in an 1850's dress, soaking wet and worried sick).
Okay, here she is, pre-soaking.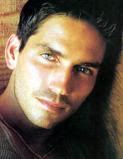 For John Foster (Laura's husband)…I'd like Jim Caviezel. I think he'd be great, just the way he is.
You and me, both, Dan!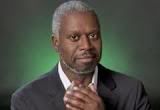 For Micah, I'd pick Andre Braugher. He'd be perfect. Great actor, deep voice, even the right age (if you see a recent picture).
Give us one sentence that shows us something about your main character as a child.
Although born to a family of moderate means, Laura loved to travel through her books, and longed to one day experience a measure of the life, love and adventures that had so captivated her imagination.
What is the last book you read that you would recommend?
Book of Days
by James Rubart. I'd recommend it because every time I had to put it down, I found myself making time to get back to it. I had been asked to read and endorse it, but I worried, "What if I don't like it?" I knew the concept Jim was aiming for and didn't see how he'd pull it off. Well, he did. And I loved reading it. Jim's just a great writer.
What are you working on now?
I'm doing the final edits on my 5th novel, called
The Discovery
, which releases next spring. Also, starting to research my 6th novel with Revell, which I'll be writing through the summer.
Where else can readers find you online?
Website:
www.danwalshbooks.com
My blog:
danwalshbooks.blogspot.com
Twitter:
twitter.com/danwalshauthor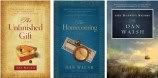 The book can be purchased online through the following buttons:
CBD.com
Finally, what question would you like to ask my readers?
What would it take to get you to take a chance on an author you've never read before? What kinds of things influence you the most? Things you've read online, the book cover, the first few pages, what friends have said?
Thank you, Dan, for visiting with us and telling us about your novel.
Readers, Dan has offered to give a signed copy of his book to the winner of our drawing on Monday, May 23.
To enter, leave a comment below in answer to Dan's question, above. "Please enter me" won't get you entered.
Leave your email address, in case you win, like so: trish[at]trishperry[dot]com.
Be sure to check out my interview with

Jillian Kent

, below, and leave a comment at the bottom of the post to enter the drawing for a signed copy of her book.
Annoying legal disclaimer: drawings void where prohibited; open only to U.S. residents; the odds of winning depend upon the number of participants. See full disclaimer
HERE
.