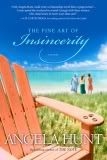 We're not doing a giveaway today, but I wanted to mention the terrific inspirational fiction releasing this month, including The Fine Art of Insincerity by Angela Hunt. About the book:

Three Southern sisters with nine marriages between them — and more looming on the horizon – travel to St. Simons Island to empty their late grandmother's house. Ginger, the eldest, wonders if she's the only one who hasn't inherited what their family calls "the Grandma Gene"— the tendency to enjoy the casualness of courtship more than the intimacy of marriage. Could it be that her sisters are fated to serially marry, just like their seven-times wed grandmother, Lillian Irene Harper Winslow Goldstein Carey James Bobrinski Gordon George? It takes a "girls only" weekend, closing up Grandma's memory-filled beach cottage for the last time, for the sisters to unpack their family baggage, examine their relationship DNA, and discover the true legacy their much-marrying grandmother left behind.

The Fine Art of Insincerity

is a stunning masterpiece. I was pulled into the lives of Ginger, Pennyroyal and Rosemary--sisters touched by tragedy, coping in their own ways. So real, so powerful. Pull out the tissues! This one will make you cry, laugh, and smile. I recommend it highly.

--Traci DePree, author of The Lake Emily series

"Only Angela Hunt could write a relationship novel that's a page-turner! As one of three sisters, I can promise you this: Ginger, Penny, and Rose Lawrence ring very true indeed. Their flaws and strengths make them different, yet their shared experiences and tender feelings make them family. From one crisis to the next, the Lawrence sisters are pulled apart, then knit back together, taking me right along with them. I worried about Ginger one moment, then Penny, and always Rose—a sure sign of a good novel, engaging both mind and heart. Come spend the weekend in coastal Georgia with three women who clean house in more ways than one!"

--Liz Curtis Higgs, best-selling author of

Here Burns My Candle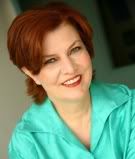 About Angela:
Christy-Award winner Angela Hunt writes for readers who have learned to expect the unexpected in novels from this versatile author. With nearly four million copies of her books sold worldwide, she is the best-selling author of more than 100 works ranging from picture books (
The Tale of Three Trees
) to nonfiction books, to novels.
Now that her two children have reached their twenties, Angie and her husband live in Florida with Very Big Dogs (a direct result of watching Turner and Hooch and Sandlot too many times). This affinity for mastiffs has not been without its rewards--one of their dogs was featured on Live with Regis and Kelly as the second-largest canine in America. Their dog received this dubious honor after an all-expenses-paid trip to Manhattan for the dog and the Hunts, complete with VIP air travel and a stretch limo in which they toured New York City.
Afterward, the dog gave out pawtographs at the airport.
Angela admits to being fascinated by animals, medicine, psychology, unexplained phenomena, and "just about everything" except sports. Books, she says, have always shaped her life— in the fifth grade she learned how to flirt from reading
Gone with the Wind
.
Her books have won the coveted Christy Award, several Angel Awards from Excellence in Media, and the Gold and Silver Medallions from Foreword Magazine's Book of the Year Award. In 2007, her novel
The Note
was featured as a Christmas movie on the Hallmark channel. Romantic Times Book Club presented her with a Lifetime Achievement Award in 2006.
Also in 2006, Angela completed her Master of Biblical Studies in Theology degree. She completed her doctorate in 2008 and was accepted into a Th.D. program in 2009. When she's not home reading or writing, Angie often travels to teach writing workshops at schools and writers' conferences. And to talk about her dogs, of course.
An excerpt from
THE FINE ART OF INSINCERITY:
Prologue
Ginger
"You can't tell your sisters," my grandmother once told me, "what I'm about to tell you."
I listened, eyes big, heart open wide.
"Of all my grandchildren—" her hands spread as if to encompass a crowd infinitely larger than myself and my two siblings—"you're my favorite."
Then her arms enfolded me and I breathed in the scents of Shalimar and talcum powder as my face pressed the crepey softness of her cheek.
My grandmother married seven times, but not until I hit age ten or eleven did I realize that her accomplishment wasn't necessarily praiseworthy. When Grandmother's last husband died on her eighty-third birthday, she mentioned the possibility of marrying again, but I put my foot down and told her no more weddings. I suspect my edict suited her fine, because Grandmom always liked flirting better than marrying.
Later, one of the nurses at the home mentioned that my grandmother exhibited a charming personality quirk—"Perpetual Childhood Disorder," she called it. PCD, all too common among elderly patients with dementia.
But Grandmother didn't have dementia, and she had exhibited symptoms of PCD all her life. Though I didn't know how to describe it in my younger years, I used to consider it a really fine quality.
During the summers when Daddy shipped me and my sisters off to Grandmom's house, she used to wait until Rose and Penny were absorbed in their games, then she would call me into the blue bedroom upstairs. Sometimes she'd let me sort through the glass beaded "earbobs" in her jewelry box. Sometimes she'd sing to me. Sometimes she'd pull her lace-trimmed hanky from her pocketbook, fold it in half twice, and tell me the story of the well-dressed woman who sat on a bench and fell over backward. Then she'd flip her folded hankie and gleefully lift the woman's skirt and petticoat, exposing two beribboned legs.
No matter how large her audience, the woman knew how to entertain.
I perched on the edge of the big iron bed and listened to her songs and stories, her earbobs clipped to the tender lobes of my ears, enduring the painful pinch because Grandmother said a woman had to suffer before she could be beautiful. Before I pulled off the torturous earbobs and left the room, she would draw me close and swear that out of all the girls in the world, I was the one she loved most.
Not until years later did I learn that she drew my sisters aside in the same way. I suppose she wanted to make sure we motherless girls knew we were treasured. But in those moments, I always felt truly special.
And for far too long, I believed her.
© 2012 by Angela Hunt, used by permission. Do not reprint without permission. For more information, visit www.angelahuntbooks.com
To download the Angela Hunt iPhone/iPad app: http://mobileroadie.com/apps/angela-hunt
The book can be purchased online through the following buttons:
CBD.com
Be sure to check out my interviews with

Arlene James

and

Shellie Neumeier

, below, and leave comments at the bottom of their posts to enter the drawings for signed copies of their books.
Annoying legal disclaimer: drawings void where prohibited; open only to U.S. residents; the odds of winning depend upon the number of participants. See full disclaimer
HERE
.
Finally, take a look at the other fine inspirational fiction releasing this month! Their titles link to their Amazon pages.
A Great Catch
by
Lorna Seilstad
-- General Fiction from Revell. She wants to change the world. He wants to change her mind.
A Killer Among Us
by
Lynette Eason
-- A Thriller/Suspense from Revell. Kit Kenyon is a first-rate hostage negotiator. Noah Lambert is a good detective with excellent instincts. The new partners have hardly had time to get used to each other when they are thrown into a grisly murder case.
Deep Trouble
by
Mary Connealy
-- A Romance from Barbour. Gabe Lasley finds Shannon Dysart stranded in a mountaintop cave and saves her. She is on a quest to prove her father's research isn't the work of a madman, that he really did find a treasure in the wild west.
Died in the Wool
by
Elizabeth Ludwig
-- A Mystery from Barbour. Can Monah and proven sleuth Casey Alexander find the real killer before this librarian is booked for murder?
Fade to Blue
by
Julie Carobini
-- A Romance from B and H Publishing. When confronted with her most painful, past decisions, will Suz Mitchell second guess herself? Or will she learn to let God restore all that once seemed lost?
Journey's End
by
Dora Hiers
-- A Romance from White Rose. When Chelsea Hammond is snatched from her home, can she put aside her fear, and trust Trey Colten with her life? Can she forgive him for destroying her past and let him help to rebuild her future?
Montana Marriages Trilogy
by
Mary Connealy
-- Romance from Barbour. The complete Montana Marriages series all under one cover. One volume encases three acclaimed novels by Mary Connealy.
Over The Edge
by
Brandilyn Collins
-- Thriller/Suspense from B and H Publishing. Torn from the front lines of medical debate and the author's own experience with Lyme Disease, Over the Edge is riveting fiction, full of twists and turns—and powerful truths about today's medical field.
Promise of Time
by
S. Dionne Moore
-- A Romance from Barbour/Heartsong. Time promises to heal all wounds, but will Ellie and Theo allow God to work His timing in their lives and bring a new promise of love?
Revealing Fire
by
Connie Stevens
-- A Romance from Barbour/Heartsong. Two people in their September years are blessed with a second chance at happiness, but unexpected arrivals of a long-estranged son and a long-forgotten former admirer threaten to unravel the cords that bind two hearts.
Secrets of the Heart; Ravensmoore Chronicles, Book One
by
Jillian Kent
-- A Romance from Rhelms. When Lady Madeline Whittington rescues a runaway from a nearby lunatic asylum her life will be forever changed.
The Art of Romance
by
Kaye Dacus
-- A Romance from Barbour. Two artists are drawn together by matchmaking matriarchs.
The Unexpected Bride
by
Debra Ullrick
-- A Romance from Love Inspired. Haydon Bowen has no intention of marrying. Unfortunately, his brother has other plans. Even when beautiful, cultured Rainelle Devonwood learns she's a mistakenly ordered bride, she won't let Haydon drive her away.
Threat of Exposure
by
Lynette Eason
-- A Thriller/Suspense from Love Inspired. In book 5 of the Texas Ranger Justice series, DEA Brock Martin and Texas Ranger Gisella Hernandez must work together to decipher codes, uncover clues and protect themselves from a killer who doesn't want his secrets known.
To Win Her Heart
by
Karen Witemeyer
-- A Romance from Bethany House. A blacksmith with a criminal past. A librarian with pacifist ideals. Do they have a fighting chance at finding love?
Undercurrent
by
Michelle Griep
-- A Science Fiction/Time Travel from Risen Books. People go missing every day--many meet with foul play, some leave the social grid by choice, but others are never accounted for...where do they go?
When Sparrows Fall
by
Meg Moseley
-- A Romance from Waterbrook/Multnomah. When an isolated home-schooling widow makes a stealthy bid to escape a cultic group, an outspoken professor encourages her to stand up to her abuser but brings his own set of complications.
Wyoming Weddings
by
Vickie McDonough
,
Susan Page Davis
, and
Diana Brandmeyer
-- Romance from Barbour. Three modern Wyoming women face mountains on the road to love.
Happy reading!