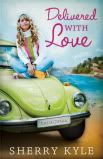 An old love letter found in a young woman's inherited 1972 Volkswagen propels her to leave Los Angeles and go to the small town of Capitola, California where her dream of finding the writer of the letter leads her on an unexpected journey that changes her life forever.
Before we visit with today's author, I want to announce that the winner of the signed copy of Susan Page Davis's latest release,
Love Finds You in Prince Edward Island
, is:
bc428@ . . .
Congratulations! I'll contact you today for your snail mail address, and we'll get your book to you right away.
I encourage readers to keep commenting and/or subscribe at right (below my list of books) in order to participate in future book give-aways!
Now let's meet novelist
Sherry Kyle
, author of
Delivered with Love
(Abingdon Press, April 2011).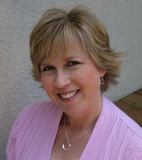 Sherry Kyle is a graduate of Biola University with a degree in Communications, and a minor in Bible. Her book for tween girls titled
The Christian Girl's Guide to Style
all about beauty, fashion, and character was released from Legacy Press in September 2010. And her debut contemporary novel,
Delivered with Love
, was just released from Abingdon Press.
Sherry and her husband have four children, three biological and one by adoption. When she isn't writing, she enjoys jazz concerts, watching movies, reading and spending time with her family and friends. She lives in California.
Please tell us five random things we might not know about you.
-- I received an award for a story I wrote in the fourth grade titled, "Friends Can Be So Mean."
-- I was a cheerleader in high school. Go Crusaders!
-- My first date with my husband was the first week of college my freshman year. A girl across the hall liked him and pointed him out. Oops. What can I say?
-- I absolutely love Italian food. Pasta, yum! Oh, and chocolate too! I have to have a bite of dark chocolate every day.
-- I enjoy watching TV shows like
American Idol, Project Runway
, and
So You Think You Can Dance
.
You like the same shows I do! Although I've never watched
PR
. And, ahem, might I point the odd juxtaposition between the title of your grade-school composition and your freshman-year treatment of your poor classmate? Sherry
Kyle
!
Please tell us a bit more about the plot of
Delivered by Love
.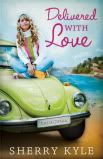 Claire James, age twenty-three, is ready to make it on her own. When she's fired from her job as a waitress and subsequently kicked out of her sister's home, she sees it as an opportunity to start over. But even before moving, a thirty-five-year-old love letter written to her mother keeps Claire stuck in the past. Michael Thompson, a middle-aged real estate agent, wants to keep the past where it belongs - at least until his grown daughter is married. But, then a young woman comes to town . . .
What is it about your lead character that will make your readers care about her?
Claire is inquisitive and caring. She makes a lot of unwise decisions, but eventually comes to terms with who she is and what matters most. Deep down Claire desires to be loved—by her Heavenly Father, her family, and the man of her heart.
Why will readers enjoy your novel?
Because it's a fun read! When we open our eyes to see how God orchestrates divine appointments, we shouldn't be surprised at how He works everything for the good. Yes, I love happy endings!
It is a fun read. Readers, here's what I wrote about Sherry's book when I endorsed it:
In Sherry Kyle's touching debut novel, Delivered with Love, young Claire James discovers old secrets, new surprises, and the kind of "coincidences" only a loving God could orchestrate. Her inquisitive drive takes the reader on a compelling quest for answers, as her sweet heart is challenged by matters of family, identity, forgiveness, and love. You'll enjoy the adventure!
If you were the casting director for the film version of your novel, who would play your lead roles?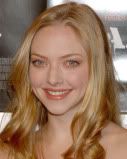 Amanda Seyfried as twenty-three year old Claire James.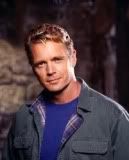 And John Schneider (from the original
Dukes of Hazzard
) as fifty-two year old Michael Thompson.
What was the last thing about writing that made you laugh (or at least smile)?
Receiving my box of books in the mail and seeing my debut novel in print!
What is the last book you read that you would recommend?
A Billion Reasons Why
by Kristin Billerbeck. Kristin has a way of drawing readers in. Plus, I enjoy a good love story!
What are you working on now?
I'm working on another girl's book titled
The Christian Girl's Guide to Your New Room
all about planning, decorating, and organizing a girl's bedroom while transforming herself on the inside. I also have another book contract with Abingdon Press for
The Heart Stone,
(Spring 2013) a contemporary romance about a forty-year-old diamond ring that is worn by a single mother to ward off questions, but was once offered to another. And now the older woman is thinking about the man who asked her to marry him all those years ago. The story is about two women's journeys to find love.
Where else can readers find you online?
Website:
www.sherrykyle.com
Twitter
Facebook
The book is available for purchase online through the following buttons:
CBD.com
Finally, what question would you like to ask my readers?
Would you rather read a good book or go the theatre and watch a movie?
Thank you so much for having me on your blog, Trish!
Thank you, Sherry, for visiting with us and telling us about your novel.
Readers, Sherry has offered to give a signed copy of her book to the winner of our drawing on Thursday, April 21.
To enter, leave a comment below in answer to Sherry's question, above. "Please enter me" won't get you entered.
Leave your email address, in case you win, like so: trish[at]trishperry[dot]com.
Be sure to check out my interview with

Kathi Macias

, below, and leave a comment at the bottom of the post to enter the drawing for a signed copy of her book.
Annoying legal disclaimer: drawings void where prohibited; open only to U.S. residents; the odds of winning depend upon the number of participants. See full disclaimer
HERE
.