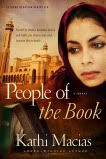 Forced to choose between family and faith, Farah soon discovers that her choice may also become life or death….
Before we visit with today's author, I want to announce that the winner of the signed copy of Louise Gouge's latest release,
At the Captain's Command
, is:
jeanereads@ . . .
Congratulations! I'll contact you today for your snail mail address, and we'll get your book to you right away.
I encourage readers to keep commenting and/or subscribe at right (below my list of books) in order to participate in future book give-aways!
Now let's revisit with novelist
Kathi Macias
, author of
People of the Book
(New Hope Publishers, April 2011).
Kathi Macias is a multi-award winning writer who has authored more than 30 books and ghostwritten several others. A former newspaper columnist and string reporter, Kathi has taught creative and business writing in various venues and has been a guest on many radio and television programs. Kathi is a popular speaker at churches, women's clubs and retreats, and writers' conferences, and she won the prestigious 2008 Member of the Year award from AWSA (Advanced Writers and Speakers Association).
A wife, mother, grandmother, and great grandmother, Kathi "Easy Writer" Macias lives in Homeland, CA, with her husband, Al, where the two of them spend their free time buzzing around in their new ride: Al's 2005 sunburst orange Corvette.
Please tell us five random things we might not know about you.
-- My husband and I are Harley riders.
-- I spent a day on Death Row at San Quentin.
-- I helped David "Son of Sam" Berkowitz edit his prison memoirs.
-- I've known my husband since we were six years old.
-- I was once introduced as Rosey Grier's bodyguard!
Wow. So many questions, so little space . . .
Please tell us a bit more about the plot of People of the Book
.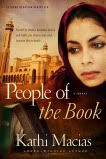 Farah lives in Riyadh, Saudi Arabia, with her family, and wants nothing more than to develop a deeper devotion to her Muslim faith. She sees the month of Ramadan as her chance to draw nearer to Allah, and pursues that goal. All goes well until the prophet Isa—Jesus—appears to her in a dream and calls her to Himself. Her brother, Kareem, who has never liked her, seeks to discredit her.
Farah's cousin, an only child, frequents an online chat. She discovers former Muslims discussing their new belief that Isa is much more than a Muslim prophet—He is actually the Son of God. She becomes acquainted with an American girl of Muslim ancestry—now a devout Christian—Sara.
Sara has problems of her own due to her brother Emir's suspicious behavior. Each finds their faith put to the test. Will they be true to their beliefs? Will God protect them, or will they pay the ultimate price for their faith?
What is it about your lead characters that will make your readers care about them?
Three young women's lives intersect on the Internet, and each finds herself (or someone she loves) in grave danger. As a result of their meeting, their lives will never be the same, but how they end depends on the choice each will make.
Why will readers enjoy your novel?
It is written with great passion and intensity. In the words of endorser Evan Marie Everson, "Somewhere between the first word and the last, you may forget to breathe. But you will always remember this story."
What was the last thing about writing that made you laugh (or at least smile)?
I recently met a young couple who had just learned I was a writer. They asked me if I was in it for ministry purposes—or for the money!
Oh, that's cute. All that money, huh?
What is the last book you read that you would recommend?
The Rhythm of Secrets
by Patti Lacy. Not only is it a wonderful story but Patti is one of the best/most talented writers I've come across in ages.
What are you working on now?
I've just finished my Fall 2011 Christmas novel titled
A Christmas Journey Home
from New Hope Publishers. It's my first Christmas novel, and I'm very excited about it! I'm also working on my new "Freedom" fiction series (also from New Hope) on the topic of human trafficking and also beginning release in Fall 2011 with
Deliver Me from Evil
.
Where else can readers find you online?
In addition to my primary website
www.kathimacias.com
I'm at
www.theTitus2Women.com
and
kathieasywritermacias.blogspot.com
, and of course Twitter and Facebook.
The book can be purchased online via the following buttons:
CBD.com
Finally, what question would you like to ask my readers?
Because I love to tackle tough issues in my fiction writing, what topics would you like to see me address in future books/series?
Thank you, Kathi, for visiting with us and telling us about your novel.
Readers, Kathi has offered to give a signed copy of her book to the winner of our drawing on Monday, April 18.
To enter, leave a comment below in answer to Kathi's question, above. "Please enter me" won't get you entered.
Leave your email address, in case you win, like so: trish[at]trishperry[dot]com.
Be sure to check out my interview with

Susan Page Davis

, below, and leave a comment at the bottom of the post to enter the drawing for a signed copy of her book.
Annoying legal disclaimer: drawings void where prohibited; open only to U.S. residents; the odds of winning depend upon the number of participants. See full disclaimer
HERE
.