One midwife. Two suitors. Three suspects. Three want peace. Two find love. One could start another war with England.
Before we chat with today's author, I want to announce that the winner of today's drawing for
Bathsheba
, by Jill Eileen Smith, is:
crystalwriter@ . . .
Congratulations! I'll contact you today for your snail mail address, and we'll get your book to you right away.
I encourage readers to keep commenting and/or subscribe at right (below my list of books) in order to participate in future book give-aways!
Now let's revisit novelist
Laurie Alice Eakes
, author of
Jersey Brides
and
Lady in the Mist
(Baker/Revell, February 2011).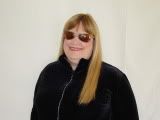 Award-winning author Laurie Alice Eakes wanted to be a writer since knowing what one was. Her first book won the National Readers Choice Award in 2007, and her third book was a Carol Award finalist in 2010. Between December of 2008 and January of 2010, she sold thirteen books to Barbour Publishing, Avalon Books, and Baker/Revell, making her total sales fifteen. Recently, she added two novella sales to that collection, as well as having her first book with Baker/Revell,
Lady in the Mist
, picked up by Crossings Book Club, and three of her books chosen for large print editions by Thorndike Press.
She has been a public speaker for as long as she can remember; thus, only suffers enough stage fright to keep her sharp. In 2002, while in graduate school for writing fiction, she began to teach fiction in person and online. She lives in Texas with her husband, two dogs, and too many cats even for her.
Please tell us five random things we might not know about you.
-- To date, I have lived in eight different states.
-- Of the nine countries outside the USA I've been to, one of them is Iceland.
-- To say I'm a precocious reader is not exaggerating, as I read
Gone with the Wind
when I was ten—and still remember it vividly.
-- When I was twelve, I outlined a Christian young adult novel.
-- I never read a Christian novel until I was in my late teens.
Please tell us a bit more about the plot of
Lady in the Midst
.
Tabitha Eckles doesn't realize that the aching loneliness she masks with her work as a midwife stems from guilt deep in her heart. Then, as she returns from a disastrous lying-in one misty morning, she encounters a stranger on the beach.
Dominick Cherrett, debonair, well-educated, and English, has no business wandering about beaches from which young men have been disappearing lately. What tragedy could possibly have brought him to America as an indentured servant in 1809? And is it a coincidence that her former fiancé returns home this same night?
Tabitha intends to find out. In her quest, she plunges into danger and learns about friendship, love, and forgiving oneself.
What is it about your lead character that will make your readers care about her?
Tabitha is an independent woman, who uses her profession, midwifery, a tradition for women in her family, to support herself, while being historically accurate, which appeals to contemporary women, who often have a difficult time with the lack of power women had in history. Besides her independence, Tabitha is vulnerable, lonely, longing for love, while fearing being hurt because of her past. Again, so many of us relate to this—yearning for a goodness we fear. And she's kind, giving, seeking to be a better person and find acceptance.
Why will readers enjoy your novel?
Lady in the Mist
has a hero with looks, charm, and secrets that make him just enough dangerous to appeal to all of us who love the bad boy and want to see him redeemed. The heroine's profession gives her a power and independence of movement other women rarely enjoyed at the time. Their goals collide and mesh with those of others in the community when their two countries—America and England—are on the verge of a second war, creating suspense along with the love story. Throughout it all is the characters' growing need for and understanding of not only God's forgiveness, but their ability to forgive themselves.
How do you restart the creative juices when you feel a block coming on?
Write. That great author of romantic suspense Mary Stewart once said that one should just sit down and write even if it's gibberish. At this point in my career, I can't afford to be blocked; therefore, I take this advice to heart and write whatever, even if I throw it out and start over again. I am also a great believer in outlining. That is a roadmap that keeps me going on my journey. I may need to replace the scenery later, but at least I've moved down the road.
What is the last book you read that you would recommend?
Surrender the Night
by Marylu Tyndale. It has all the wonderful elements I love and write into my stories, too—a dashing hero, a strong and courageous heroine, romance, and danger. Besides that, it's about a time and place rarely written about—The war of 1812 outside of Baltimore and into Washington, DC, as the British are preparing to invade and burn.
What are you working on now?
I am just now finishing up edits on the second book in The Midwives series, still unnamed. (Let me insert here, since a few people seem confused, these books are about midwives and how their work effects their lives, not about midwifery.) After that, I will write the first of the novellas I've sold to Barbour Publishing for a collection releasing in January, 2012. Then I will write the second book in the Daughters of Bainbridge House, my Regency series also with Baker/Revell.
Where else can readers find you online?
www.lauriealiceeakes.com
www.seizethechance.blogspot.com
And on Facebook.
The book is available for online purchase through the following buttons:
CBD.com
Finally, what question would you like to ask my readers?
In what locations and time periods do you think more books need to be written? Some examples: 1700s colonial, 1800s post Civil War South, Other countries besides the US? I honestly want to know the answer to this question. Feel free to contact me and tell me privately if you don't want to say in public.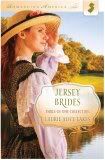 Thank you, Laurie Alice, for visiting with us and telling us about your novel.
Readers, we're giving away one of Laurie Alice's books through our drawing next Thursday, March 17.
Rather than
Lady in the Mist
, the give-away will be
Jersey Brides.
To enter, leave a comment below in answer to Laurie Alice's question, above. "Please enter me" won't get you entered.
Leave your email address, in case you win, like so: trish[at]trishperry[dot]com.
Be sure to check out my interview with

Lauraine Snelling,

and leave a comment at the bottom of the post to enter the drawing for her novel.
And see my post about Delight Yourself in the Lord . . . Even on Bad Hair Days below, and leave an appropriate comment under the post to be entered in a drawing for three signed copies of the devotional.
Annoying legal disclaimer: drawings void where prohibited; open only to U.S. residents; the odds of winning depend upon the number of participants. See full disclaimer
HERE
.