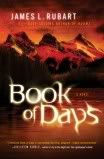 God's Book of Days. A record of the past, present, and future of every soul. Some say it's fable. Others are sure it's real, hidden somewhere on Earth...if Cameron Vaux can't find it, he will lose everything.
Before we chat with today's author, I want to announce that the winner of today's drawing for
Jersey Brides
, by Laurie Alice Eakes, is:
randenlee2000@ . . .
Congratulations! I'll contact you today for your snail mail address, and we'll get your book to you right away.
I encourage readers to keep commenting and/or subscribe at right (below my list of books) in order to participate in future book give-aways!
Now let's revisit novelist
James L. Rubart
, author of
Book of Days
(B and H Fiction, January 2011).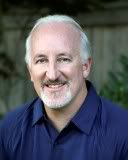 James L. Rubart is the best-selling author of
Rooms
and
Book of Days
, married to the love of his life, and extremely proud of his two teenage sons. When he's not dirt biking, water skiing or playing guitar, he helps people with their marketing through his company Barefoot Marketing. He lives with his family in the Pacific Northwest.
Please tell us five random things we might not know about you.
-- I've almost drowned; twice.
-- I used to be into sleight of hand.
-- I've starred in a TV commercial.
-- I almost lost three fingers on my right hand when I was one and a half.
-- I cannot stay on top of my e-mail.
Three fingers?! Wow, then you really would have been sleight of hand, no?

Please tell us a bit more about the plot of
Book of Days
.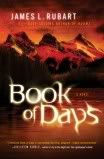 God's Book of Days. A record of the past, present, and future of every soul. Some say it's fable. Others are sure it's real, hidden somewhere on Earth...
If Cameron Vaux can't find it, he will lose everything.
"You will lose your mind. When it starts happening … you must find the Book of Days."
When Cameron's dying father delivers this message, he brushes it off. Lose his memory? He's only twenty-five. Find a book that doesn't even exist. Foolishness. Nothing more than the product of his father's dementia.
But now, eight years after his father's death, it's happening. Chunks of Cameron's life are just--gone. Even memories of his wife, killed two years ago, have slipped away. Could it be…? Is his father's eerie prediction coming true?
Desperate, Cameron determines to fulfill his father's last wish. He will find the Book of Days. But when a lead takes him to the small town of Three Peaks, Oregon, Cameron realizes dark secrets are at work. The townspeople, warm as apple pie at first, turn cold as liquid nitrogen when Cameron mentions the Book. As his mind works against him, Cameron discovers that friends may be enemies. And the one person Cameron can't stand? She might well be his strongest ally.
But there are others seeking the Book. Others who will stop at nothing to get it. And they're closer than Cameron ever imagined…
What is it about your lead character that will make your readers care about him?
He loved his late wife with his whole heart, and he's determined to honor her last request and find the Book of Days before it's too late. (And he's got a great sense of humor.)
Why will readers enjoy your novel?
Three reasons:
1. It's a roller coaster! I love it when readers e-mail me and say they couldn't put it down. I want people to be caught up in another world and love being in it.
2. It might change their life.
Book of Days
deals with forgiveness of others and maybe more importantly learning to forgive ourselves.
3. It deals with the question of where our memories go, especially our loved one's memories. And gives great hope to those who know someone suffering from Alzheimer's.
How do you restart the creative juices when you feel a block coming on?
All the writers reading this will moan, but I've never had writer's block. (Well, I've had it for two and three minutes at a time, but I don't think that counts.)
What is the last book you read that you would recommend?
I was privileged to read a manuscript called
Forbidden (The Books of Mortals)
, written by Ted Dekker and Tosca Lee, which comes out this fall. It's outstanding. An incredibly powerful look at the church through an allegorical tale set in the future. I loved it.
What are you working on now?

I'm working on a small group study guide based on my bestselling debut novel,
Rooms
. It will have a workbook, a DVD that I'll host, behind the scenes trivia … I'm really excited about it. It's the first time a study guide has been done from fiction. It comes out in October from Lifeway.
Where else can readers find you online?
Facebook: James L. Rubart
Web site:
www.jimrubart.com
Twitter: @jimrubart
The book is available for online purchase through the following buttons:
CBD.com
Finally, what question would you like to ask my readers?
My dream of being an author has come true. What's your dream? The one only God can bring into reality? And are you doing your part to make it come true?
Thank you, Jim, for visiting with us and telling us about your novel.
Readers, Jim has offered to give a signed copy of his book to the winner of our drawing on Thursday, March 24.
To enter, leave a comment below in answer to Jim's question, above. "Please enter me" won't get you entered.
Leave your email address, in case you win, like so: trish[at]trishperry[dot]com.
Be sure to check out my interviews with

Debby Mayne

and

Winnie Griggs

and leave a comment at the bottom of their posts to enter the drawings for their books.
Annoying legal disclaimer: drawings void where prohibited; open only to U.S. residents; the odds of winning depend upon the number of participants. See full disclaimer
HERE
.